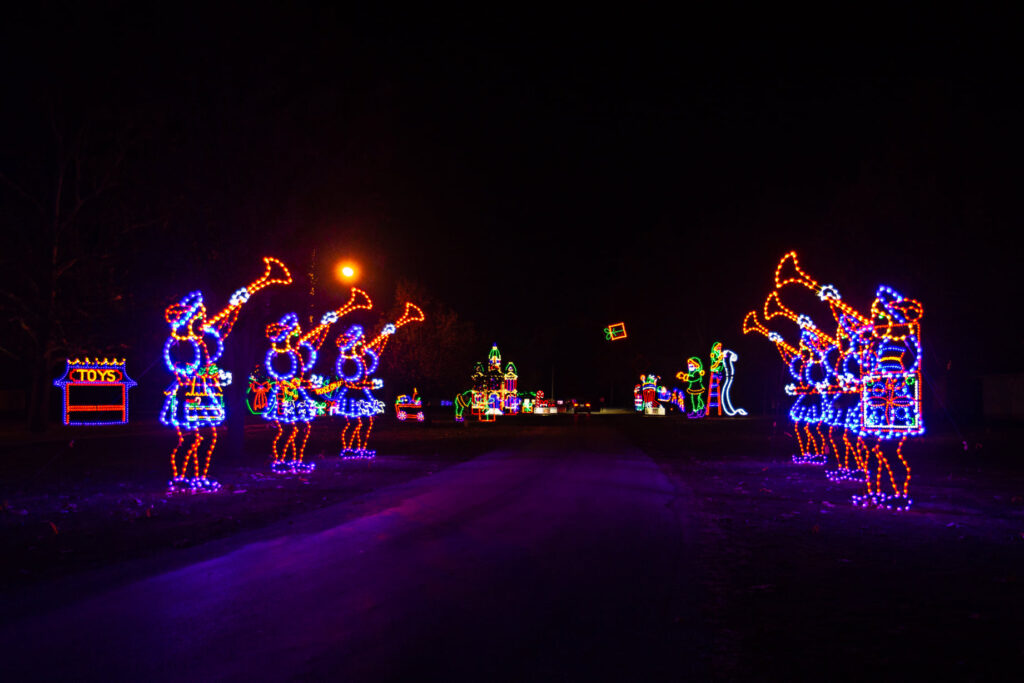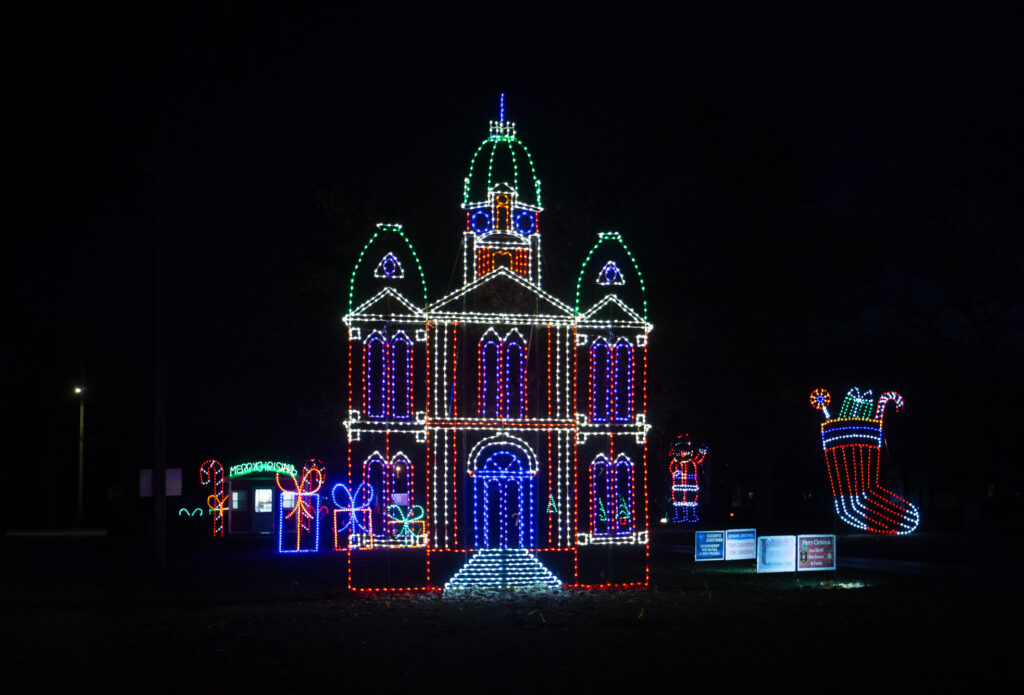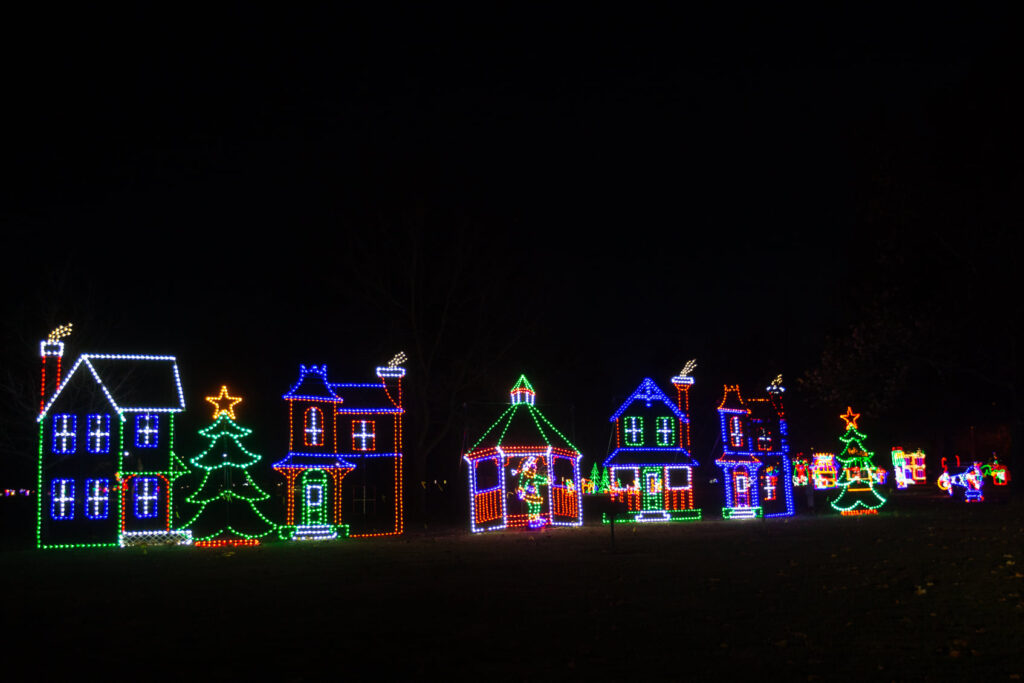 Above: Shelbyville's Festival of Lights drive-through display in Forest Park features over 500 unique individual light displays. Below: Shelbyville's free Festival of Trees features numerous beautifully decorated trees – vote for your favorite! You are likely to find Santa there – bring your wish list and camera for a holiday photo op!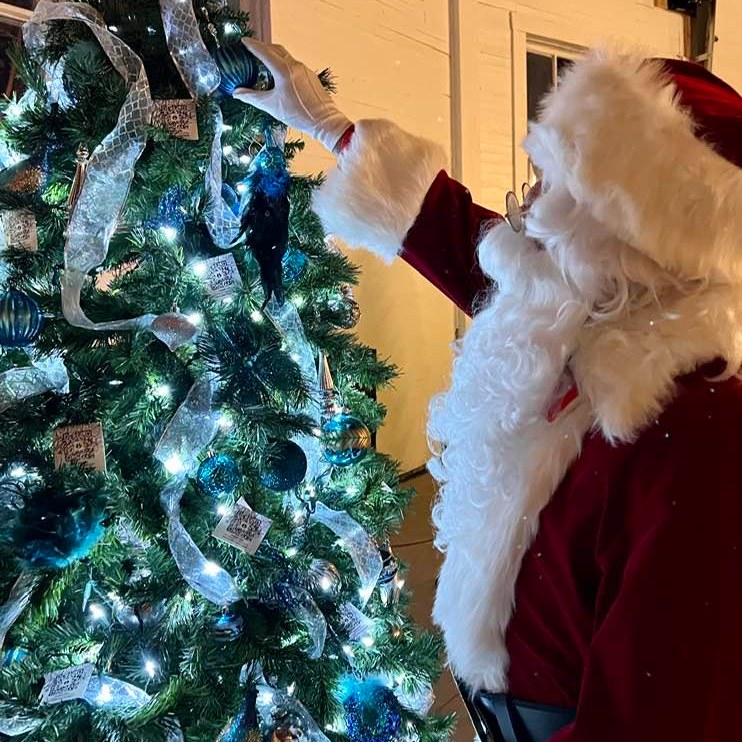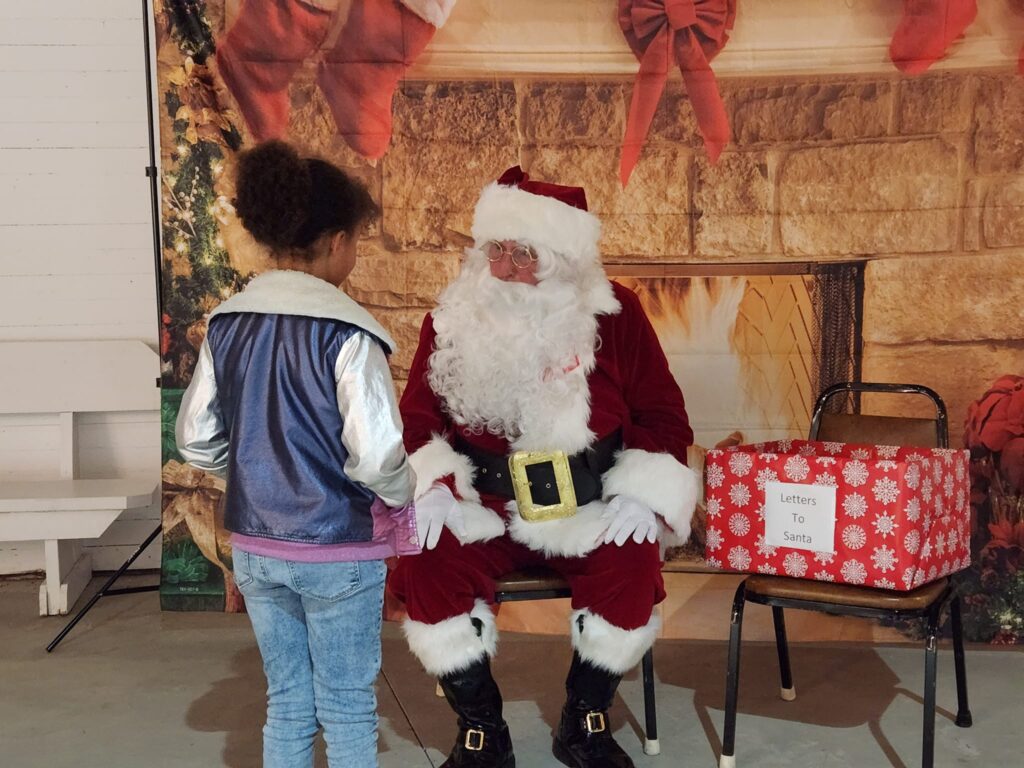 By Tara L. Simmons
Shelbyville has been celebrating the holiday season with their annual Festival of Lights for the past 25 years. Originally held at Eagle Creek, the lights eventually succumbed to the elements and were in rough shape. But over the years, the displays have been repaired, rewired and replaced to bring you a phenomenal drive -through holiday light experience, featuring over 500 individual displays! Shelbyville paints their displays using the same color of paint as the lights used and uses three different types of LED bulbs to give a unique look to their displays. Last year over 6,000 vehicles drove through the Festival of Lights, now held in Forest Park at  325 E. North 9th Street.
The Festival of Lights drive-through displays can be viewed daily from Friday, November 17 through Sunday, December 31: Sunday through Thursday from 5-9 pm, and Friday and Saturdays from 5-10 pm. Admission is free will donation – including buses. And don't forget to stop by the historic Chautauqua Auditorium to view dozens of beautifully decorated trees and vote for your favorite at their free Festival of Trees, also open Nov 17-Dec 31, every Friday, Saturday and Sunday from 5-8 pm. The Chautauqua Auditorium, built in 1903, is a large historic icosagonal wooden chautauqua meeting hall located at Forest Park. On January 30, 1978, it was added to the National Register of Historic Places.
A pre-kick-off event to Shelbyville's holiday happenings will be held on Thursday, November 16 from 5:30-7:30 pm with a walk-through event at the Festival of Lights. Other activities on Friday, November 17 to kick off the festival include a chili supper at Shelbyville Senior Center, starting at 4:30 – and lasting as long as the chili does (proceeds go to the Senior Center). This event is also by free will donation. Live Christmas music by Jake & Mikayla Hoult and free milk and cookies with Santa can be enjoyed from 5-7 pm. The  Festival of Trees will be open at the Chautauqua building from 5-8 pm.
Holiday events continue in Shelbyville throughout the days of the Festival of Lights including:
Vendor Fair  @ the Senior Center
Saturday ,November 25th • 4-7 pm
Food Trucks, goodies, Santa and more
Hometown Christmas Celebration
Downtown Shelbyville • 11 am – 1 pm
Saturday, December 2
Downtown businesses will be hosting all sorts of family fun events to get you into the holiday spirit! That same day in Forest Park in the Chautauqua Auditorium from 5-7 pm you can enjoy a hot cocoa bar, FREE live Christmas music featuring Christ Tabernacle Church and free Santa/photo ops. The Festival of Trees will also be open from  5-8 pm.
Live Nativity • 6-8 p m
Friday, December 8 – Saturday, Dec 9
First Church of the Nazarene
701 W. North 3rd Street
Shelbyville is still working on events for their annual Festival of Lights so stay updated by following them at Facebook.com/Shelbyville Festival of Lights Illinois.