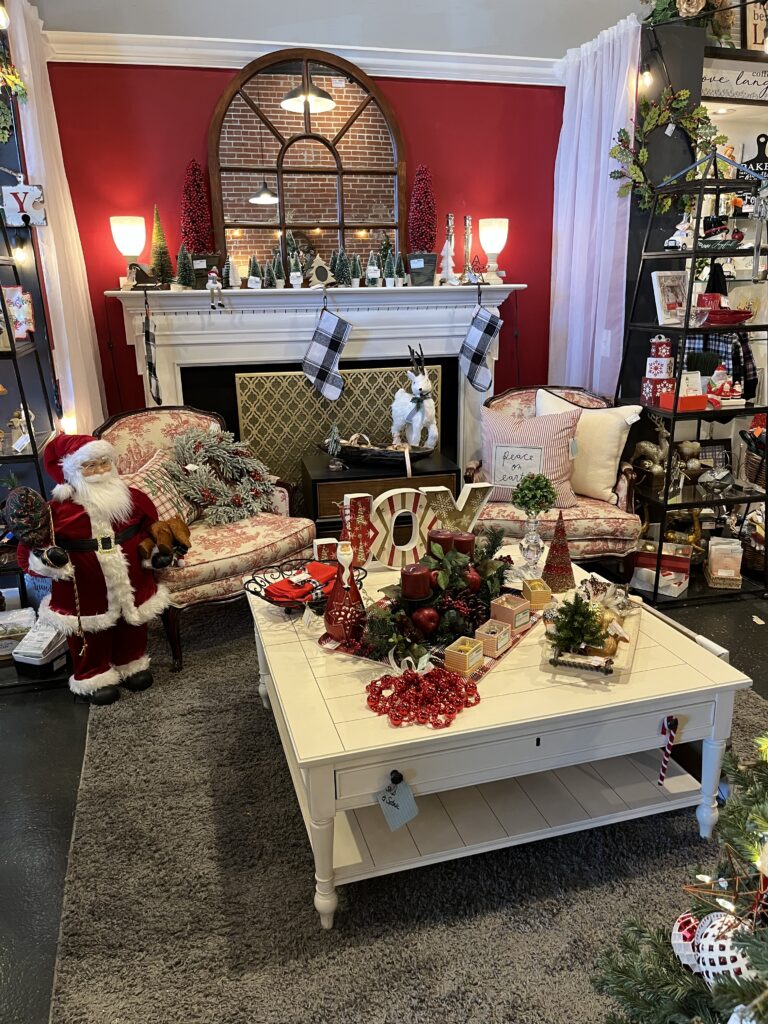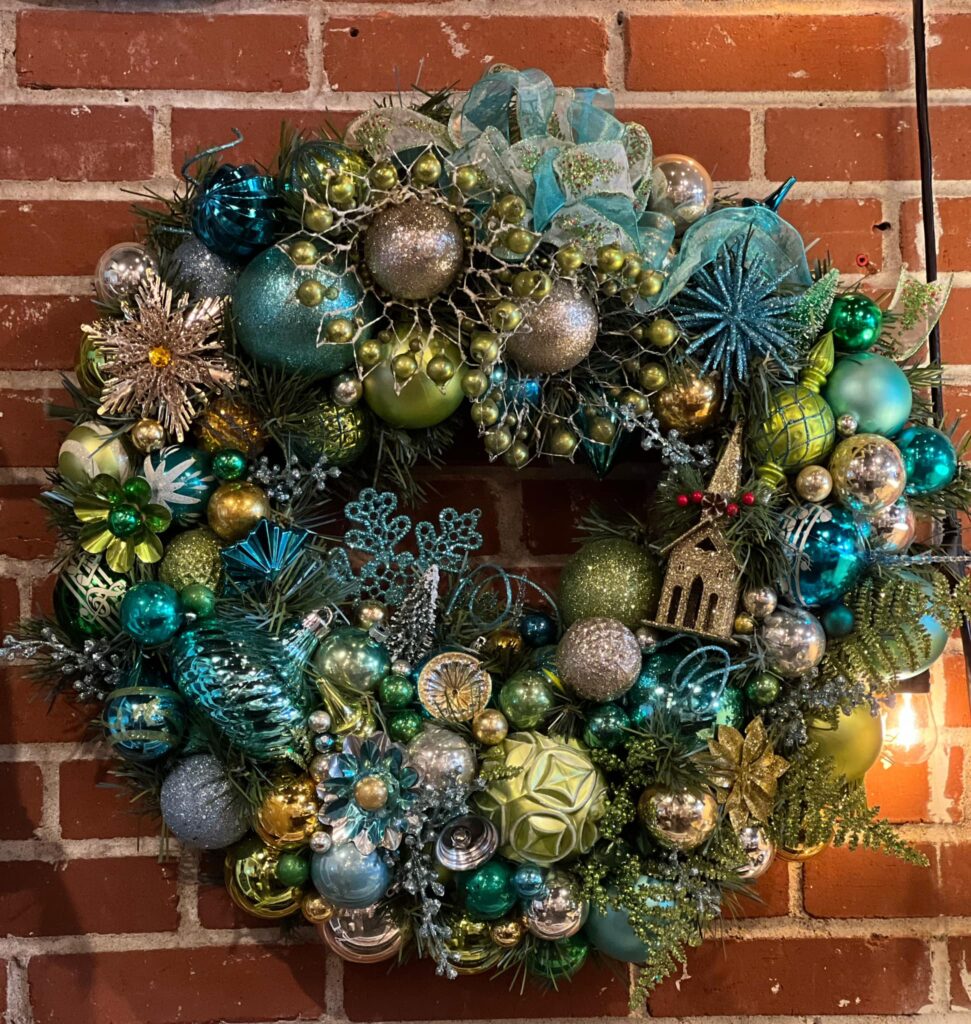 Birds Nest Designs in Columbia features over 150 quality consignors all under one roof for your shopping convenience. Take special note of the top right photo – these holiday wreaths are constructed on-site at Birds Nest Designs using vintage Christmas ornaments. This wreath
 is 24" across and used an estimated 150 pieces in the creation of this masterpiece.
The Hottest Destination for Gifts & Decor in Monroe County
BY TARA L. CALE
Connie Rutledge had a passion for interior design for as long as she can remember – even as a young girl. She expanded her love for the industry throughout her adult life being employed in various aspects of interior design including wallpaper and paint, draperies, and custom furniture. She had items in several antique and craft malls for several years, never dreaming she would one day have a store of her own.
In 2020 she took some of her creations and collected items to POP-UP SHOP in Columbia. Pop-Up Shop is an initiative of Columbia's Department of Community Development to offer a short-term, low-cost agreement in one of its vacant properties.
Situated in a highly traveled and visible location, POP-UP SHOP creates an environment that engages customers and validates Columbia as an up-and-coming player in the retail arena. Their mission is to provide an opportunity for retail entrepreneurs to test their business concepts.
The positive response Connie received during her pop-up was overwhelming.
"So many people were asking me where my store was located so they could come and shop there on a regular basis," Connie said, "When I told them I didn't have a store, they said I should have one!"
The experience fueled the fire of her passion and started a flame under another, which quickly became an inferno. In just a few months – in November of 2020 – she opened Birds Nest Designs in downtown Columbia.
Just one short year later, when she had barely gotten acclimated to being a small business owner, Connie was approached by the owner of Elements – a well-known gift and decor shop in downtown Columbia for 16 years – who explained she was ready to retire and was curious if Connie was interested in buying her out.
"It was a huge step so soon after opening my own brick-and-mortar but it was an opportunity that was too good to pass up," Connie explained. "The location itself was amazing."
Connie purchased the business in November 2021, but there was a bit of reorganizing to do and training to be completed. Birds Nest Designs re-opened in February of this year at their new location, 107 Gundlach, in downtown Columbia.
The inventory at Birds Nest Designs is an eclectic mix of Connie's own personal creations and collections combined with those of over 150+ consignors.
Merchandise includes home decor, furniture, home accents, artisan-created items, custom jewelry, unique giftables, gourmet foods, Dixie Belle Paint, and much more. They offer wholesale on many products and even have their own signature candle scent made by Dixie Grace Candle Company, appropriately named – Birds Nest Design.
"It's a very attractive fragrance and one customer loved it so much that she came in and bought every candle we had in stock at the time to give as gifts!" Connie said.
Inventory is diverse, always trendy, and always fresh. To keep it that way, consignments are only kept for 90 days, so the selection is always changing. Prices are refreshingly affordable.
"We do a lot of research in pricing items at Birds Nest Designs," Connie explained. "For the most part, our prices are 50% lower than what you would pay for an identical or similar item elsewhere – even online. Your dollar is worth more here."
After a consignment has been on the floor for 30 days, the price is reduced by 10%. After 60 days it is marked down to 25% off the original price and moved to a "last chance" area. If it still doesn't sell, the consignor has the option to reclaim the item or donate it – either way, it is removed from inventory. Donated items are taken to The Back Porch Thrift Shop in Waterloo, where all funds raised go towards supporting outreach to families in need in Monroe County communities through House of Neighborly Service.
The best thing about owning the store, according to Connie and her team, is the customers.
"We have the most amazing customers!" Connie exclaimed. "Whether they are here for the first time, a repeat customer, or someone passing through that may never stop again, our customers just make it more enjoyable. We even have some people come in because they are having a bad day and they say being here just makes them feel better. It's a relationship business."
"One of my favorite things is when a mother brings in her son who is setting up his first apartment or home. Together they may choose curtains, area rugs, lamps, and home accents."
Connie's goal is for Birds Nest Designs to be known as "the place" to go for great gifts too. They offer free gift wrapping year-round and feature a large assortment of wrapping paper and bow options. Another part of that mission is their new gift basket program. Gift givers fill out a form with information about the gift recipient, a budget, and a timeline, and the team at Birds Nest Designs will put a gift basket together, specifically personalized for the recipient.
We have mentioned the team at Birds Nest Designs frequently, and I'd like to expand on that a bit deeper. Connie explained that during her "training" when taking over Elements to create the newer Birds Nest Designs, it was emphasized that it takes a team – that you can't do it alone. And Connie believes that God brought each of her staff members to her, at the perfect time, to create a dream team.
"I think we were supposed to be together in this venture," she explained. "The ultimate goal is to create a team so strong that no one knows who the owner is. We have accomplished that. It's what makes the operation run so smoothly. And so we live by this."
In addition to the fabulous selection of gifts, decor, food items, and everything that makes up the unique inventory at Birds Nest Designs, they also offer classes, normally twice a month, but sometimes more frequently. The classes vary from basic furniture painting to advanced techniques, decoupage/stencils/transfers, fabric painting, gift wrapping, bow making, and more. Follow Birds Nest Designs on Facebook to keep up with details on upcoming classes and special events like holiday sip-n-shops.
Birds Nest Designs is located at 107 W. Gundlach in downtown Columbia. They are open 7 days a week through Christmas: Mon-Fri 10-5, Sat 10-4, and Sunday noon-4. Santa will be visiting the store on Sunday, December 18th. To find out more, call 618-281-7846 or find them on Facebook.