Photos shown illustrate the creativity and diversity of artist, Sarah Thomas, owner of Garage on Leonard. All creations show are original designs.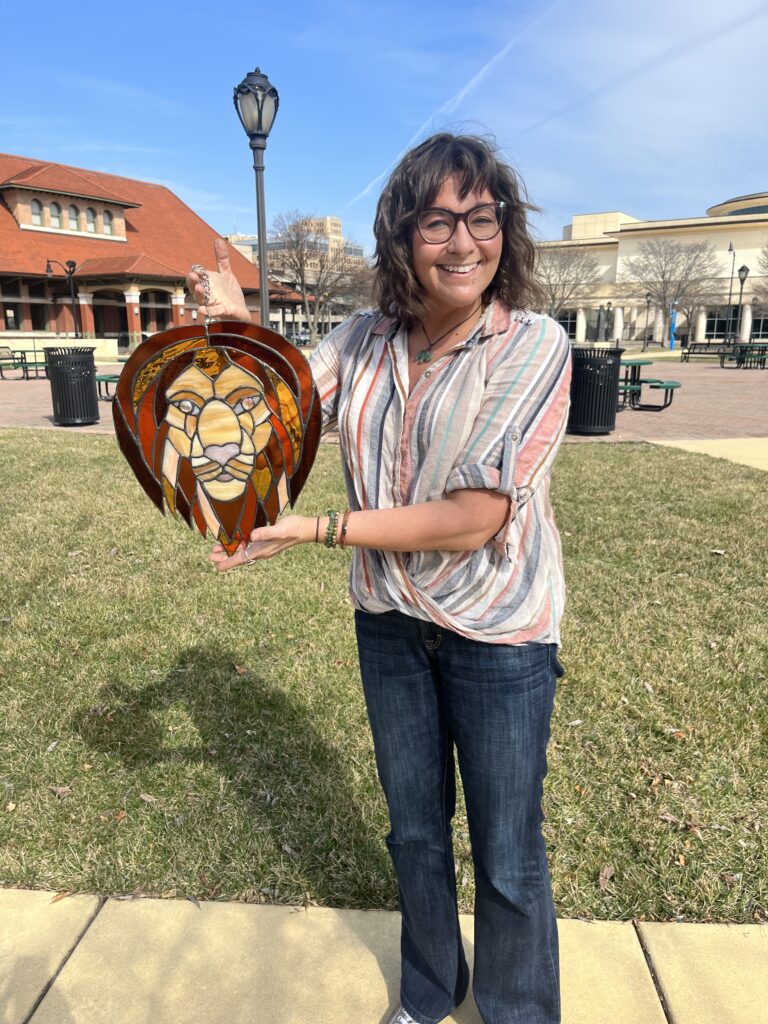 Sarah Thomas, owner of Garage on Leonard
The Garage on Leonard
BY TARA L. CALE
Springfield resident Sarah Thomas was always the artistic type, but she was told throughout her early and teen years that you can't make money with art. So she chose the traditional route of getting a higher education and what would be considered a respectable career. She had been working in the social services industry for many years and was, in fact, working towards her Master's in that arena. Weeks before obtaining that degree she lost her mother after a prolonged illness.
"After graduating, I spent countless hours searching for openings, submitting applications, writing cover letters, and completing interviews," Sarah told me. "I was just feeling like I was in a rat race and needed an outlet."
The loss of her mother also caused Sarah to look at life differently.
"I realized that if you want to do something, do it now. Don't wait for the right time or you'll just keep making excuses. And the right time may never come. THIS is your time, your journey, do with it as YOU want."
With that in mind, Sarah finally took the initiative and to sign up for the introduction to stained glass class – something she had been planning to do for quite some time.
"I was so excited for the first class to start, and once I made my first score on the glass, I was hooked!"
Suddenly the stresses of her life at that point began to dissipate. Scoring glass and creating beautiful art let her explore her creativity once again, and that made her very happy.
She completed that beginner stained glass course and before she knew it, her husband, Nick, who had seen her soul start to flourish with love for this new passion, surprised her with her own grinder so she could continue her newly found love at home.
"Little did he know he was setting the foundation for the biggest, riskiest jump I was about to take," she explained. "I hopped off one rollercoaster and jumped right onto the next one, even passing up the express lane."
Sarah left behind a career she had pursued for over a decade,  and chose to take a path that filled her creative soul while also bringing joy to others.
"I took a risk to leave the 'safe route' and jumped straight into the world of being an artist and a maker. I instantly had those that supported this decision, but I also had the ones that were skeptical of me 'wasting' my degree."
Sarah spent months to further educate herself on the art of stained glass (she is constantly researching, learning and educating herself on this unique art) to improve her techniques, and the quality of her finished products.
Sarah began selling on an online marketplace platform to test out the waters and by the summer of 2022, started selling her work at local craft markets. She has continued to grow from there: she has her creations in two local boutiques – Bewitching Botanicals in Auburn, and Wildly Rooted  Boutique in Springfield – and will venture to her first market outside of the Springfield area on Saturday, May 13th, when she is a featured vendor at the now very popular Small Town Dreamers Market in downtown Farmersville.
"Starting my own business and selling my creative works has been the riskiest decision I've made to date. But that scary jump has been a beautiful journey!," she exclaimed.
Sarah added, "I still do a little happy dance each time an item sells- no matter the size. Every sale matters to me. Selling something I've made with my own hands is never going to lose excitement! My very first stained glass sale was on a well-known online marketplace platform – within the first two weeks of my start-up. It was early in the morning and I was chatting with my sister while she was on her way to work. My phone gave a notification sound that was unfamiliar to me. I looked at the screen and started celebrating – hollering 'woot woot' 'oh yeah!!' and making other various sound effects and dance moves. I was so excited I could barely get the words out! So ecstatic! I told my sister, 'I did it! I sold my first piece!!!!' I couldn't believe that a person who lived STATES away, whom I had never met, wanted to spend their money on something I had created. I was grinning from ear to ear. Then I took a quick selfie, bedhead hair and all – it was a moment worth capturing. Some business owners like to save their first dollar and frame it but I wanted to save that smile, that joy, that gratitude I felt in nurturing my soul. That to me is more frame-worthy than any money."
Sarah's stained glass work started with plant stakes and sun catchers but quickly expanded to zinc framed panels, custom pieces, tea light candle holders, business card holders, propagation stations – and the list continues to grow. She also likes to incorporate things other than just glass into her work, such as snake shed, charms, and crystals – adding a little touch of nature and beauty.
Sarah's work is created in her garage, hence the name, Garage on Leonard. However, Garage on Leonard is not an open studio – you can't just come and shop.  It's solely where she creates. At times she does allow customers to pick up orders at the garage, but for the most part, the garage is her private solace, the place she feels most at home and in touch with her creative spirit, and her art is sold through the two previously mentioned boutiques, local markets and online.
Many of the items she creates are "market exclusive", which means you won't find them at the boutiques, or online – the only time you will see them, and be able to purchase them, are at the markets.
According to Sarah, working with glass is much like being a sculptor and a painter combined – smashed together.
"I get to build this beautiful creation by breaking down sheets of glass and grinding them down. After soldering the shapes together, a second creation is born, waiting to be seen when the sun shines through and the glass dances in the light. It's like getting two separate pieces of art."
"I have a playfulness about me, and I think that is why I love what I do so much – it's all play to me. I get to create unique designs and play with colors, textures, and shapes and bring them all together to create beautiful pieces that also bring joy."
Sarah emphasized that her creations are all hand drawn. Well they used to be…she has recently become more tech savvy and has some computer programs to help her digitize her patterns for creations – but they are all still original. She does not use templates.
Sarah said the rewards of working as a creative come in many forms.
"In one way the most rewarding aspect of being an artist is having freedom. The freedom to create and express myself through my creations, and the freedom of working for myself. But it doesn't just end there, because just as equally rewarding is the satisfaction of bringing joy to others with my art."
For more information about Garage on Leonard and Sarah's creations, visit www.thegarageonleonard.com, www.instagram.com/thegarageonleonard or on Facebook at The Garage On Leonard.