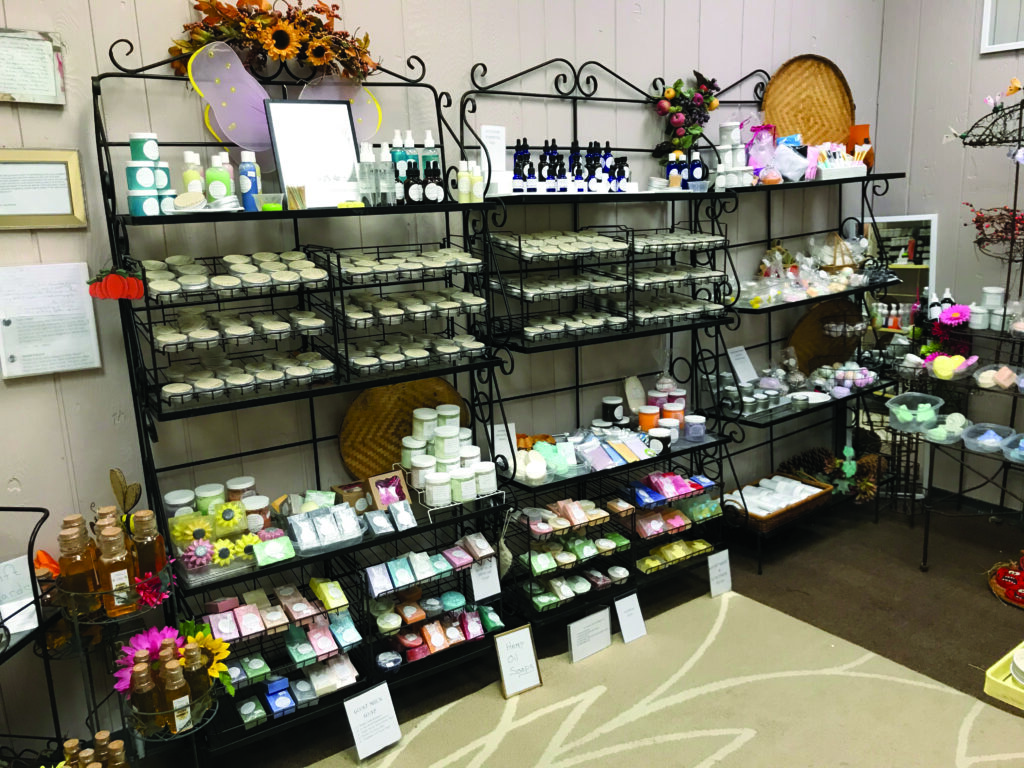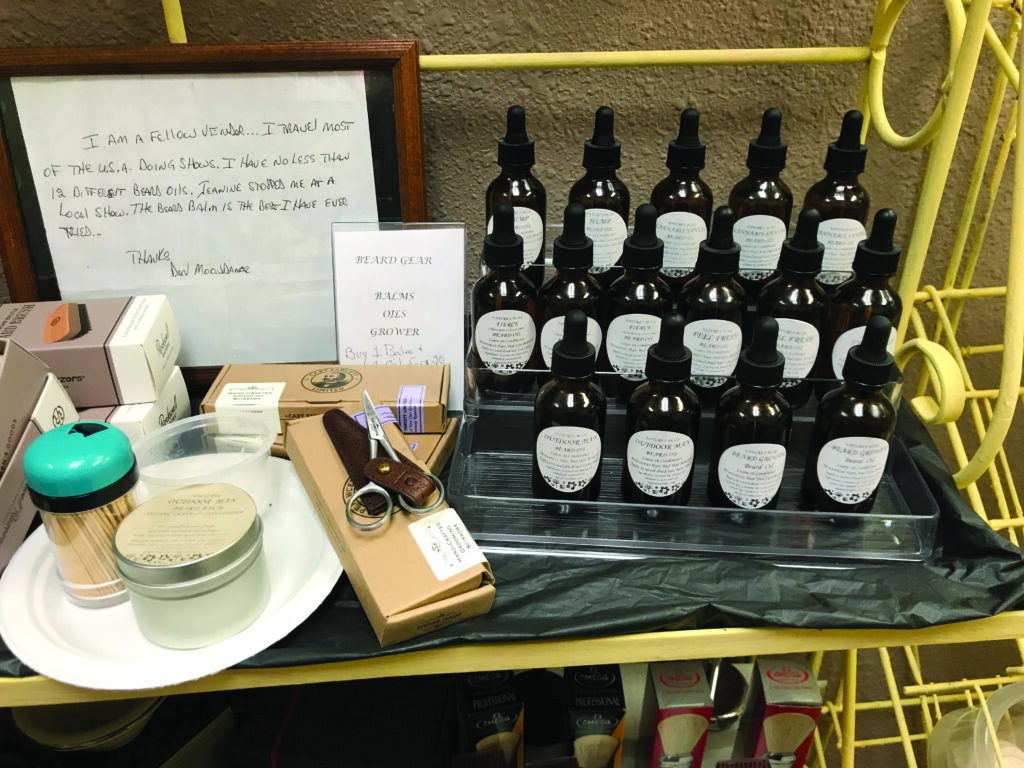 By Tara L. Cale
If you are one of the many consumers today that prefer natural products for your health, wellness, and beauty, a visit to Nature's Bliss, inside Pearl Essence Studio in downtown Staunton, is a must!
Nature's Bliss, owned by Jeanine Fassero, started in the fall of 2018. Fassero's husband, Allen, was already a beekeeper, so exploring the healthy options that beeswax could offer was intriguing to Fassero. She started by making beeswax wraps.
"Beeswax wraps are like reusable Saran wrap," she explained. "You can use them to store just about any food product, except raw meat. Unfortunately, they didn't sell well."
What did sell was her beeswax lip balms. So Fassero started researching how to make them better. That research took her to an entirely new realm of creating various all-natural products that people use every day.
Ingredients in her products are simple and include hemp seed oil, goats milk – and Calendula. Calendula is a plant – similar to the Marigold. Calendula flower is used to make medicine and is commonly used for wounds, rashes, infection, inflammation, and many other conditions. It is thought that the chemicals in Calendula help new tissue grow in wounds and decrease swelling. Though there doesn't seem to be strong scientific evidence to support the use of Calendula for these uses, Fassero's customers would beg to differ. In fact, while I was there conducting the interview for this story, a woman came in with psoriasis. She said she didn't know psoriasis was so painful. Fassero put a tiny amount of the calendula salve on her fingers and she rubbed it in. She was amazed the pain was gone so quickly.
Fassero's product line is wide and varied, and she is constantly researching to bring new options to her customers. Currently, her products include:
Calendula Oil Salves (even one with no fragrance, named "In the Buff", that is great for diaper rash)
Goat Milk/Glycerin, Hempseed and Oatmeal Lotions, and Soaps
Oil Infused Lotions
Whipped Skin Cream
Vapor Rub
Essential Diffuser Oils
Bentonite Clay (a deep pore cleansing/detoxifying mask)
Lip Balms
Bath Bombs, Salts, Sprinkles, and Scrubs
Lotion Wands (like a stick of deodorant, but it's lotion!)
Skin Cream
Beard Gear (balms, oils, growers) and Shave Soap (plus shaving accessories)
Kids Soaps in various shapes and fragrances
Detoxifying Activated Charcoal soap
All-natural dog shampoo, balm, and cologne
Local honey
The list goes on and on!
One of her bestsellers is cuticle/nail serum. This is a product that normally sells at the big name stores for up to $35 for just 1/3 ounce. Fassero's product works as well, or better, and is just $10 for a full ounce.
That is another great thing about Nature's Bliss products. Products are very affordably priced, compared to similar items you will find elsewhere.
"I do a lot of craft and vendor shows and I have people all the time telling me I can get double or triple the price for what my items are selling for," she explained. "But I tell them that I would rather get these products into the hands of as many people that want and need them as possible. We offer affordable quality in all of Nature's Bliss products."
The biggest obstacle for Fassero is keeping up with demand.  Everything is made by hand,  in her home, from all-natural ingredients. Fortunately, her husband, children, and grandchildren and friends help out, when they can, with the production of the products, and manning the booths at the various trade shows.
Fassero has multiple testimonials from satisfied customers posted with her products at Pearl Essence. One even from the UK! Her customers taut the benefits of Nature's Bliss products and want everyone to know. Nature's Bliss has received compliments about the Hempseed Oil Salve relieving pain (including plantar fasciitis); Calendula Oil Salve's radiation treatment soothing and erasing black circles under eyes; the Multi-oil Lotion erased keratosis pilaris (little bumps around hair follicles); Hempseed Oil relieving hand tremors and anxiety; Vaporub's pleasantness and efficiency and the Bug Spray's great quality. Here are a few of the actual letters Nature's Bliss has received:
"I live in the UK. My aunt came to visit recently and brought me Nature's Bliss Aloe/Green Tea Hemp Salve for arthritis and pain relief. It is amazing and the only thing that actually works for my arthritis."
"I had gone to the doctor for plantar fasciitis and received two cortisone shots and pain medication to take as need. It wasn't helping. I used the hemp salve and in just one application the pain in my foot had lessened. I continue using it daily and my foot pain is completely gone."
"My mother brought me some of your hemp salves. THIS IS AMAZING!  It is the first thing I have found that helped with the pain from my scoliosis, what a lifesaver! I also took it to work and shared with co-workers and now they are fans too. Thank you!"
"I would like to say how much I love the sunburn lotion. I used it on myself and son and it took the burn right out. I highly recommend it!"
"Your bug spray really works! I used it in the country by the lake and it works great!"
"I am a fellow vendor. I travel most of the United States doing trade shows and have no less than 12 different beard oils. Jeanine stopped me at a local show. Nature's Bliss Beard Balm is the best I have ever tried!"
"I have had these little red bumps on my upper arms for over 35 years. The medical explanation is Keratosis pilaris – small, rough little bumps around hair follicles on the upper arms, thighs, buttocks, and cheeks. It may appear in patients with dry skin conditions and atopic dermatitis. Keratosis pilaris is not curable but spontaneously improves over time. The dermatologist suggested I would have to learn to live with them. Then, I started using this yummy-smelling lotion from Nature's Bliss and after two weeks my bumps were gone! This stuff is amazing. Thank  you Nature's Bliss, I will never use anything else!"
Nature's Bliss products are not only great for you, but they also make great gifts. Fassero already has some gift sets put together but she would happily create a custom gift set for you.
To find out more about the amazing products by Nature's Bliss, visit www.mynaturesbliss.com, find her on Facebook, or better yet… see, smell and sample the products in person at Pearl Essence Studio, 301 W. Main in Staunton.
Pearl Essence Studio is open Tuesday through Friday, 11-5. They will be hosting a Fall Festival on Saturday, October 10 from 10-2 featuring over 20 local artisans with amazing products, both inside and outside the store. It would be a great time to kick off your holiday shopping and find some truly unique gifts.
Fundraising concessions by local school and youth organizations will be on site.