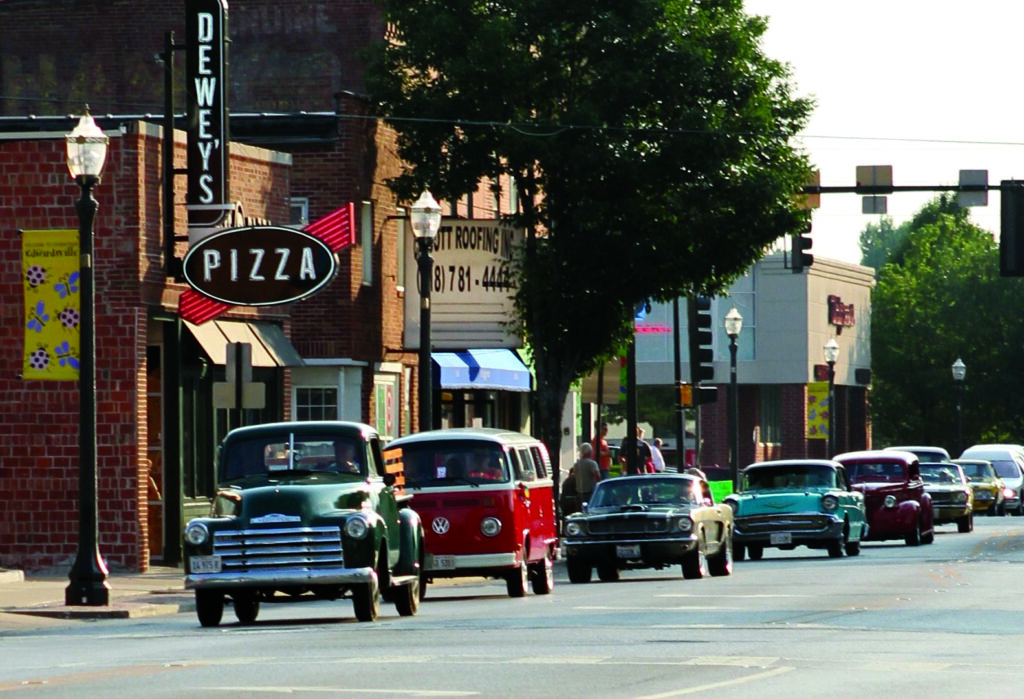 Edwardsville's Route 66 Festival will celebrate its 25th year. Courtesy of City of Edwardsville.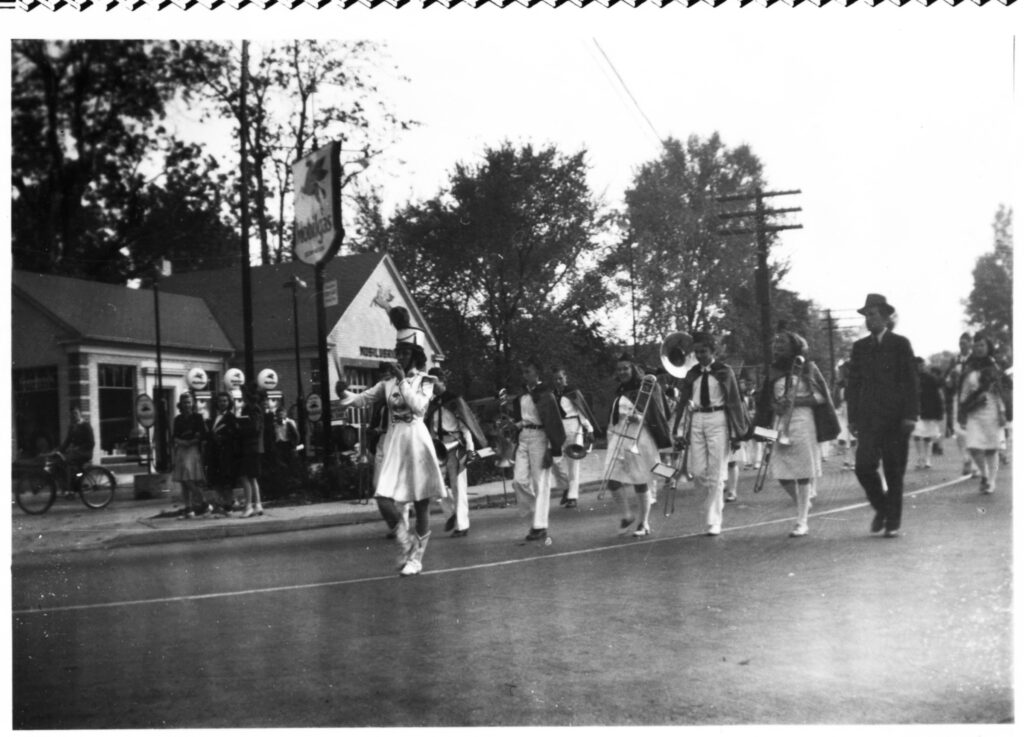 A 1940 photo shows the West End Station with the High School Homecoming parade marching by. Courtesy of the Madison County Historical Society.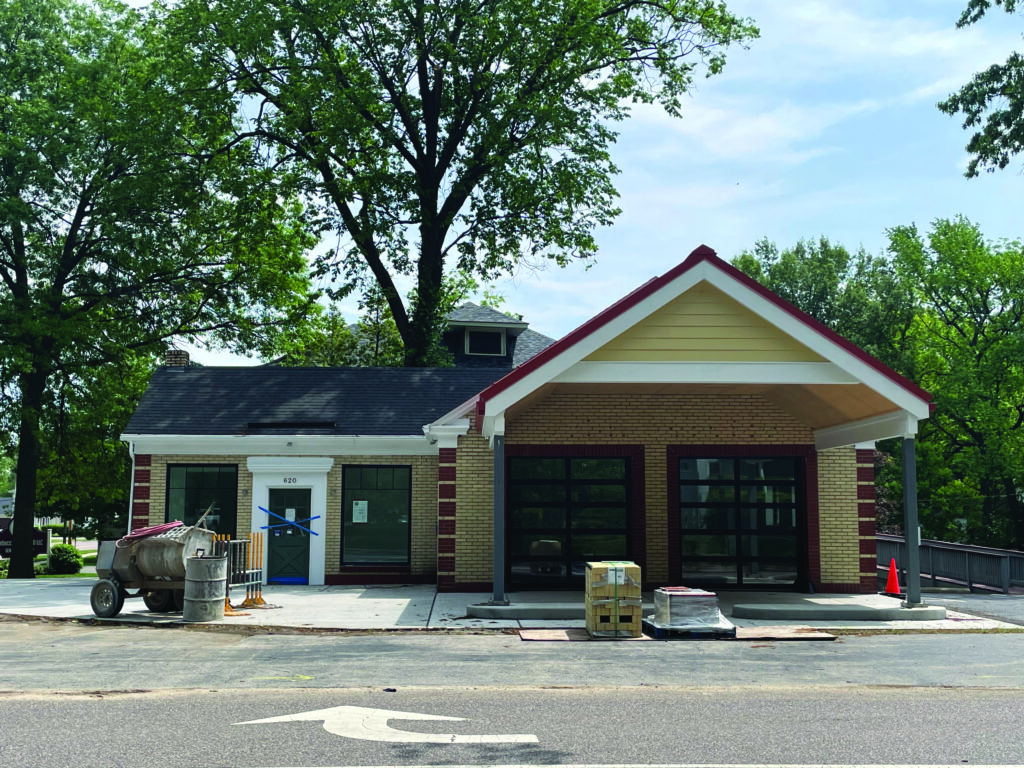 A current photo of renovations of the former gas station/dental office which will be completed  before June 9 for the reveal of the new West End Station Visitor Center. Photo by author.
City, Tourism Bureau and Citizens Work to Open Visitor Center and Add Events

By Cheryl Eichar-Jett
The Edwardsville Route 66 Festival, now in its 25th year, may look familiar, continuing its food-vendors-live music format popular with area locals. But this year, everyone from city officials and interested citizens to the area's tourism bureau have gone "all out" to pack the festival weekend with additional new events and the long-awaited grand opening of the city's new Route 66 welcome center. All along the 2,448 miles of the famous route, everyone's attention looks forward to the 100-year anniversary of Route 66 three years from now, stirring up excitement to begin the momentum now! From Thursday evening, June 8, through Sunday afternoon, June 11, there will be a steady stream of events, including the "Get Your Kicks" Musical Revue, a showing of the popular movie Cars, the 25th year celebration of the festival, and the winners of the Route 66 Story Competition at the Edwardsville Public Library. Look for times and updates at edwardsvilleroute66.com.
"GET YOUR KICKS" MUSICAL REVUE AT THE WILDEY THEATRE
On Thursday, June 8, at 7 pm, "Get Your Kicks," an original musical travelogue featuring Edwardsville's stretch of historic Route 66, will help kick off the weekend festivities. With an idea conceived and developed by local theater enthusiast Craig Becker, "Get Your Kicks" – billed as an "All-About-Edwardsville Route 66 Musical Revue" – is being produced by the Friends of the Wildey and will be performed by members of the Alumni Players (all Edwardsville High School alumni). The cast will perform songs from the pop charts of the 1940s-1970s. Highlighting Edwardsville's history along the legendary highway, all proceeds will go to the newly-established Wildey Arts Scholarship Fund at the Edwardsville Community Foundation. Tickets are available at ci.ovationtix.com/36241/production/1160781.
WEST END STATION OPENS AS A VISITOR CENTER
A Grand Opening ceremony on Friday, June 9, from 9-10 am will officially open the West End Station Visitor Center & Route 66 Historic Site at West and St. Louis Streets (historic Route 66). Thereafter, it will be open to visitors Fridays through Sundays. Informational panels will tell the story of Edwardsville along Route 66.
An earlier gas station building once stood on this spot, angled toward the intersection of West and St. Louis Streets, which carried Route 66. Henry Springer Jr. opened that station as a Texaco in 1927. In the 1930s, it was replaced by the current building, which became a Mobile station. In the 1960s, with Route 66 bypassing Edwardsville, the building was turned into a dental office, serving as such until just a couple years ago. The City of Edwardsville saved the building from razing, and Great Rivers and Routes Convention & Visitors Bureau received a state grant of $460,000 (part of $4 million in grants for several Route 66 projects ahead of the famous highway's Centennial in 2026) to help the city renovate the building.
CARS ANIMATED MOVIE AT LECLAIRE PARK
The wildly successful 2006 Pixar-Walt Disney Pictures movie Cars will be shown in Leclaire Park, just  a mile off Edwardsville's Route 66 (take Buchanan Street to Jefferson Road to Hale Avenue) at dusk on Friday, June 9. The movie took inspiration from real-life characters and places along the Mother Road's 2,448 miles and featured award-winning notable author Michael Wallis as the voice of the Sheriff. This is a free, family-friendly event – just bring a chair or a blanket.
EDWARDSVILLE ROUTE 66 FESTIVAL IN CITY PARK
This popular local festival in its 25th year will include all the components that it's known for:  a variety of live music, food and vendors, History Tent, children's activities, a 10K run/walk, a classic car show/cruise, and trolley rides to downtown Route 66 points of interest. Check out the details and updates at edwardsvilleroute66.com.
The schedule includes:
8-10 am • 10k Run/Walk
11:30 am -1:30 pm •  Talent Showcase
1:30 -3:30 pm •  Midlife band
4-6 pm •  Matt Taul Band
6:30-8:30 pm • Soul Cracker band
9-11 pm • Well Hungarians band
MEMORIES OF ROUTE 66 STORY COMPETITION AT EDWARDSVILLE LIBRARY
The Route 66 weekend festivities will conclude on Sunday afternoon in the lower level of the Edwardsville Public Library in City Park. Len Heine and Gary Sosniecki will share their road trip reminiscences in their winning entries in the road trip story competition hosted by the Edwardsville Story Project and the library. The program begins at 2 p.m. and is free to attend.
Cheryl Eichar-Jett is the author of numerous books and articles about Route 66. Find her at www.cheryleicharjett.com.