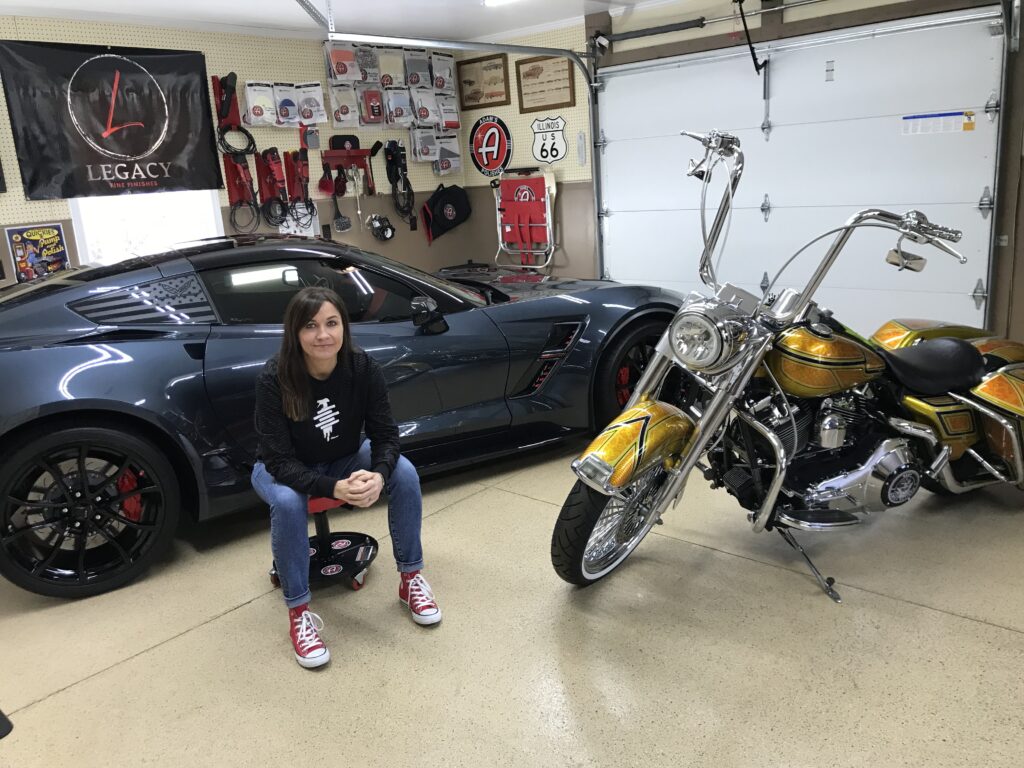 Angela Edwards in her Taylorville shop – Legacy Fine Finishes with her 2019 Corvette Grand Sport and 2004 Harley Davidson.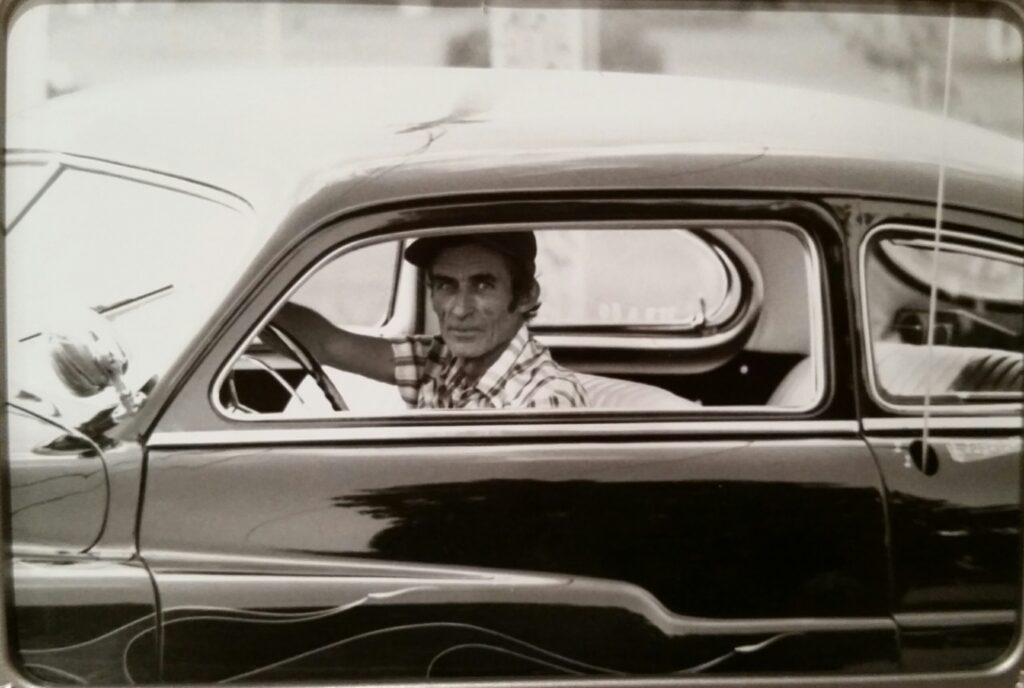 Angela's favorite photograph of her father, Joe Muffick, in his beloved 1950 Mercury.
Legacy Fine Finishes has many happy clients. Notice the deep shine on the motorcycle below – like a mirror. The red Cadillac CTS V had some major paint issues on the hood, but not after some TLC from Angela Edwards!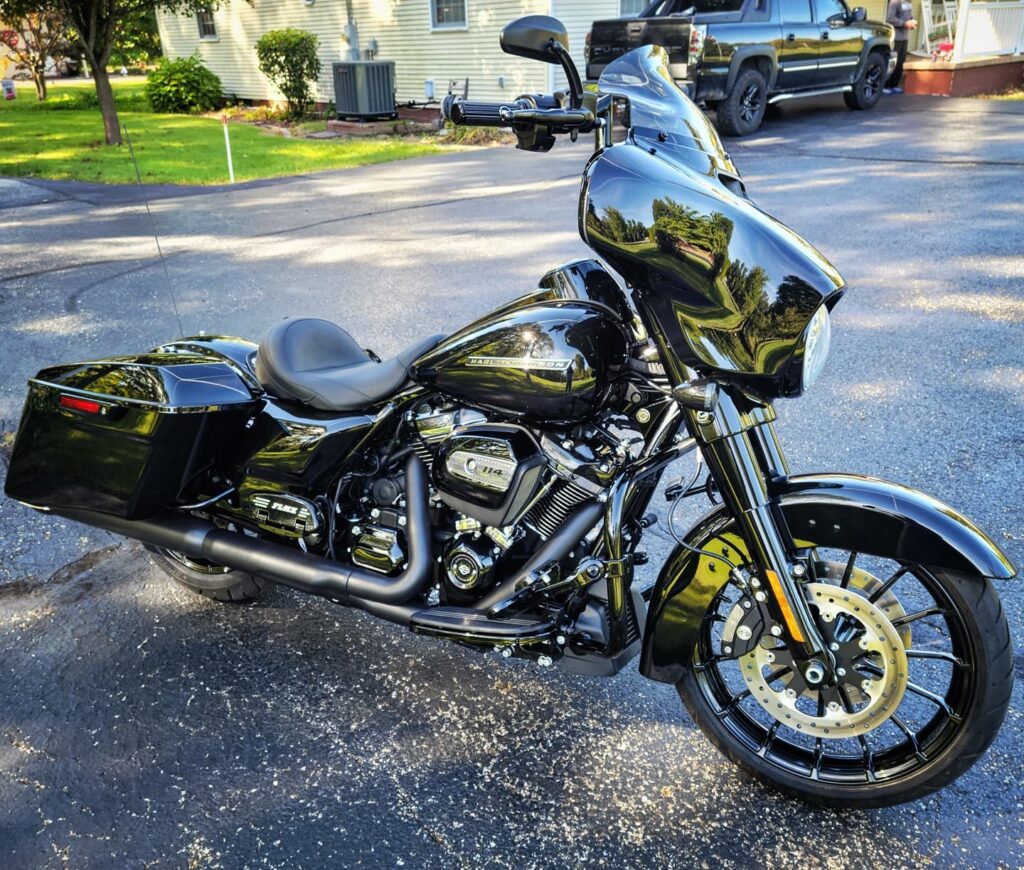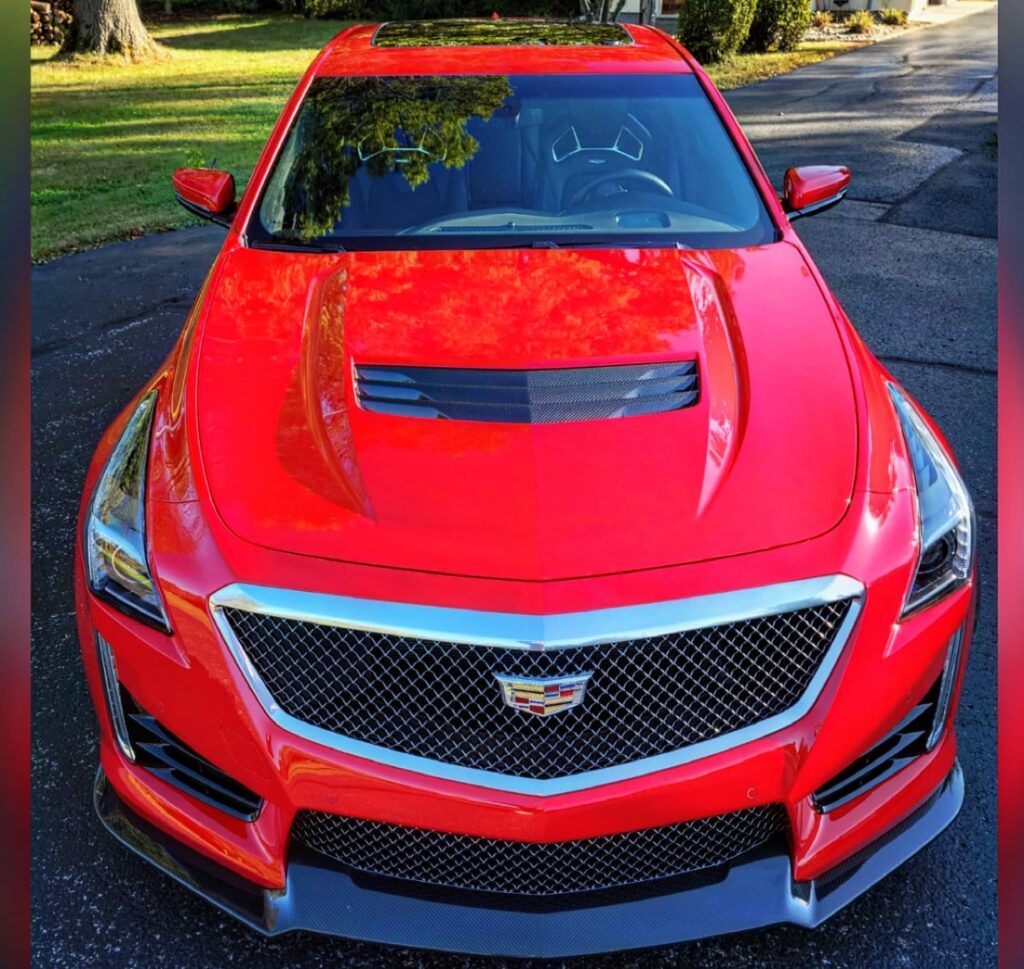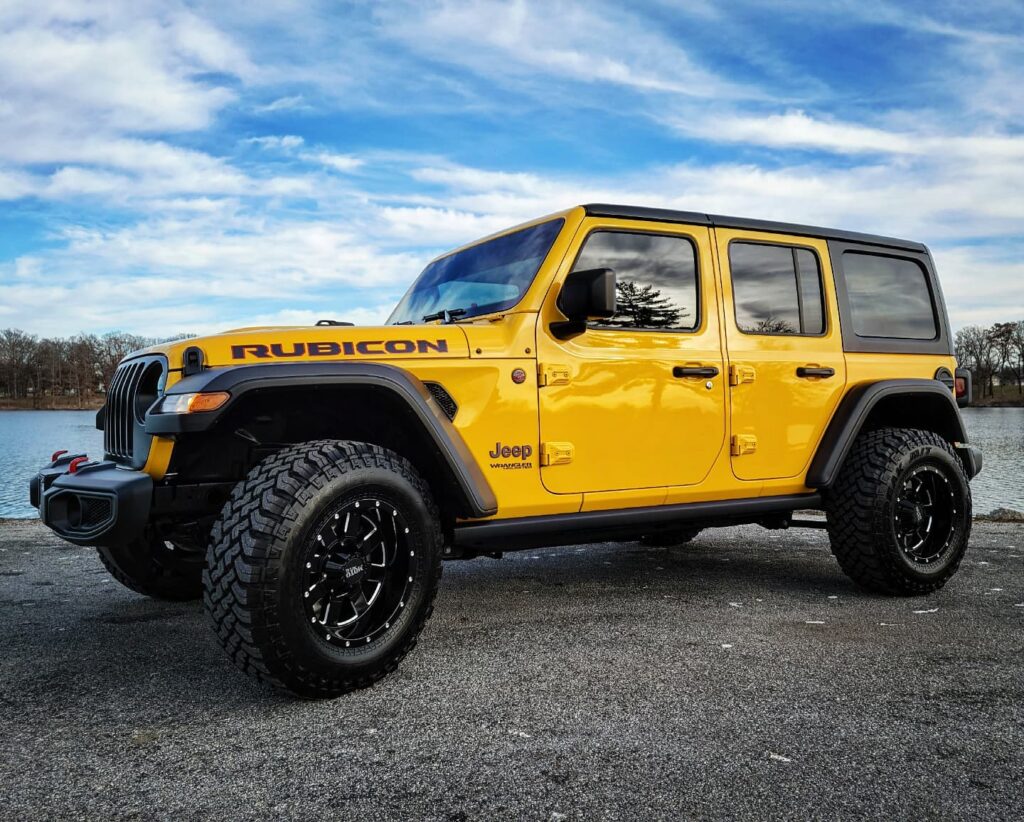 Legacy Fine Finishes – Enjoy the Shine!
By Tara L. Cale
Angela Edwards, Taylorville resident, has been an avid motorhead for as long as her earliest memories. She reminisces about spending time with her father, Joe Muffick, as he painted, restored, and customized vehicles.
Angela loved hanging out with her father, no matter what he was doing. But in the shop – that was the best. Joe had a 1950 Mercury that he showed, and he took little Angela with him. It was her job to keep the car clean.
"Dad was super talented. He rebuilt a '29 coupe that was on display for a time at a bank in town," she told me. "He was really into cars and motorcycles. He often raced at the flat track. And I was like a sponge, soaking up anything and everything he did."
Unfortunately, Angela's time with her father was cut short. A retired coal miner (Coal Mine #10 in Pawnee), he passed away from complications of emphysema and Black Lung when Angela was just 19 years old.
Even so, Angela kept doing what she loved. Riding Harleys. Driving fast cars. And working on both.  She started detailing vehicles for friends and family.
"I was always a detail person," she said. "That probably stems from my job to keep the Mercury spotless for shows."
Then, she decided to step up her game.
"I loved detailing. I excelled at it. But I wasn't satisfied with just detailing the SUVs for soccer moms and busy people. I wanted more."
The transition for Angela came about around the same time that ceramic coatings for vehicles was starting to get hot. She decided to get formal training in this new technology and start her own bona fide business.
Angela enrolled in a detailing academy to become certified in ceramic coating application. Husband Andy (retired Chief Warrant Naval Officer), supported her decision 100% and enrolled with her.
"I already had the basics that were pretty much self-taught, but I wanted more.
I needed more," she said, "I stepped up my game and moved into nicer vehicles, improving and protecting the investment that car/motorcycle enthusiasts commit with their vehicles."
In January 2020, Legacy Fine Finishes was born. This month marks the two year Anniversary for Angela's business – aptly named as a legacy to her father.
"I have no interest in basic detailing anymore. Rather, I focus on paint correction/restoration, and preserving the integrity of the vehicle that the individual owner loves, wants to preserve, and understands that this vehicle is an investment," she explained.
Ceramic coating is a silica-based liquid polymer that is applied by hand and cures to form a protective layer that, when properly maintained, can be effective for several years. Long-lasting protection is the main reason car owners choose a ceramic coating over the other options such as wax and sealants.
Essentially a hard shell, a ceramic coating will prevent water stains, road grime, bird droppings, and other substances from reaching and harming the paint. With a quick rinse, they simply slide right off.
Typically, anything related to "phobic" has a negative connotation, but in this case it's all good. A ceramic coating creates a hydrophobic layer that essentially repels water, meaning mineral deposits and dirt have less opportunity to damage the paint surface. The additional clear ceramic coating provides added protection, and makes your vehicle easier to clean, and maintain.
"The process of cleaning a vehicle, as most people know it, actually damages the finish," she said. "The basic microfiber towel is actually too rough to clean your vehicle without doing damage."
The wrong type of microfiber, or the ever popular California Duster, can actually cause microscopic damage to the clear coat that produces swirl marks and spider webbing which dulls the finish and paint color.
Once a quality ceramic coating is applied, Angela said, "The less you touch the vehicle to clean it, the better. Rinse, shoot with a foam cannon, rinse again and dry," she said.
But how do you dry it without touching it with a rag or chamois? The same way automatic car washes dry your car, if you are willing to pay the extra $1.00 or so – with a blow dryer. Of some sort. Angela says a leaf blower is a very safe and effective blow dryer for your vehicle's finish.
Now, there are times when there may be just a little dust, or a few bugs on your vehicle that you would like removed. IF you have a quality ceramic coating on your vehicle, a cloth dampened with detailing spray will wipe that away, without doing damage, lickety-split! And no more waxing. In fact, you can't put wax over a ceramic coating.
Although it does provide an extra layer of protection ceramic coating does not make your vehicle scratch or dent proof!
Angela explained that most imperfections are actually found in the factory clear coat of vehicles, and that is where her correction/restoration comes into play.
"Once the damage is through the clear coat and actually down to the paint, I may not be able to completely remove it. But in most cases I can make it less noticeable," she said.
Most vehicles will need the paint correction/restoration before a ceramic coating is applied – even brand new cars right off the showroom floor – as they have probably been cleaned incorrectly, including having been run through an automatic car wash (a big no-no if you want to preserve and protect the finish of your vehicle).
Angela also explained that before paying for ceramic coating on your vehicle, make sure to ask some questions. Find out what percentage of the hardening component SI02 is in the product that will be used. Legally, the coating only has to have 2% to be labeled a ceramic coating, but with that low concentration, the longevity of the job is not going to be any better than a sealant. The product Legacy uses is imported from Japan and has 88-90% SI02. Ceramic coatings applied by Legacy Fine Finishes will last 3-5 years, depending on if it is a daily or seasonal driver, and if it is garage kept or stored outside. Quality ceramic coatings should also be applied by hand, not sprayed on.
"We take the time to educate our clients also," Angela commented. "I've had many people tell me they got ceramic coating elsewhere but were not told on how to care for their vehicle after the process. We not only tell them, we provide a brochure with all the details.  Plus they can always reach out to us with questions."
And even with only two years under her belt professionally, there are plenty of happy customers spreading the word about Legacy Fine Finishes.  Here are a few testimonials:
"Legacy worked magic on my 2004 HD Road King. They provided a full detail, paint correction, polish, and ceramic coating. The result was beyond my highest expectations! My bike's paint has never had such shine and depth. I honestly didn't know it was so RED! Insert smiley emoji here. It is obvious that they are passionate about what they do. If you want your ride to look better than it ever has, you need to let them do their stuff! Five star rating, only because 10 stars wasn't an option!"
"I bought my dream car, a 2014 Mustang Convertible, and decided to get the car and top ceramic coated. Using Legacy Fine Finishes was the best decision ever. They put so much work and love into what they do!! My car looks so much better than the day I bought it. I actually cried the day I picked it up."
"I couldn't be happier with the work done on my Subaru! It looks 10 times better than the day I bought it! Should have taken it to Legacy sooner. The customer service was outstanding! The owner explained every little detail of what would be done to my car. Incredible work. This business is top notch!! Definitely worth the money!!"
Angela's eyes lit up as she told me, "This really started out as a hobby for me, but now I have an extreme passion for it!  I'm probably never going to be any bigger than myself – no multiple garage bays, no employees – I'm not in it to get rich.  My gratification comes from satisfying my clients. I want them to be happy and love their vehicles. There is nothing better than hearing someone say their vehicle looks better after I finish than it did when it was brand new!"
Legacy Fine Finishes is located in Taylorville. For more information call 217-827-7041, email [email protected], visit legacydetailing.net or  Facebook.com/Legacy Fine Finishes LLC.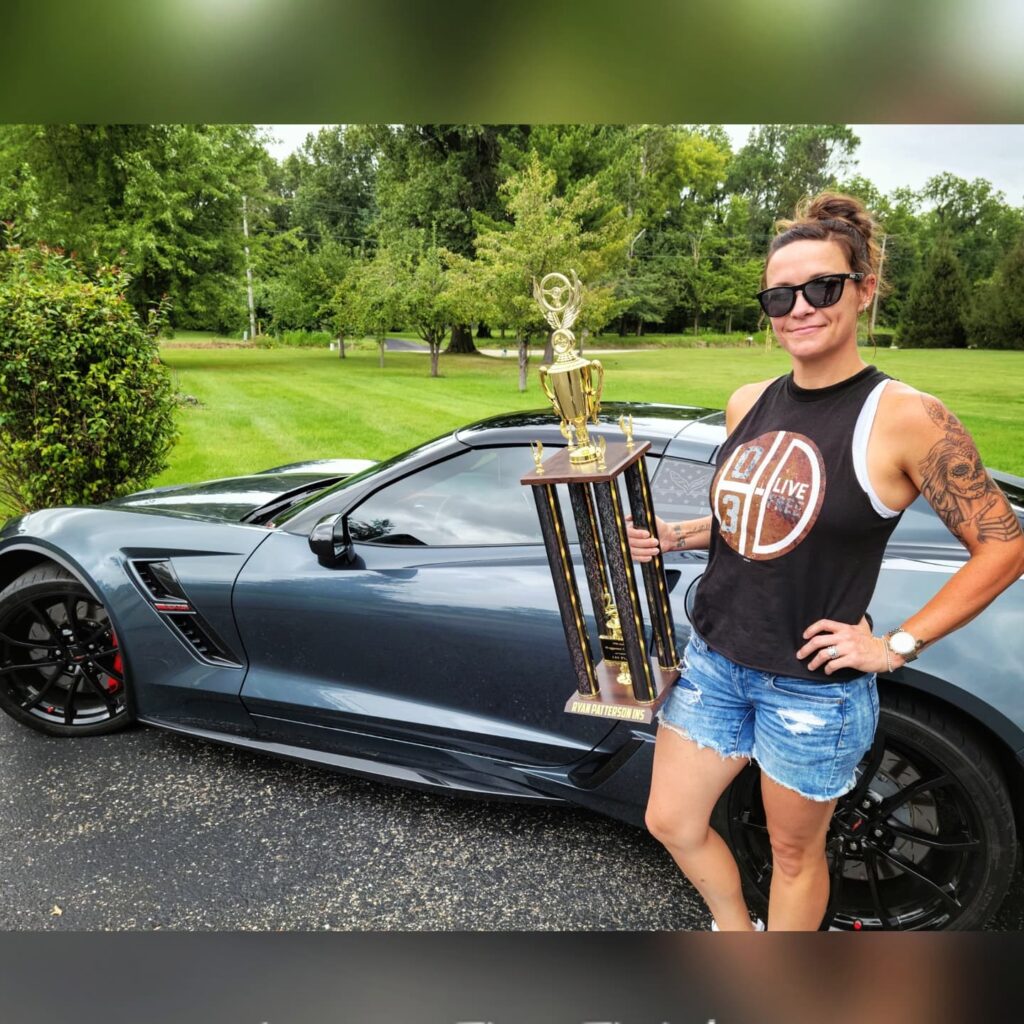 Above: Angela Edwards enjoys showing her vehicles in her spare time. She has won several trophies, which see credits much to the incredible depth of shine provided by the paint correction and ceramic coating.
Below: Some before and after photos of the different paint correction/restoration can make on the appearance of the finish of cars and motorcycles.