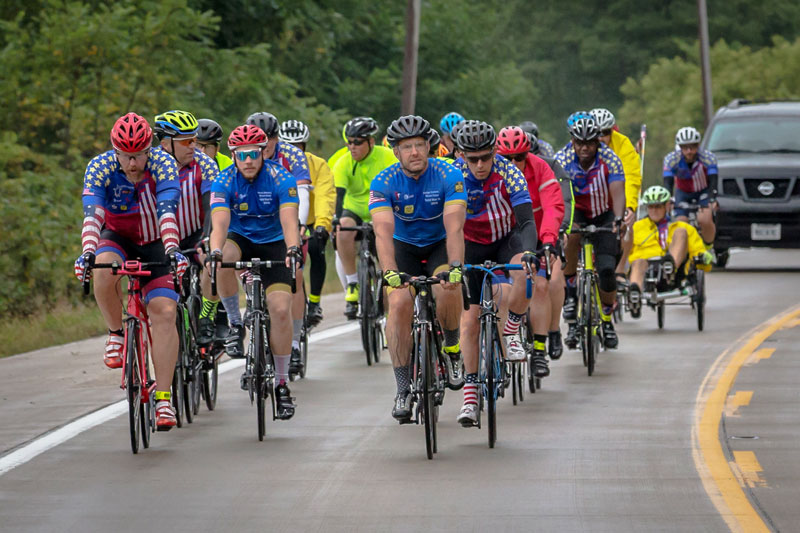 On September 20, 2022, a team of primarily, veteran and service member bicyclists will begin a 520+ mile journey to carry the torch of personal sacrifice in honor of fallen Illinois service members, to carry on their stories, their courage, and to honor the legacy of their names.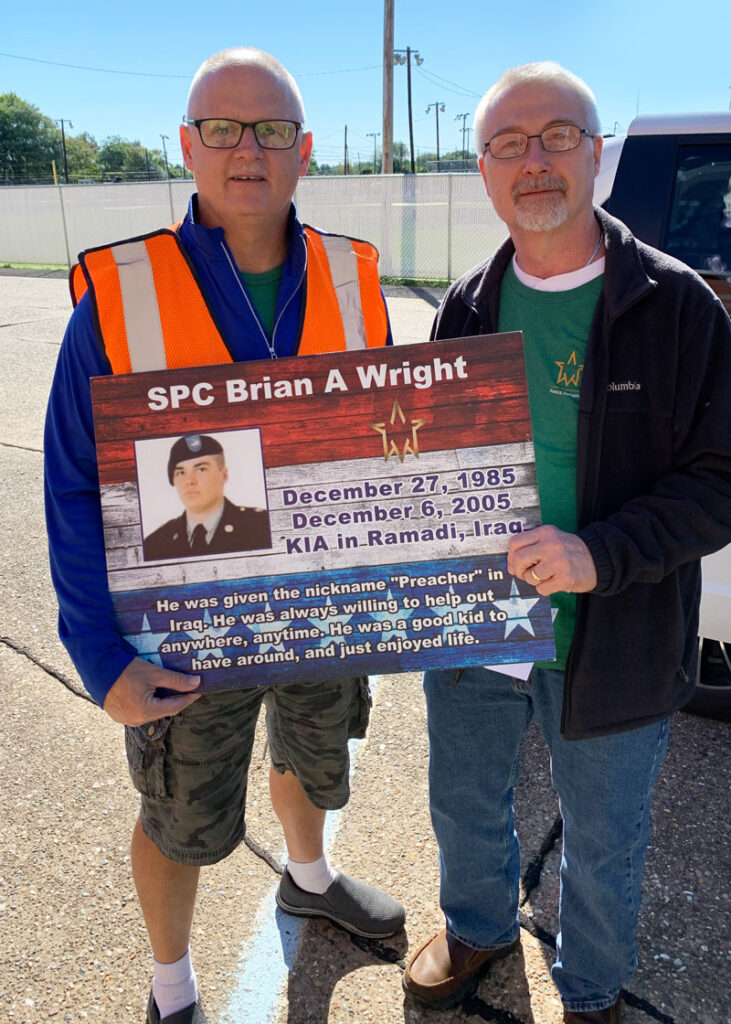 SPC Brian A. Wright's father stands with a Gold Star Mission representative with the sign honoring his son that was placed along the route of a previous Gold Star Mission ride.
Gold Star Mission Assists Gold Star Families in Need
BY TARA L. CALE
When I was growing up, I remember in grade school if we did something very well, we got a gold star. The little star stickers placed on our assignments came in all colors, each one indicating something different, but the gold star was the best, most important star to receive. Everyone wanted a gold star.
But no one wants to be a Gold Star Family.
The phrase "Gold Star Family," dates back to World War I, when military families displayed service flags featuring a blue star for every immediate family member serving in the Armed Forces. The star's color would be changed to gold if the family lost a loved one in the war, hence the term. The title of Gold Star Family is reserved for families of military members who have died in the line of duty and is meant to honor the service member's ultimate sacrifice while acknowledging their family's loss, grief, and continued healing.
Even though the nation isn't currently part of a conflict as all-encompassing as World War II – only 1% of the U.S. population serves in the military today, versus the 12% that served during WWII – there are more living Gold Star Families than you might think. According to a Military Times article, since 9/11, more than 16,000 troops have died in non-combat circumstances and 7,000 died in the Iraq and Afghanistan wars alone. There are also thousands of living Gold Star Family members who lost loved ones in WWI, WWII, the Korean War, the Vietnam War, and other conflicts throughout the 20th and 21st centuries.
Several veterans and friends in Springfield were moved by stories of Gold Star Families and in 2017 took action to help others in need, establishing the Gold Star Mission. It started as a desire to provide scholarships for surviving children of veterans but has evolved into a widespread effort to assist Gold Star Families and others in need in order to preserve the memory of our Fallen Heroes.
The biggest event for the Gold Star Mission each year is their Gold Star 500, a five-day, 520+ mile endurance bicycling event, which honors the service and sacrifice of the nearly 300 service men and women from Illinois who made the ultimate sacrifice in honor of our great nation, since September 11, 2001. The nearly 300 died while protecting and aiding people of foreign lands, people they likely never knew or even met. They died so others could have a better life; their names must live on!
On September 20, 2022, a team of primarily, veteran and service member bicyclists (a projected total of 35-40 riders) will begin the 520+ mile journey, with the intent of this ride, to carry the torch of personal sacrifice in honor of these service members, to carry on their stories, their courage, and to honor the legacy of their names. The very abbreviated highlights of the route:
Day 1: Springfield, Mt. Sterling, to Quincy;
Day 2: Quincy, Macomb, to Galesburg;
Day 3: Galesburg, Rock Island, to Rock Falls:
Day 4: Rock Falls, Rockford, to Woodstock;
Day 5: Woodstock, Fort Sheridan, to Great Lakes Naval Station.
This year is going to be a very exciting time as the Gold Star Mission is partnering with the following Polish organizations to have Polish participants in the Gold Star 500 this year:
Memory and Future – Polish Association of Families of Fallen Soldiers
Polish Military – currently serving and veteran cyclists
Secondary School Complex in Wloszakowice – recently renamed with the name "Veterans of Activities Outside of Poland"
And from Illinois, the Chicago – Legion of Young Polish Women
The current estimate is to have up to 11 Polish Gold Star Family members and 12 cyclists join us for the entirety of the ride.
You may ask why Poland….well that goes back to 1993.
A team of Illinois Army National Guard Soldiers deployed along with Polish Forces on every one of their rotations into Iraq and Afghanistan. So for each of the nearly 75 Polish Fallen Heroes, an Illinois National Guard Member was close by, in the chain of command.
The Gold Star 500, and other events, are a way of honoring the service members by assisting Gold Star Families and others in need through scholarship opportunities. This ride will preserve the names of the fallen by honoring their service and sacrifice, for we must Never Forget.
Here's how you can help:
Ride with us — oops, no. The slots are full for this year. But there WILL be next year. Let us know if you are interested and we will make sure you know the details.
Learn about one of our fallen heroes, and share what you've learned;
Volunteer as an event participant, or as part of the support team;
Follow Gold Star Mission on Facebook – share what you learn, and encourage others;
Donate – go to Goldstarmission.org;
Sponsor a participant – GSM participants are challenged to raise donations, not for their registration fees, but for the scholarship program.
For more information on The Gold Star Mission, please visit the website (goldstarmission.org), and Facebook (Gold Star 500), or don't hesitate to contact them at [email protected].