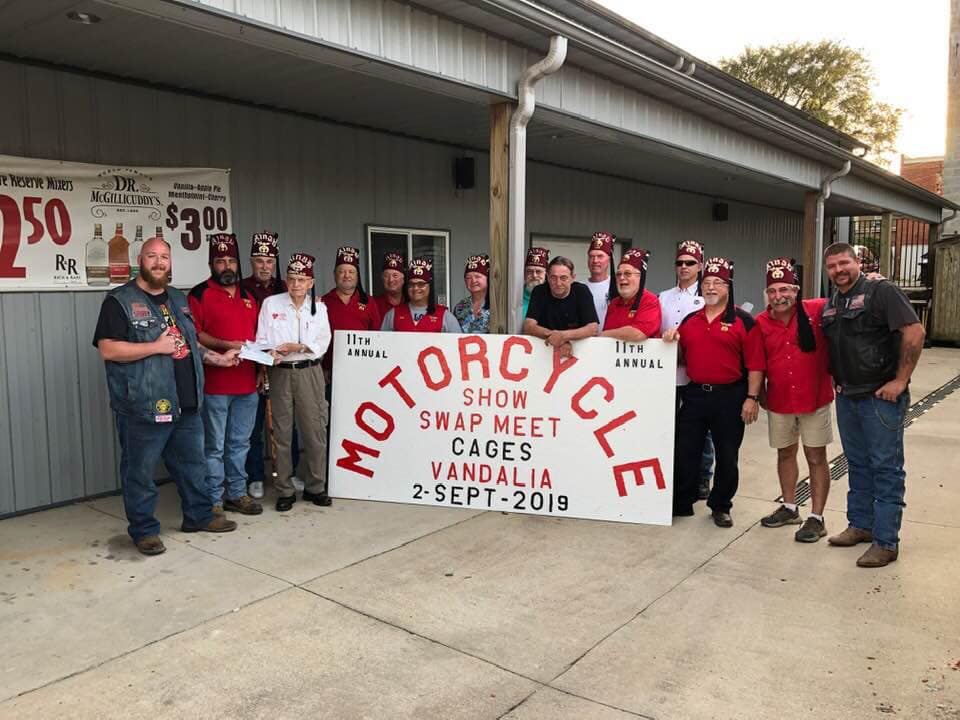 Shriner's Hospital was presented with a check for $6,000 of funds raised at the Annual Cages Bar & Grill Motorcycle Show, Swap Meet, and Family Fun Event in 2019. Included in the photo are two members of Highway Hustlers Illinois who made a generous $1,000 donation at the event.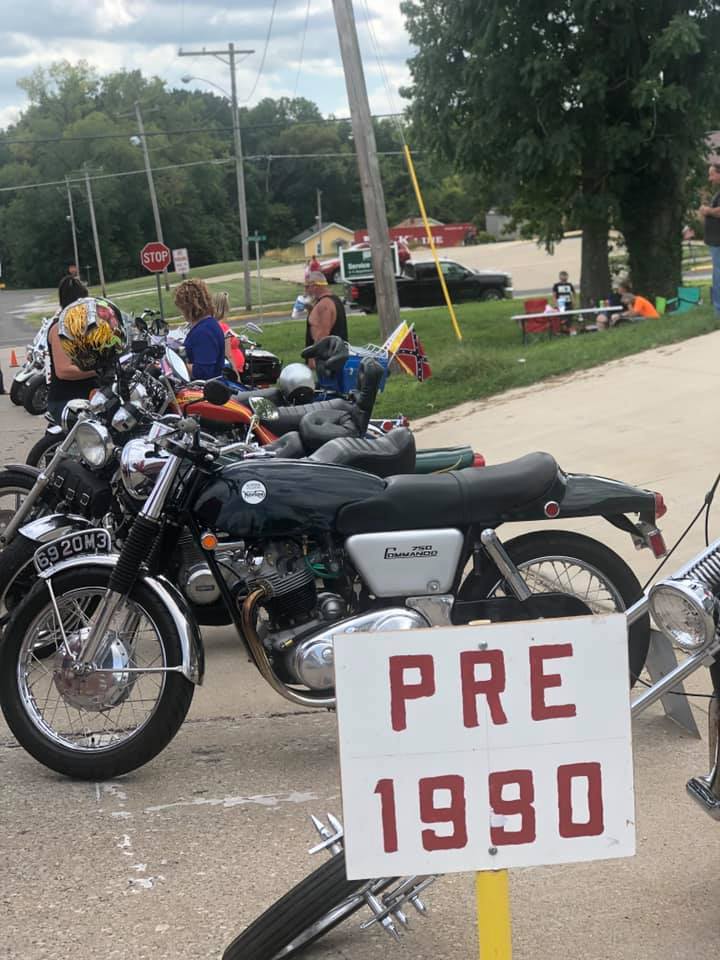 The 12th Annual Motorcycle Show, Swap Meet, and Family Fun Day at Cages Bar & Grill in Vandalia will feature 12 categories for motorcycle entries and will feature a variety of family-oriented events that everyone can enjoy.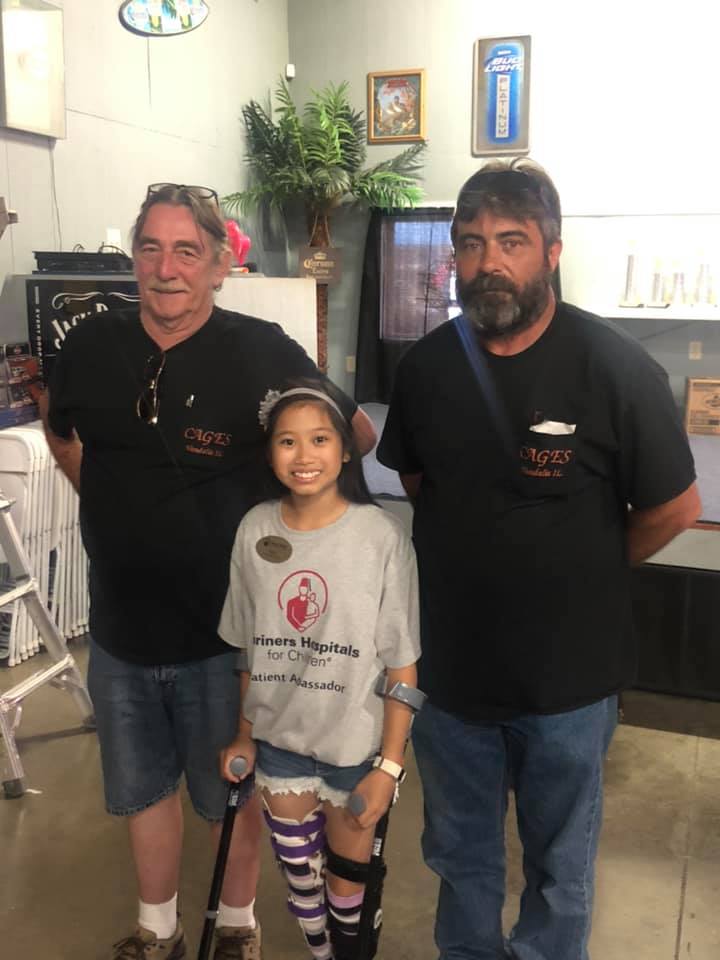 The men behind the madness, organizers of the Annual Cages Bar & Grill Motorcycle Show, Swap Meet and Family Fun Event – Dave Paulding (left) and Dave King (right) – with last year's, Kiera, an ambassador from Shriner's Hospital.
12th Annual Cages Bar & Grill Motorcycle Show, Swap Meet and Family Fun Day to be held Monday, Sept 7th
BY TARA L. CALE
According to Vandalia resident, Dave Paulding, some of the best ideas come to you when you are having a few beers with friends. And that is how Paulding, and Dave King, owner of Cage's Bar and Grill in Vandalia, came up with the idea to host an annual motorcycle show.
"We wanted to create an event that would stir up the town a bit, and get some recognition for Cages," Paulding said. "Being bikers, we decided that a fundraiser bike show fit that bill."
When deciding what to do with the proceeds, they instantly knew they wanted it to help children.
"I have a buddy that is a Shriner," Paulding explained. "So I knew that Shriner's Hospital is always in need of money to continue the incredible services that they provide."
And so it was decided.
This year marks the 12th year for Cage's Annual Labor Day Motorcycle Show, Swap Meet, and Family Fun Event to raise money for the Shriner's Hospital.
Not a biker? Don't worry.
"The event is based around the bike show and swap meet," said Paulding. "But truly it's just a big family event created to raise money for a good cause."
In addition to the bike show, which has 12 classes and 9 choice awards including Best Bike, Worst Bike, Greatest Distance Traveled, Mayor's Choice and People's Choice, the day is loaded with various other activities. There will be a motorcycle burn out the contest and a muffler rap. Several raffles will be held, attendance prizes will be given away, and an auction for donated items is planned.
"We've always had an auction, but this year it's been more difficult to get donations for an auction, due to COVID-19," Paulding explained. "If we don't get enough items to hold an auction, everything donated will be used as attendance prizes."
Attendees will be able to play corn hole and other games or take their chance on the mechanical bull.
"The mechanical bull is a kids' favorite," Paulding laughed. "They love that thing!"
"The city, the mayor, and other Vandalia businesses have been very cooperative since the first year," Paulding added. "They have allowed us to close off a street to accommodate all the motorcycles and organize them correctly for a class act show. A business adjacent to Cages allows us to use their parking lot … it's just a win-win situation for everyone."
Vendors will be present selling anything and everything motorcycle related – or not. There is no charge for vendor space but Paulding does request that any vendor donate an item for the auction/raffle/drawings, or make a cash donation to be included in the proceeds that will be given to Shriner's hospital.
The first year for the event was a bit disappointing. It rained all day and there were only 22 motorcycles entered in the show.
A $300 donation was made to Shriner's Hospital. But as the word got out, the event has gotten bigger and better. Last year there were 74 motorcycles competing for awards and $6,000 was donated to Shriner's Hospital. Paulding and King hope this year to have at least 100 motorcycles and be able to make a donation of $10,000.
"It's harder this year," Paulding admitted. "With the pandemic, it's hard to even get in touch with people, and when you do, they are hesitant to donate. They want to help, but it's just hard."
Normally one of the "Shriner's Kids" is present at the event, but this year that will not be allowed due to COVID-19.
Paulding also wanted to make sure that everyone knows that yes, this event takes place where people may be consuming alcohol, but they are very careful to keep everything in check and family-friendly.
"We do not tolerate attitude or belligerence, this is for the kids," he said. "There are on and off-duty officers always present at the event."
And in the event that someone does over-consume alcoholic beverages, they will not be allowed to drive/ride their own vehicle/bike. Their mode of transportation will remain on-site, under security, and they will make sure you get a ride to somewhere local that you can sleep it off.
"You gotta find your own way back to pick up your ride the next day though," he laughed.
Cage's 12th Annual Labor Day Motorcycle Show, Swap Meet, and Family Fun Event will be held on Labor Day, September 7th. Registration for motorcycles to compete is $15. Registration will take place up to judging time, which is 2:00 pm. Cages Bar & Grill will be offering multiple foods and drink specials for your enjoyment.
Paulding is still looking for vendors and donations of door prizes, auction items, etc. If you are interested, contact him at 618-267-0393. If he does not answer, leave a message, and he will get back to you.
"This may be the last year for me to be an active participant in organizing the event and getting it pulled together," Paulding concluded. "My health is not that good and I'm not getting any younger. I hope everyone will come out to have a great time and help out the kids. Hopefully, Dave (King) and some others can keep this going for many more years to come."
Bikers Against Child Abuse will have a vendor booth at the event and Pauling encourages other motorcycle clubs and groups to stop by, and/or participate.
Cages Bar & Grill is located at 215 S. 3rd Street in Vandalia. Flyers for the Labor Day weekend fundraiser will be posted on their Facebook page. For more information about Cages Bar & Grill in Vandalia, visit
CagesBarandGrill.info
.
ABOUT SHRINER'S HOSPITAL: The mission of Shriners Hospitals for Children is to provide the highest quality care to children with neuromusculoskeletal conditions, burn injuries and other special healthcare needs within a compassionate, family-centered and collaborative care environment.
Shriner's Hospital provides for the education of physicians and other healthcare professionals, conducts research to discover new knowledge that improves the quality of care and quality of life of children and families.
This mission is carried out without regard to race, color, creed, sex or disability, national origin, or the ability of a patient or family to pay.
The vision of Shriner's Hospital is to become the best at transforming children's lives by providing exceptional healthcare through innovative research, in a patient and family-centered environment.
Shriner's Hospital believes their patients are at the heart of everything they do. These young patients inspire Shriner's Hospital to continue its mission of improving the lives of children and families.