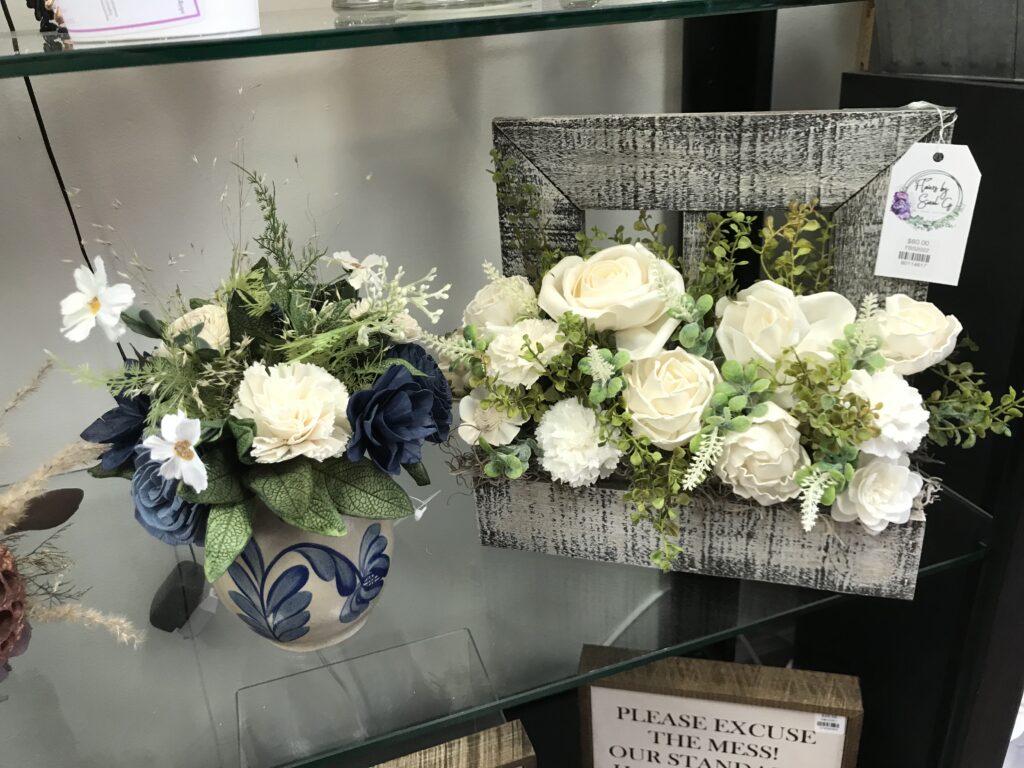 Sarah Gruhlke, owner of Mercantile on Main, got the idea to open her own retail business after selling her hand-crafted Sola flowers in other locations. Now the store carries a large, unique variety of items.
Visit Mercantile on Main – New Store in Staunton Packed With Variety
By Tara L. Cale
There comes a time in a girl's life (or a guy's) when you just have to make a change.  That time came for Staunton resident, Sarah Gruhlke.  She had been a telecommunicator for the Illinois State Police for a number of years, and although she loved that job, it was very stressful and taxing on her. She resigned in 2019 to concentrate on being a wife, and mother to her two children.  But she was restless, and soon began creating Sola Wood Flowers.
If you have never seen Sola Wood Flowers, they are just amazing! Sola wood flowers are an eco-friendly and sustainable alternative to cut flowers. Made from the renewable wood of a marshy plant, sola wood flowers look like real flowers and, with proper care, can last a lifetime.  Always having an artistic flair, Sarah's arrangements were stunning.
Initially, Sarah placed her Sola flower creations in other shops to sell but one day thought to herself, "Staunton needs more businesses, why not open my own shop?"  And so it began.
Realizing that her wood flower creations were not enough to fill a small retail store, she decided to open a unique boutique.  Mercantile on Main opened in March of 2021.
When Mercantile on Main first opened it offered boutique clothing for women and children (including adorable tutus), copper jewelry, candles and melts, local honey – and a few other items – in addition to her own beautiful creations.  In the past six months since her opening, Mercantile on Main has expanded to offer so much more.  In fact, you will be amazed at the wide variety of items you will find in this small little shop on the corner of Main and South Union Street in Staunton (across South Union from Sullivan's Pharmacy and Gift Shop).  There is literally something for everyone, and the inventory is constantly changing.
One of the popular lines carried at Mercantile on Main is the childrens' clothing line – Prairie Littles.  Sarah chose this line because she wanted kids to "dress like kids." "This is an exclusive line of children's clothing with limited numbers of each item," Sarah explained.  "The clothing is cute, fun, and age-appropriate – the way children should dress."
Mercantile on Main has one vendor that specializes in childrens' aprons and matching oven mitts. She also makes bowl koozies and potato baking bags.  Another vendor crafts custom doormats.  I have some being made that say "I hope you like Dobermans". More than one vendor creates custom jewelry. Mercantile on Main has women's boutique clothing, handbags, and backpacks.  She has several local vendors that keep her stocked with custom tumblers, local food items- jams, jellies, spices, rubs, sauces, pickles, applesauce, and … mushroom grow kits!
I have to expand on the mushroom grow kits.  Tony and I LOVE mushrooms.  And mushrooms are almost impossible to grow – so we thought – so we were intrigued.  Now, these are not mushrooms you can find in just any store (although Mayfield & Mullin's in Staunton does have a limited selection of these mushroom varieties, ready to cook, for sale), because their shelf life is so short.  So you have probably never tasted them.   We bought three varieties: Pink Oyster, Blue Oyster, and Lion's Mane.  And they are so easy to grow! Each variety has its own undertone of other flavors. For instance, the Pink Oyster is said to have pork undertones.  I don't know about that.  What I do know is that they are delicious.  In fact, I had my grandchildren (who have hated every mushroom they have ever seen or tasted) give them a try.  These kids were fighting over the little crumb pieces left!  They are just SO good.  We have battered and fried them, sauteed them in butter and garlic, and used them in stir fry.  Give them a try.  Or buy a mushroom grow kit as a unique gift for someone!
Mercantile on Main has sunglasses, tea towels, gift items, toys… the list is endless.  But I want to highlight a few key vendors included in the business, that add to the uniqueness of this cute little shop. The first one is Comforting Keepsakes, a business started by the widow of Illinois State Trooper Kyle Deatherage.  Most of you are aware that Deatherage, a motorcycle patrolman, was killed in November of 2012 on Interstate 55 just north of Litchfield after being struck by a tractor-trailer as he was talking to the motorist he had pulled over. His wife, Sarah, started Comforting Keepsakes to spread comfort and guidance to other grieving families. She creates heirloom-quality, one-of-a-kind, solid wood Comforting Keepsakes Memory Boxes that can hold many meaningful possessions, plus a Sympathy Gift Collection that provides hands-on tools for the broken-hearted.  A portion of every purchase is used to gift a box to families of law enforcement, first responders, and military personnel who have lost their lives in the line of duty. (Find out more at www.comfortingkeepsakes.com.)
Mercantile on Main also gives space, rent free, to four young local entrepreneurs:
ABBY'S MAGICAL GOODS:  Abby is 11 years old, just started 6th grade, and brand new to the entrepreneurship world.  With the help of her father, she makes soaps.  Abby is the creative mind behind all of the scents and designs.
DARE TO DAZZLE: Olive is 9 years old and loves making beaded jewelry. She has always wanted to run her own business and sells her handmade items at Mercantile on Main.
THE SLEEPY SLOTH: Chloe makes handmade sugar scrubs.
ADDELE: This business is two sports-loving 13-year-old Macoupin County girls, Addison and Ele. They started making chunky blankets during quarantines/shutdowns as gifts, and now they make them for you.
So the next time you are looking for something special or unique for yourself, or as a gift, keep Mercantile on Main in mind.  The store is packed with a large variety of items with something for everyone.
"I try to keep our inventory timely and on-trend," Sarah explained. "So far people are loving the store, and we are very appreciative of the enormous support we have received since we opened."
Mercantile on Main is located at 101 W. Main in Staunton. Hours are Wednesday through Friday, 10 am – 6 pm, and Saturdays 10-4.  Stay updated on special events, new arrivals, and more by following them on Facebook.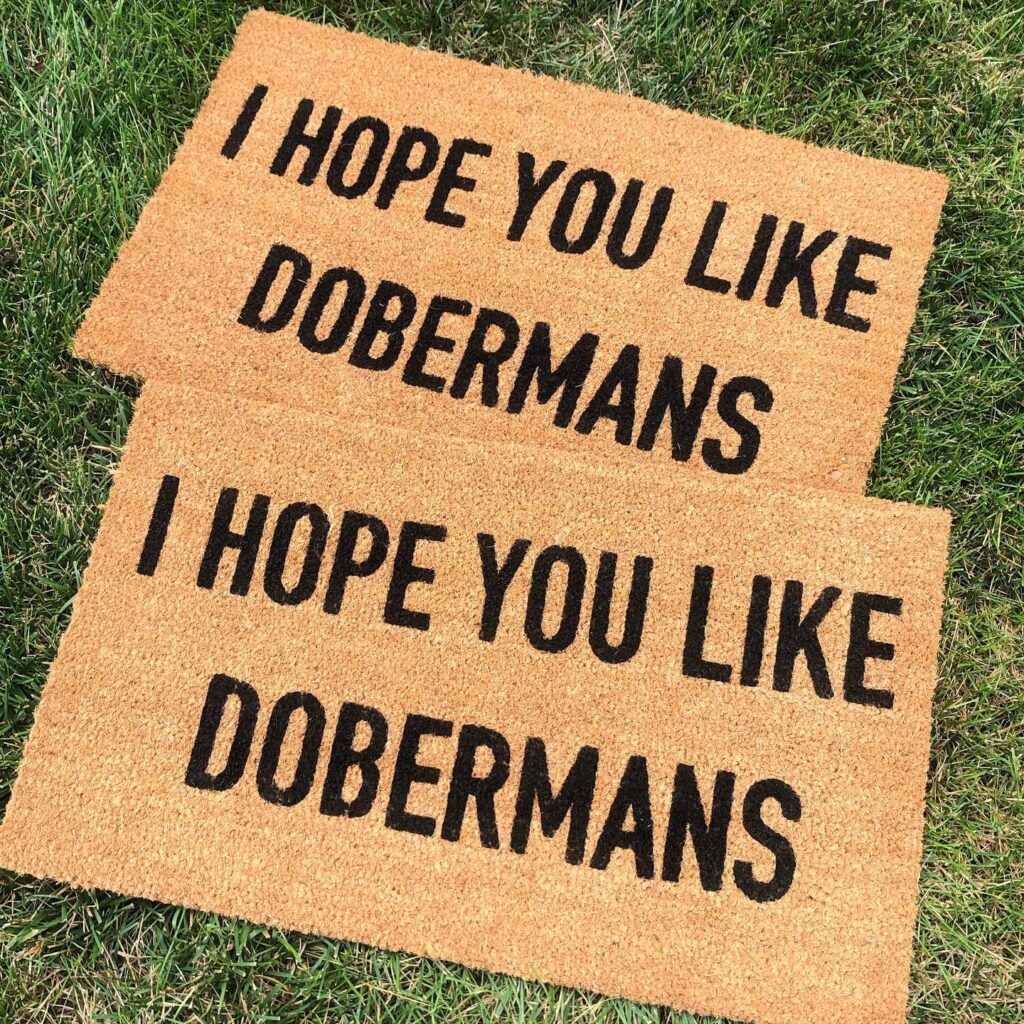 Custom orders of many items at Mercantile on Main are available.
Like these door mats.  Guess who ordered these??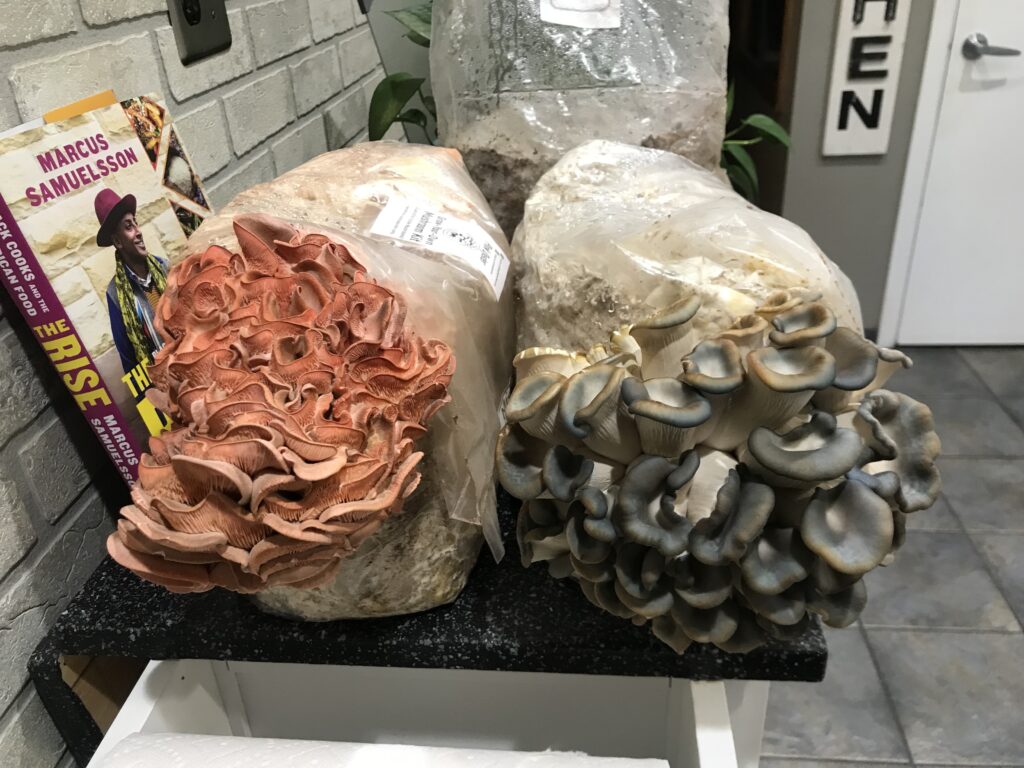 Growing your own mushrooms is easy with Mushroom Grow Kits.
Shown above are Pink Oyster and Blue Oyster.  Lion's Mane is also available.