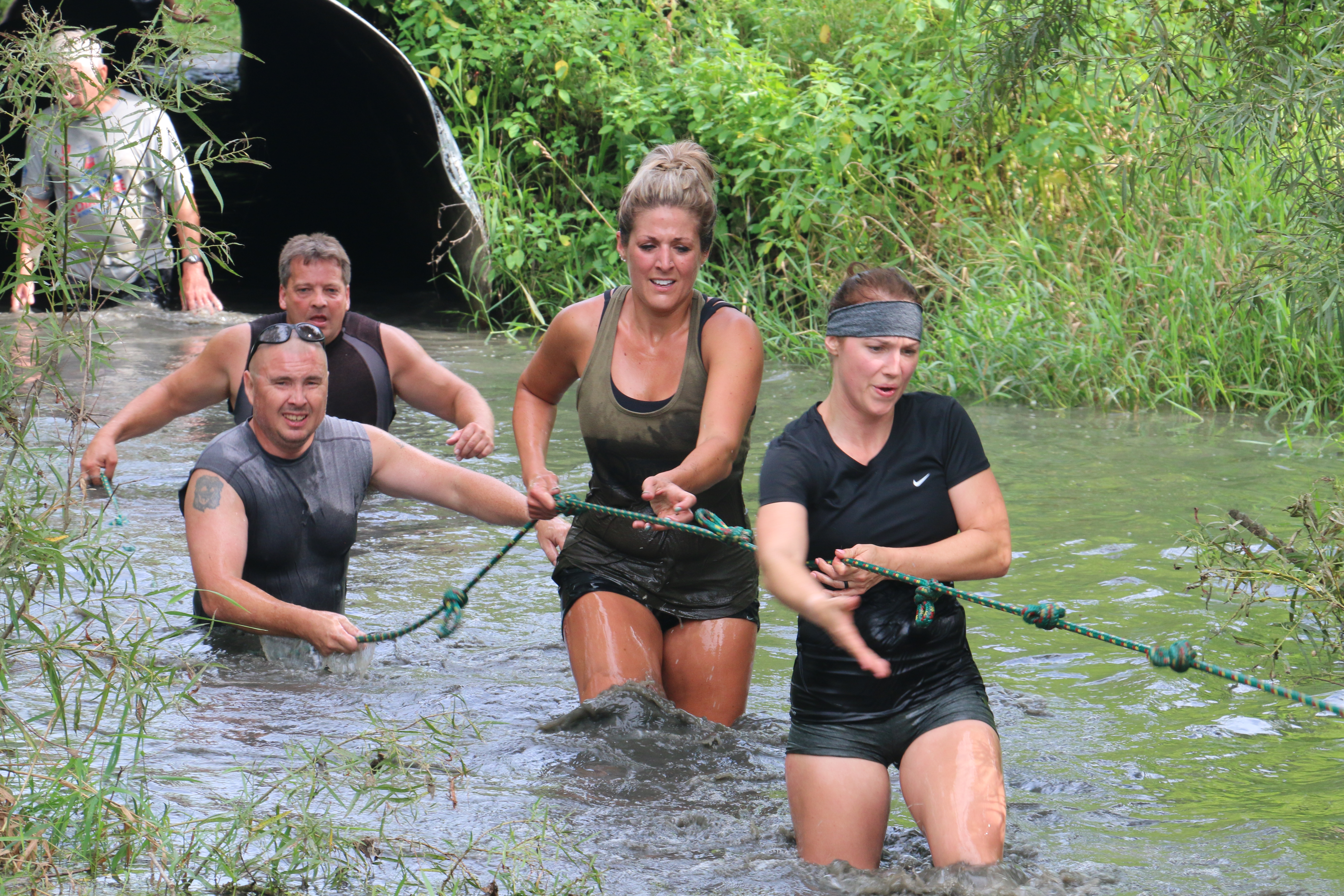 8th Annual Big Dawg Dare 5K Obstacle/Mud Run Will Benefit Montgomery County Cancer Association
Several years ago Litchfield resident, Brian Hollo (who is retired from the Illinois State Police and currently a driver trainer for advanced drivers training services out of Trooper, PA) had been having regular workouts in his garage with his son, and several of his son's friends. They heard about the Warrior Dash, a 5K Mud Run Race and Obstacle Course, and the group decided to attend and challenge themselves.
"I took 8 teenage boys to that event in Channahan, IL, and it was incredible," Hollo said, "But the thing that kept going through my mind was, 'Look at all these people, look at all this money being raised for local charities and causes. What can we learn from this to help our own communities?"
Once back in Litchfield, Hollo began telling everyone about his vision for a similar local event, and asked for help from the community to get it started.  And so it began…
"We knew we could eventually be a self-sufficient fund raising event," Hollo explained, "But we also knew we would have to have sponsors for the first year, at least, and maybe a few years. The community was so gracious in putting up funds to help us get the first event off the ground. And the rest has been history.
The Big Dawg Dare is a 5k (3.1  mile) Obstacle Course/Mud Run, designed to test even the biggest of dawgs. You will be running, climbing, walking, even crawling – possibly cussing – and definitely wondering why you ever decided to do this before it is all over. Not to mention, you will be panting like a big dawg!  One thing for sure is you will get a little bit muddy. Okay, let's be honest, you will get a LOT muddy. A lot wet. A lot tired. But you will have fun. And the money raised goes to so many good causes. For those that do not want to attempt the entire Big Dawg Dare, there is a 2K Puppy Dawg Dare, at noon on the day of the event. All who finish will receive a Big Dawg Dare cup, a Big Dawg Dare t-shirt, a Big Dawg Dare tote and medal.
This year is the 8th year for the Big Dawg Dare, and proceeds will benefit the Montgomery County Cancer Association.
Other local charities and organizations have been helped over the last 8 years include:
Toys for Tots
Litchfield Food Pantry
LHS Cheerleading (entry fees into contests)
Junior Football League (safety equipment)
LHS Softball (softballs)
Little League Traveling Baseball Team (portable pitching mound)
Litchfield Park District (Pool/Lifeguard Supplies)
Elizabeth Ann Seaton (Freezer, 2 coolers)
Donation to High School via "Tee Dawg" contest
Youth United, Inc "The Underground Program" (Fitness equip., wall ball)
Marine Corps League (Grill for fundraising)
Litchfield High School (Turf Spray Painter, for various sports teams)
Litchfield Youth Soccer Association (equipment)
PAWS (spay/neuter program)
Litchfield Highs School Band (80 new band uniform plumes)
Hearts United (Emergency Assistance – Computer)
Girls LHS Soccer ("Kick the Cure" pink     and white game jerseys)
MMMultisports (Timing Mat to assist in timing events)
Litchfield Baseball (Annual Sign on Field Sponsor)
Infantile Neuroaxonal Dystrophy (INAD) Research
MoMac Soccer Club (Soccer Goals and Nets)
Meals on Wheels (bowls, lids, compartmental trays)
Latter Rain Ministries (Kitchen supplies/equipment to assist in food programs for needy families and summer school programs)
MoMac Soccer Team (individual player diadora squadra backpacks)
Pantry Pals/Union Avenue Christian Church (supplies to assist in meals for disadvantaged children)
Elizabeth Ann Seton Program (Propane grill for monthly pork pattie fundraisers)
Litchfield Public Library (Refrigerator and LCD Projector and ceiling mount)
Montgomery County Fair
Litchfield JFL (New Helmets)
Litchfield Police and Fire Memorial (Purchase of Individual Brick Paver and purchase of all remaining pavers for completion)
Assistance to Study for Montgomery County High Schools Consolidation
Union Avenue Christian Church (Food purchase to assist in kindergarten to middle school lunch program)
Zion Lutheran School (Washer/Dryer)
LHS Football (safety helmets)
Coats for Kids
The Big Dawg Dare never gives cash, but rather provides the needed items/services
requested.
Hollo continued, "We originally started out being able to help just Montgomery County, IL but due to the impressive support from people far and wide, we have grown so much that we can now also include Macoupin County."
As the event continues to grow, Hollo envisions being able to expand their scope of assistance even further. The 8th Annual Big Dawg Dare will be held on Saturday, July 20. The course will be located at 3153 N. 15th Avenue in Litchfield. Racers will enter the course in waves every 30 minutes, beginning at 8:30 a.m. with the last wave starting at 11:30. Cost to participate is $70 for individuals through June 30. After that, the price raises to $75. Online registration closes at midnight on July 14, but you can still register on-site the day of the event. Discounts are given to large groups registering together. The Puppy Dawg Dare will start at noon with a $35 participation fee. Entry is free for spectators who want to come and share in the fun, and parking is free for everyone.
As you can imagine, events like this are monumental to organize and pull off and volunteers are always needed at the start and finish lines, as course observers, registration and check in, bag check, in the food and beverage tents and to help with parking. Security and medical volunteers are needed as well.
Find out if you have what it takes to run with the big dawgs – we dare you! Visit www.bigdawgdare.com for more information, find them on Facebook or email [email protected].