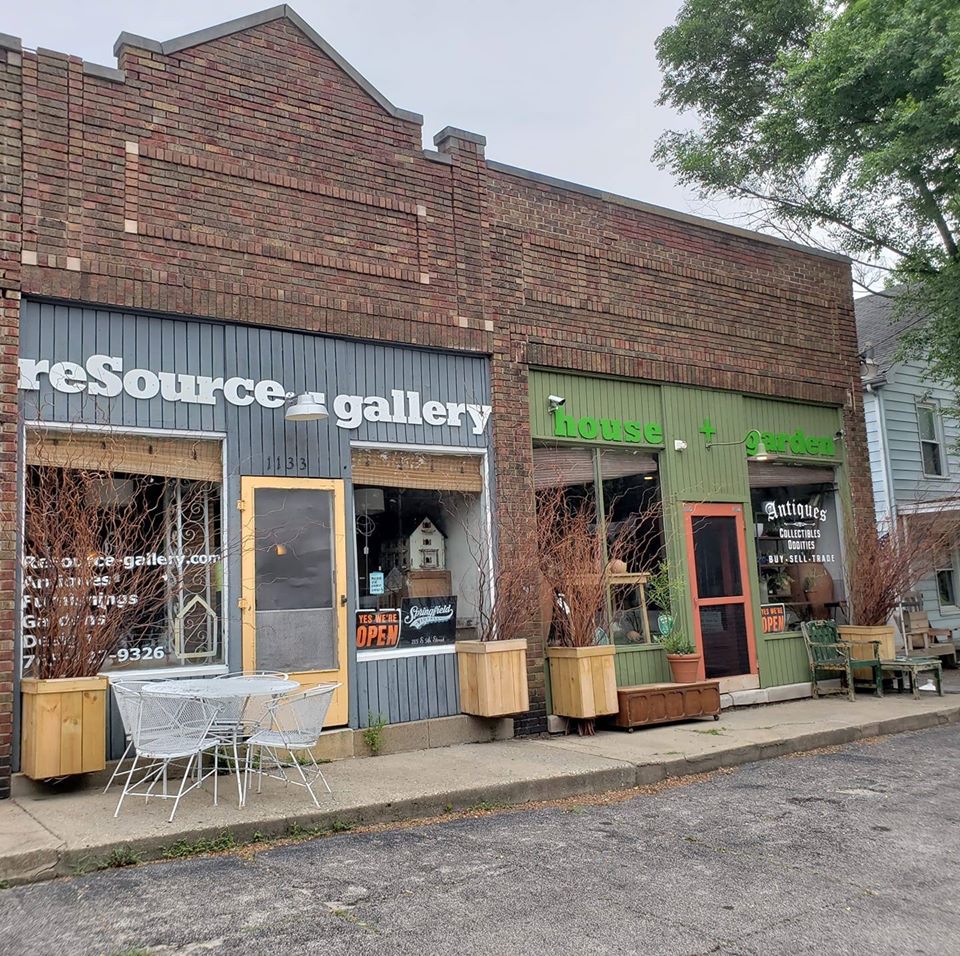 Retail location for over 100 years, formerly the home of Community Bakery, now houses a collection of shops offering services, information, and goods to discover and explore.
BY TARA L. CALE
Illinois is home to a variety of antique markets, vintage stores, book and record shops, boutiques and other unique locally owned businesses. Recently we discovered a gem in Springfield, a grouping of small, locally-owned stores in a row, collectively called the Springfield Historic West Side Shops. The building has been a retail location for over 100 years, formerly housing the Community Bakery. Today, with the Springfield Historic West Side Shops, it's a source to explore and discover goods, information, and services. Featured stores include reSource gallery and House+Garden – a collection of household furnishings, vintage finds, antiques, repurposed and reused creations – and plants.
That may seem unusual but when you learn the background of the owner, Greg Pierceall, that mix will make more sense.
Pierceall has been in the antique business since his youth, describing his finds as "early alley."
"Basically I went out early and searched the alley for items to use in my home," he laughed.
He has also always had an artistic flair. In fact, he built his own greenhouse at age 16  which may have planted the seed (pun intended) for his course of professional study, Landscape Architecture. Pierceall is a registered landscape architect in Illinois and Indiana and a Professor Emeritus of Purdue University Landscape Architecture. And now, in retirement, he is a small business owner and the sole employee of reSource Gallery and House + Garden.
reSource Gallery and House + Garden are quite at home in the 100-year-old building that sits just one mile west of the capitol building. The brick facade beckons you into the interior featuring tin roofs, terrazzo floors, and the treasures within – a curated and displayed collection of antiques and vintage, plus plants, accents, and accessories, and outdoor accessories to compliment interior furnishings.
reSource-gallery and House + Garden is an authentic antique store. The inventory is old, original and unique. Included with the furnishings are wooden boxes, ceramics, sculptural elements and accents. Stone, wood, metal and glass describe the commodities to be discovered and explored. Plants are staged in an outdoor courtyard associated with the shops.
Many plants in the store you may find familiar, but Pierceall grows some unique as well.  Pomegranates. Pencil Cactus. Fig trees. Japanese Moss Balls. This fuzzy ball in a bowl of water fascinated my two grandchildren when we visited.  The Japanese Moss Ball is a rare spherical-shaped, noninvasive algae with a velvet-like appearance. Native to Lake Akan in Japan, they are designated as a national treasure and believed to bring good luck. Greg allowed them to take one home as they are very easy to care for. You just change the water once a week! (I read that they are great in aquariums too, so I will have to get one for myself!)
The shop next door to reSource-gallery and House+Garden, Junk in the Trunk, is a large store and warehouse with just about anything and everything. Owner/operator Nelson Jones is the personality of the shop and goods. Jones is a welder by profession, providing welding and fabrication skills to his ever-changing inventory, which compliments the inventory of Pierceall's adjoining shops.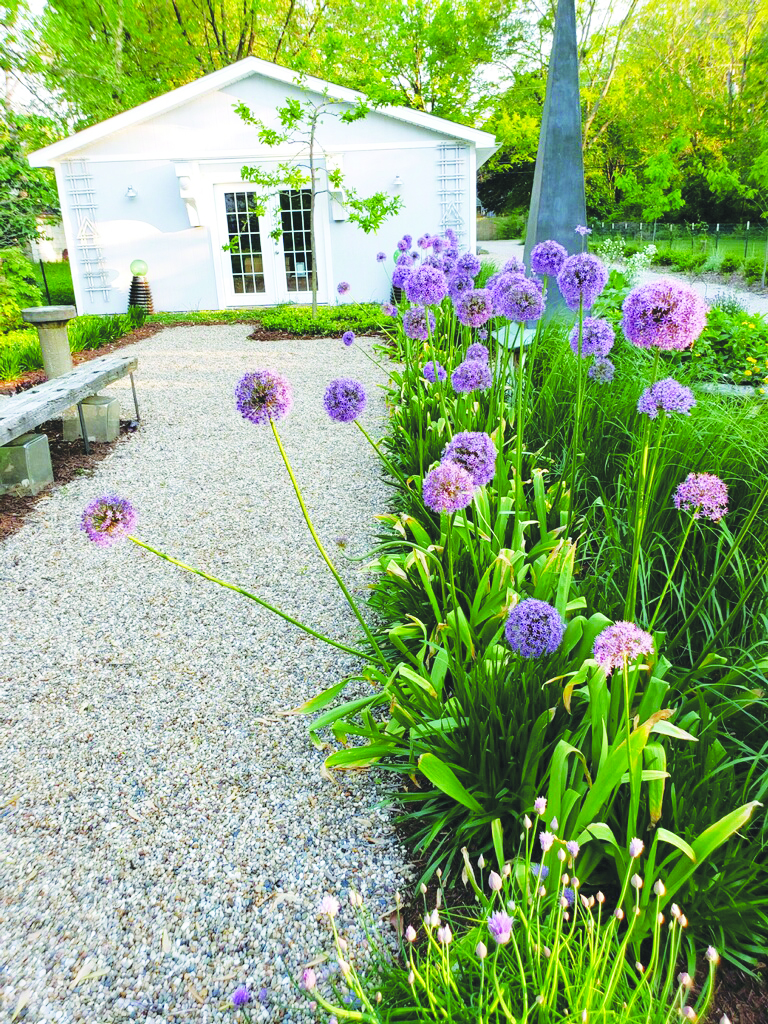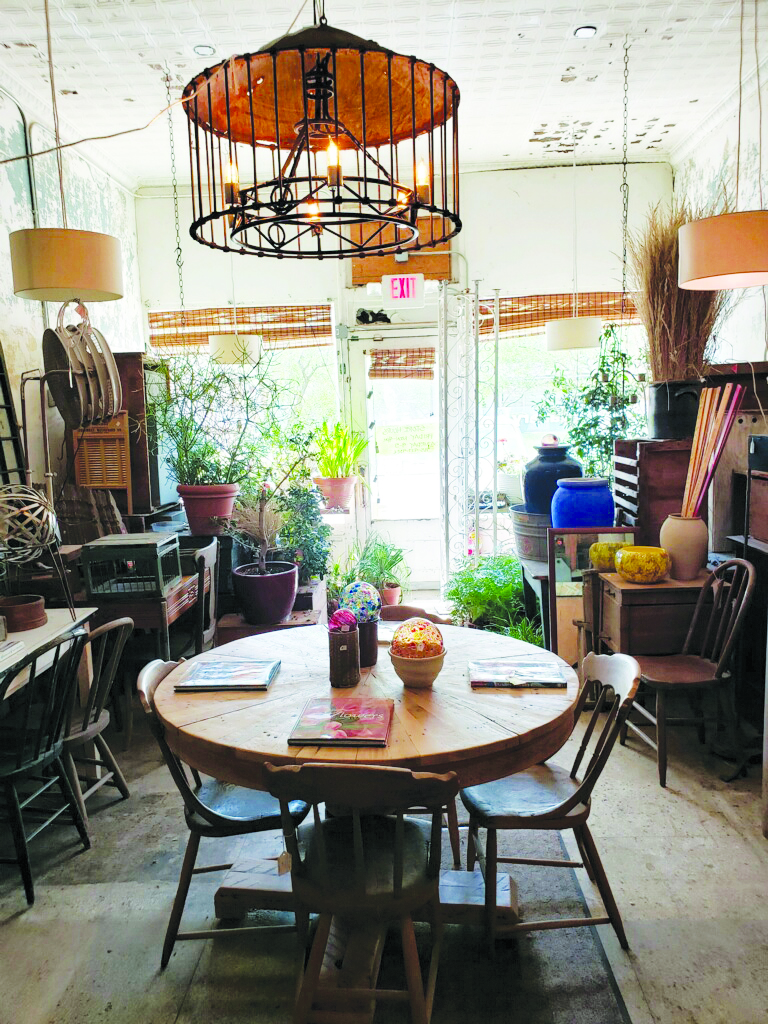 The mission of reSource-gallery and House+Garden is to provide a great selection, prices, and expertise/knowledge about the items and elements available. The key issue to finding what you want is to come in and see what is available to discover, explore, and uncover. Informed information is key to the shop and inventory. In addition to offering a regionally sourced inventory, Pierceall is there to care and share knowledge. He offers design consulting for indoors and out.
And speaking of sharing knowledge, Pierceall lives just a hop, skip and jump away from the shops, and as you can imagine, being a Landscape Architect, his yard is amazing! Pierceall was planning a free garden tour at his home in May, but due to the current situation, he has postponed it. The future garden tour will be an on-site, self-guided event with garden plans, description, and Q&A opportunities. Follow House + Garden on Facebook to stay updated on when the garden tour is rescheduled.
reSource-gallery, House + Garden, and Junk in the Trunk are located at 1133 W. Governor, Springfield. reSource-gallery and House + Garden are open Friday 11-4 and Sat 9-5, or by appointment. For more information call Greg Pierceall at
765-427-9326,
email
pierceal@ purdue.edu
or follow HOUSE + GARDEN on Facebook. Junk in the Trunk is open Tues-Sat, 12:30-6 with access to the other shops. They also have a Facebook page or can be reached by calling
217-801-2974.