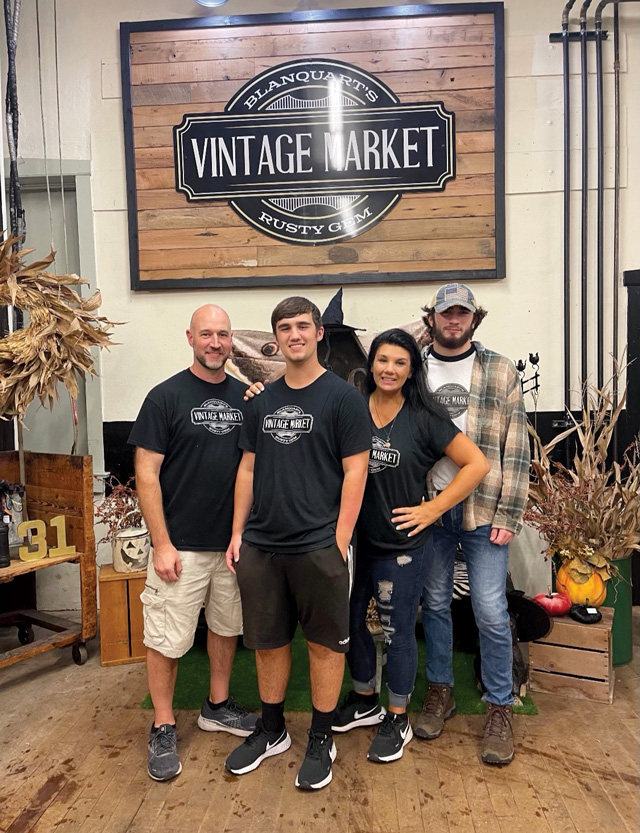 Christine and Brad Blanquart with their two sons.
These photos illustrate the large and varied inventory that you will find to make shopping at Blanquart's Rusty Gem Vintage Market a truly unique shopping experience.
BY TARA L. CALE
Even before you walk through the front door of Blanquart's Rusty Gem Vintage Market in downtown Belleville, you will feel like you've stepped back in time.
Once inside the old Keil's Hardware store (pronounced Kyle's), there is no question. Built in the 1860s, with wood floors, brick walls, and built-in shelving from floor to ceiling, plus both a lower and upper level, it is still reminiscent of an old general store but is now full of antiques, vintage, retro, and repurposed items for you to admire, appreciate and purchase.   Both employed full-time in the medical field, Christine and Brad Blanquart had already delved into the vintage market on a smaller scale.  Christine, a full-time nurse, attended various vintage markets, estate sales, and the like, to find not only unusual items for her use as decor in her own home, but she just enjoyed the hunt for unique treasures and could not help herself from collecting them. It was her hobby, and effective therapy – a fun escape from the high-stress level of the medical profession.
One day between clients at the Jerseyville hospital, she ventured downtown and discovered State Street Antiques. Almost jokingly, she asked them if they had a space in which she could set up to sell some of her items.
"First they just had a few shelves for me, but in no time at all, they built a special room just for me, inside an old cargo elevator alcove," she said.
That was her first step into the retail/resale world. Eventually, she became a vendor at the South County Antique Mall. Her items sold quickly at both locations, but the travel to keep those spaces filled was occupying too much of her already limited free time. After consulting with her husband the couple decided to take the plunge and open their own business – Blanquart's Rusty Gem Vintage Market on Lebanon Avenue in Belleville.
"We chose Belleville because it was close, for one thing," she explained, "But the biggest reason was that it is such a supportive community. They hold fun and amazing events, frequently, and it's like a second family. A family of small, local businesses, that look out for each other."
The market was open just one weekend a month, strategically scheduled the third weekend of each month, the same weekend as the huge, and ever-popular, Belleville Flea Market at the Belle-Clair Fairgrounds & Expo Center.
"We thought since so many people were coming to town for the flea market, maybe they would come and see us also," Christine explained.
And they were right. Every month when Christine and Brad arrived at Blanquart's Rusty Gem Vintage Market, they saw people lined up outside – just waiting for them to open.
"The response to our market was just phenomenal," she said, "And within just four months of opening, we knew we needed  a larger space."
It took the couple over a year to find the perfect new location, but good things come to those who wait. They discovered the old building downtown, a building begging for new owners – owners with a vision like the one Christine and Brad Blanquart had. With a slight twist in focus, a bigger, better, and more readily accessible Blanquart's Rusty Gem Vintage Market was born. The store would now operate with similar inventory, though greatly expanded, and offer regular shopping hours, instead of just one weekend a month.
Of course, old buildings need some work, and it takes time to move in existing inventory, add new inventory and prepare to open a new business to the public. In October of last year, the Blanquarts were in the process of opening, but not quite ready.  Little did they know, however, that Belleville was more than ready for them! And as a testament to the family-style community of downtown Belleville businesses that Christine spoke of, they reached out and invited her to join in their first annual Downtown Belleville Witches Brew Walk. Though unsure if they were ready to open the doors to the public at that time, Christine and Brad decided they could not miss this opportunity – when so many people would be downtown – and agreed to join in.  Blanquart's opened that very night.
"We didn't have a  lot of merchandise in the store at that time, and it was a bit disorganized," Christine said, "But it was a great decision. Customers and other businesses alike were super excited to come in, welcome us, and discover what we are all about. We were thrilled with the response."
The second Thursday of October will always be the anniversary of the opening of Blanquart's Rusty Gem Vintage Market. This year it falls on October 13, marking their first full year in business at this location. And of course, they will again be participating in the Witches Brew Walk, which is from 5-11 p.m. and includes contests and prizes. Blanquarts will up the ante a bit since it's their anniversary. They will have special raffles throughout the day, door prizes, and more, including live music by Miles Brenton from 5-8 pm.
"The fact that there is an entire downtown event going on the same night of our anniversary makes it super fun!" Christine exclaimed.
Blanquart's also participates in the monthly Diva's Night Out, held the third Thursday each month in downtown Belleville from  April -December, from 5-8 pm. During sign-up, you receive the specialty gear for the evening and a passport to guide you. Each month has a different theme and you get to choose your adventure. Belleville has a variety of restaurants, bars, and shops – stop in, spend some time, say hello, and get your passport stamped. Completed passports are returned at 8 pm for the after-party and grand prize drawing to be held. More information about the Witches Brew Night and Diva's Night Out can be found at www.belleville mainstreet.net. Blanquart's Rusty Gem Vintage Market has grown exponentially since originally opening in 2020. They are now one of the largest vintage markets in southern Illinois, offering a large variety of vintage and antique merchandise, repurposed items, architectural salvage, one-of-a-kind items, and unique finds, with many exclusive items. They have "teams' to help them acquire the merchandise that consumers demand, including a Salvage Team, Pickers Team, Estate Sale Team, and a Vintage Market Team.
While shopping other various downtown Belleville businesses, you will often find repurposed creations from Blanquart's among their furniture and decor. Blanquart's also offers new items such as custom tumblers, novelty t-shirts, candles, jewelry, and other locally-made items, as well as two paint lines to assist with your own repurposing – Mud Paint and Wise Owl.
Blanquart's Rusty Gem Vintage Market is constantly changing and evolving, on an accelerated schedule. Their most recent expansion is the addition of their  "man cave."
"The Man Cave isn't JUST for men," Christine laughed," But it does cater to a more masculine taste."
The Man Cave features custom bars – one with the grille of an old pickup truck as the base – pub tables, fishing gear, and other "more masculine'' vintage items.
Blanquart's also offers monthly DIY classes including furniture painting, canvas painting, and hand-knitted blanket making. The classes are so popular they are usually fully booked months in advance.
"The great thing about our current space is that we have ample room for these DIY classes," Christine added.
Blanquart's Rusty Gem Vintage Market is unique. Blanquart's Rusty Gem Vintage Market is FUN. They participate in almost every local event and are continually looking for ways to engage with customers and the general public. One effort to this effect is their  "Pet of the Day" on their Facebook page. They are animal lovers, keep dog treats in the store, encourage patrons to bring their pets in for a treat, photo shoot, and feature on their Facebook page. Fun fact: they have just acquired a new pup of their own, JuJu – an English Bulldog – that will soon be the "shop pup."
Inventory at  Blanquart's Rusty Gem Vintage Market is always fresh, always unique, and always changing. Christine, her husband Brad, and occasionally their two sons – Chase and Carter – like nothing more than to assist you, and learn your story.
Vintage, antique, repurposed, retro and so much more… from ceiling to floor! You really MUST make it a point to visit Blanquart's Rusty Gem Vintage Market in downtown Belleville. They are located at 26 E. Main and open Wednesday-Saturday from 10:30-5, and Sundays 11-3.  For more information, including how to register for upcoming DIY classes, call 618-520-6508 or find them on Facebook.