A&R Paints & Crafts in Troy Has Been Serving the Community for Over 40 Years – Voted #1 Hobby Store in Southwest IL
By Tara L. Cale
Looking for plastic models – planes, trains, cars, trucks and rockets? They are stacked from the floor to the ceiling – even hanging from the ceiling – at A&R Paints & Crafts in downtown Troy, Illinois.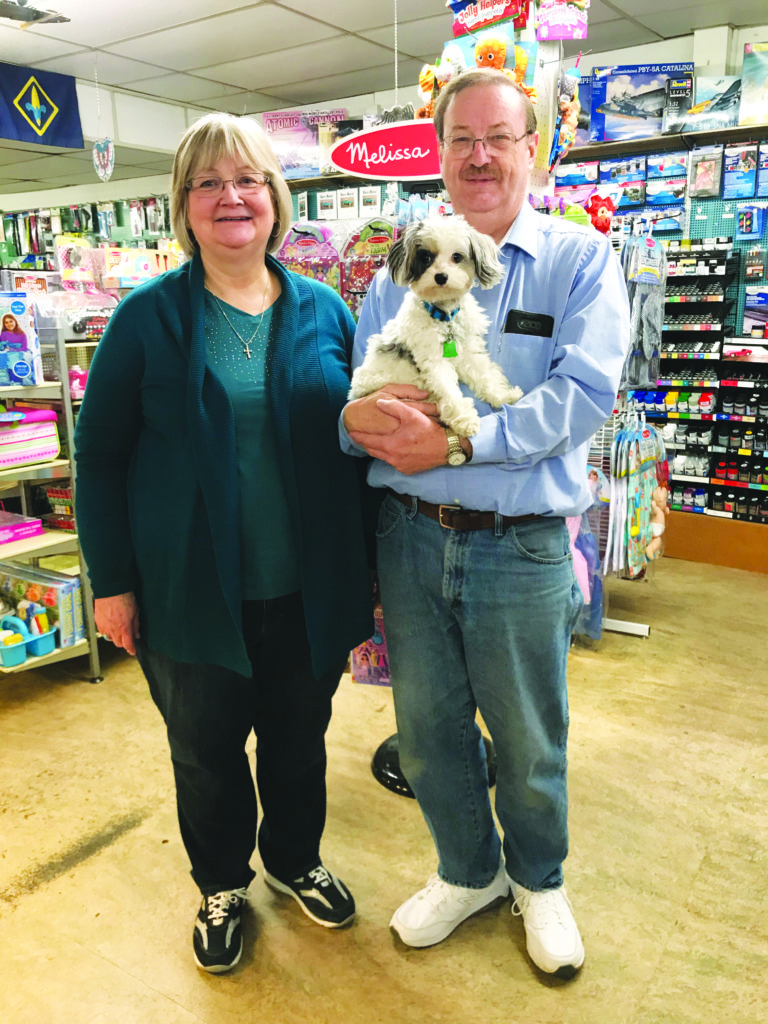 Got a hobby? Need balsa wood? Think scenic diorama supplies, embroidery and sewing supplies, craft kits, fabric paint and quilting supplies, poster board, construction paper, foam balls and more. A&R Paints & Crafts probably has it. If they don't, ask them about their special order services.
They also carry remote control cars, kites, metal sheets and rods… and the largest selection of Melissa & Doug Toys in one location that I have ever seen! I have always loved Melissa & Doug toys, but was truly amazed by the large selection of these unique, fun and educational toys stocked at A&R Paints & Crafts.
Need Boy Scout uniforms and supplies? A&R Paints & Crafts is your "go to" destination. Although they store doesn't really specialize in anything particular – they are very diversified – there is a big emphasis on the hobby items, and Boy Scout supplies. If you are going to be building a Pinewood Derby car in the near future, you need look no further than A&R Paints & Crafts. They have the largest selection of Pinewood Derby supplies in the area. They also carry uniforms, handbooks and more.
"We are the neighborhood craft and hobby shop that you remember growing up with, but can't find anymore," said Ron Klaustermeier, who owns the store with his wife, Carol.
February marks the 40th anniversary of the couple buying the store, but the history actually goes back much farther – 68 years in fact, to 1952, when the store was just a paint and gift shop.
Ron's father bought the store in 1976 and added a smattering of crafts and hobbies to the paint and gift selection at that time.
After Ron and Carol purchased the business in 1980, it started getting harder to compete with the growing big box stores in the paint and interior decorating supply business,so the couple altered the inventory until they found their niche.
Find their niche indeed! In 2018 A&R Paints & Crafts was voted the #1 Hobby Shop in Southwest Illinois by the readers of the St. Louis Post Dispatch.
Owning the business for so long, Ron and Carol noted that both of their children grew up in the store. Daughter, Mandy Corey, now lives in Maryville and is
a school teacher in Staunton. Son, Kris, a Collinsville resident, is now a regional sales manager for Sherwin-Williams (a global leader in the development, manufacture and sale of paint, coatings and related products with more than 33,000 employees and business in 109 countries).
"We got out of the paint business, but our son stayed in it," Ron laughed.
These days the constant companion in the store for the Klaustermeiers is a child of the 4-legged variety, Archie, a rescued 1-year old Cavalier/Poodle mix, who loves everyone that comes through the door.
"No matter your age, no matter your hobby or crafting needs, we have what you are looking for," Ron said.
"We have people drive over 100 miles to shop here," Carol added, "They say they just can't find these items and supplies any place else."
In this world of technology and electronics, it's nice to know that you can still find a friendly, neighborhood craft and hobby store that offers exactly what you need to start a hobby or rekindle a relationship with a child, or even a grandchild. A digital detox could benefit us all. If you don't know how, or where, to get started, I highly suggest making A&R Paints & Crafts your first stop. If the store itself does not inspire you, Ron and Carol certainly will! The Klaustermeiers said the biggest benefit for them with owning the store is the amount of wonderful people they have met, and friends that they have made.
To celebrate their 40th Anniversary the Klaustermeiers will be featuring special sales all month long. Follow A&R Paints & Crafts on Facebook to stay updated.
An official 40th Birthday Party will be held on Friday, February 21 and Saturday, February 22, complete with refreshments (birthday cake!), door prizes and in-store specials. It would be a perfect time to visit the store for the first time and meet Ron, Carol and Archie, Or, if you are a regular customer, stop in and say hello again. If that weekend doesn't work for you, A&R Paints & Crafts regular hours are Monday and Thursday, 9 a.m. – 7 p.m., Tuesday and Friday 9 a.m.-5:30 p.m. and Saturday 9-3:30. They are closed Sundays and Wednesdays.
A&R Paints & Crafts is located at 201 Main Street in Troy, IL.  To find out more call 618-667-6211, find them on Facebook or visit 
www.arpaintsandcrafts.com
.