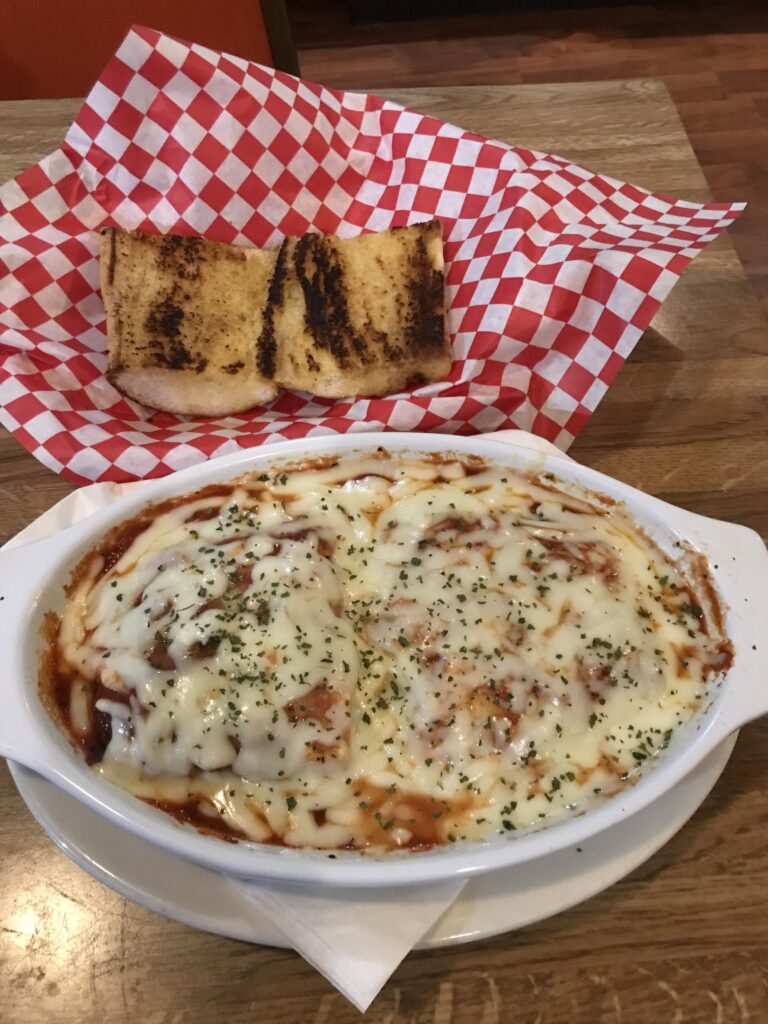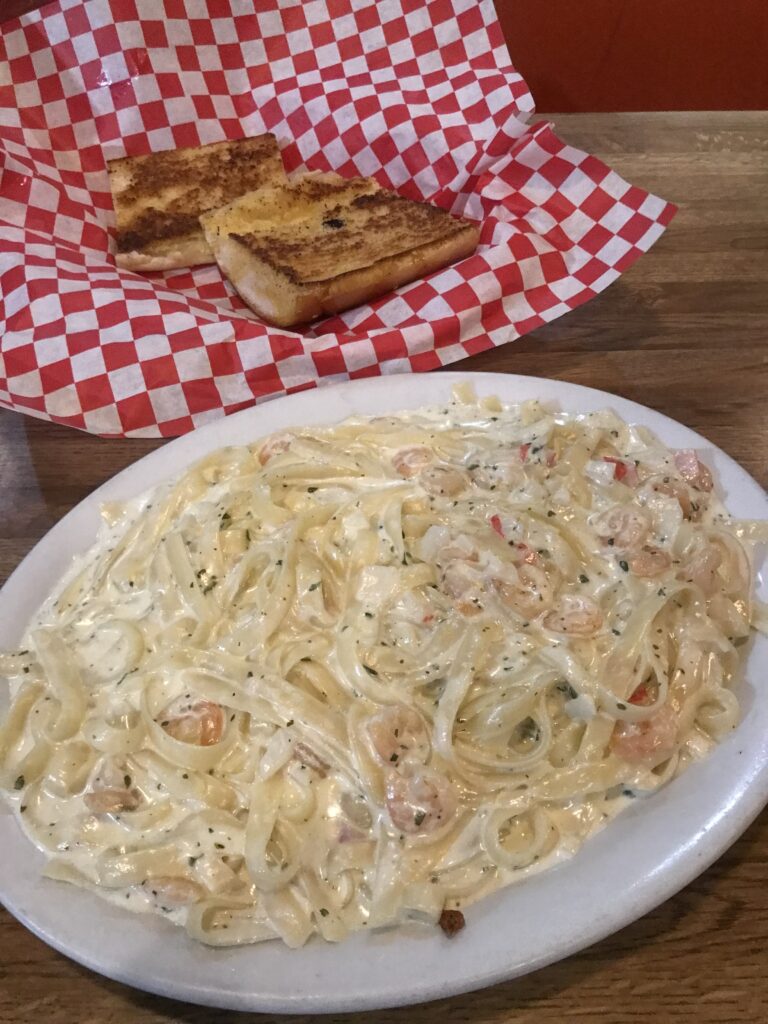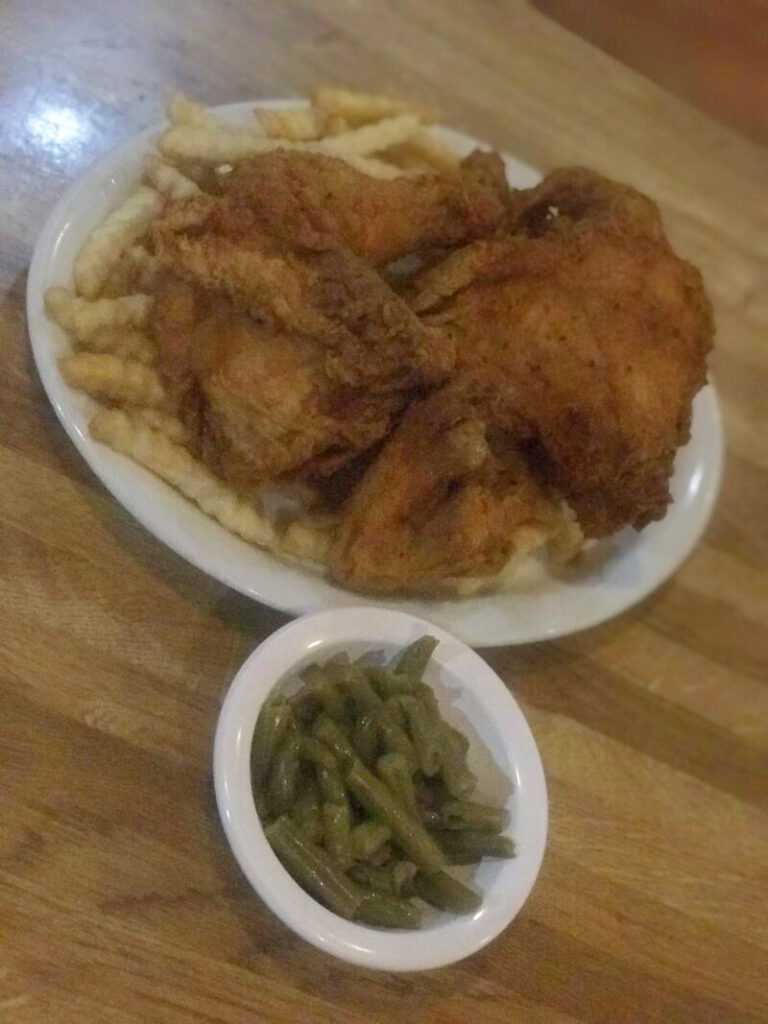 A small photo sample of some of the most popular dishes at The Track Shack. Above (L-R) Lasagna, Seafood Pasta Marinara, and their famous fried chicken.
By Tara L. Cale
Joe Jannazzo comes from a long line of Sicilian-Italian cooks. His maternal grandfather, Onofrio (pronounced OH-NO-FREE-OH) Vitale was the inspiration for the good cooks on his mother's side. Vitale demanded excellence in everything. Only the finest and freshest ingredients would do. And his slogan was "prepared with love."
Joe's mother, Anne Vitale,  and grandmother, Stella Vitale, were excellent cooks in their own right and often told stories about family cookouts where Grandpa Onofrio would host a family picnic featuring pasta, fresh game, cheese, and wine. The food was a celebration of love.
Joe's paternal side also celebrated their food. His father, Angelo Jannazzo, was part owner of The Supper Club in Springfield, a quality restaurant specializing in steaks and Italian food, which operated well into the 90s. Angelo was the expert on the commercial side of the business and his father (Joe's grandfather), Joseph Jannazzo, was in the produce business. He sold fresh produce from a horse and buggy to accommodate the families of Italian immigrants that were accustomed to creating their own pasta sauces and wines. Other family members involved in The Supper Club over the years included uncles Tom, Mimi, and Vito. Joe often worked at The Supper Club as well.
Between these family cooks, they could cook almost anything and answer any question about cooking you may have. Needless to say, Joe grew up experiencing some of the best Italian cooking this side of the ocean.
But, for some reason, cooking as a career did not enter Joe's mind until 1979 when his uncle Mimi Vitale decided to retire from his business, The Track Shack. Mimi had run the bar and grill for 20 years but eventually closed the dining side. Nearing retirement, he had a conversation with his nephew about purchasing the business and adding food back into the mix. With decades of family experience and family recipes to back him, plus his own experience in the food business, Joe and his wife Linda, decided to do just that.
The Track Shack in Springfield has been going strong ever since. They are well known for their authentic Italian dishes, including lasagna, Italian sandwiches, made-in-house sausage, plus their fried chicken and fried fish.
Originally Joe operated with the bar and just five tables for dining, but in 1990 added a designated dining room. This took their seating capacity from around 30 to almost 100, a lucrative move.
Though specializing in Sicilian-Italian cuisine, the menu at The Track Shack offers much more than that, and everything is 99% made in-house, from scratch. "We use very few prepared or processed foods," Joe told me. "Of course, our appetizers, for the most part, are purchased frozen from the food distributors, but most everything else is made fresh, by hand, in-house."
That includes all sauces, their own Italian dressing, the coating for the fried chicken and fried fish, secret-recipe chili powder, and… their infamous sausage. The family has been making the sausage for over 90 years. In the 30s, Joe's grandfather, Onofrio Vitale, became friends with a chef in Chicago that made the sausage. He loved it and begged for the recipe. The chef refused to share it. But, when he died, he actually "willed" the recipe to Joe's grandmother Stella, and a family tradition was born.
"It's very smooth," Joe said. "There's no particular spice that stands out, but you can taste them all."
The menu at The Track Shack is wide and varied. It includes eight different meal salads: House, Buffalo Chicken, Italian Olive, Chef, Italian Chef, Grilled Chicken, Seafood, and Taco. Pasta choices include spaghetti, penne, or linguine with the option to add meatballs or sausage. They also offer Chili and Chilli Mac – using their secret recipe chili powder – of course! Nineteen sandwiches are on the menu. For those that don't like to try new things, there are classics like chicken or tuna salad, BLT, club sandwiches, burgers, and tenderloins. Kick it up a notch with their Slim Jim, Parmesan Chicken or Pork, Buffalo Chicken, Philly, or Sub Sandwiches. But… if you want to capture the incredible flavors of the Sicilian-Italian essence, in a sandwich, you must try the Italian Grinder (salami, ham, provolone, lettuce, tomato, onion, mayo, and their own Italian dressing), Salsiccia & Beef (Italian sausage and Italian beef with grilled onions, peppers, and optional red sauce), the New Yorker (sausage, beef, pepperoni with provolone and red sauce) or the Muffalata Sub (ham, salami, provolone, olive spread, lettuce, tomato, and their own Italian dressing).
The Track Shack offers daily lunch and dinner specials. Monday is pony/horseshoe day. Wednesdays always feature a special on a pasta entree. Fried chicken is special on Thursdays and walleye is the special all day every Friday. Tuesdays and Thursdays the specials change. It could be something from the menu, or something the chef decided to cook up special just for that day. Other than the first and third Thursday of each month – that is designated for their lasagna special. Portions are generous.
After several years of serving diners from Springfield and surrounding areas, Joe and Linda decided to produce their signature sauces commercially for their fans – Onofrio's  Classic Sauces – authentic Sicilian-Italian style sauces made the way Joe's parents and grandmother taught him. Using only the finest and freshest quality ingredients, and prepared with love.
"My wife Linda was the inspiration for this," Joe explained. "She learned Italian cooking from my grandmother. The two of them would can bushels and bushels of fresh tomatoes every year. It was Linda's idea to can the finished product instead of just fresh tomatoes."
There are three sauce styles: Marinara, Basilico, and Arrabbiata – a fiery tomato sauce.
Then Joe took offering products commercially one step further. His personal recipe for his Sweet Italian Dressing always drew enthusiastic comments from customers. So he decided to bottle that too.
Onofrio's Classic Sauces and Sweet Italian Dressing/Marinade are bottled for The Track Shack in Union, IL. You can purchase them at various local retail locations including all major grocers in Springfield, on The Hill in  St. Louis, at the remaining area IGA Grocery Stores, Randy's Market in Benld, and of course – at The Track Shack.
The Track Shack is a quaint little neighborhood eatery that beckons you to return time and time again. You will always be greeted affectionately, and treated like family, no matter whether you dine there once, or a thousand times. The food is prepared with only the finest and freshest ingredients, and with love, you will truly taste the difference.
The Track Shack is located at 233 E. Laurel Street in Springfield, next to one of the five Mel-O-Cream Donut locations, right across the tracks. The restaurant is open Monday- Wednesday for lunch, 11-2, Thursday-Friday for lunch and dinner, 11-9. The restaurant is closed on Saturday and Sunday. The bar side, which features popular video gaming, is open Monday-Friday 9:30 am-1 am and Saturday-Sunday, 11 am-1 am. The Track Shack also books private parties on the restaurant side during hours not open for regular dine-in customers and limited catering services are available. They also offer their full menu to go and have a convenient drive-thru.
For more information, call The Track Shack at 217-522-0444, find them on Facebook, or visit http://www.Onofrios.com (NOTE:  You will even find some recipes on their website!).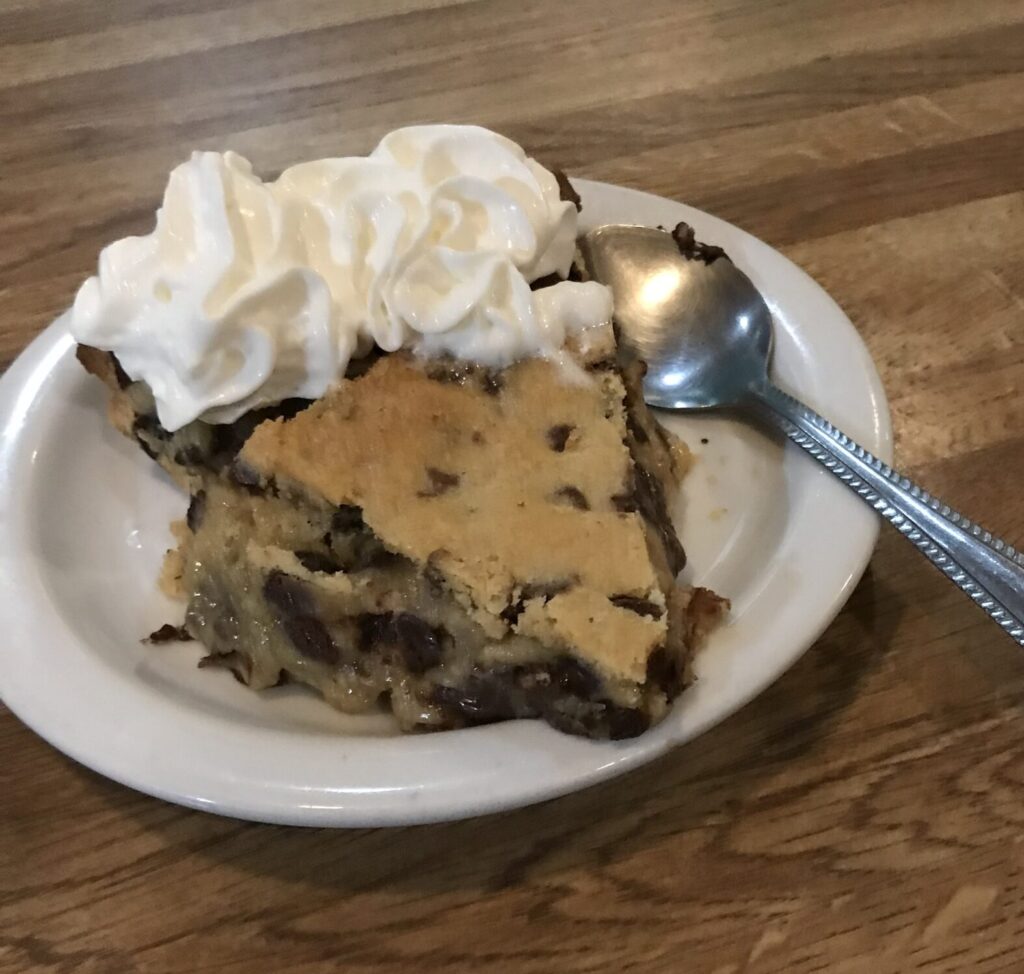 If you are lucky enough to dine at The Track Shack when they have any of their homemade desserts left… I got this last piece of Toffee Chocolate Chip Cookie Pie the night we were there!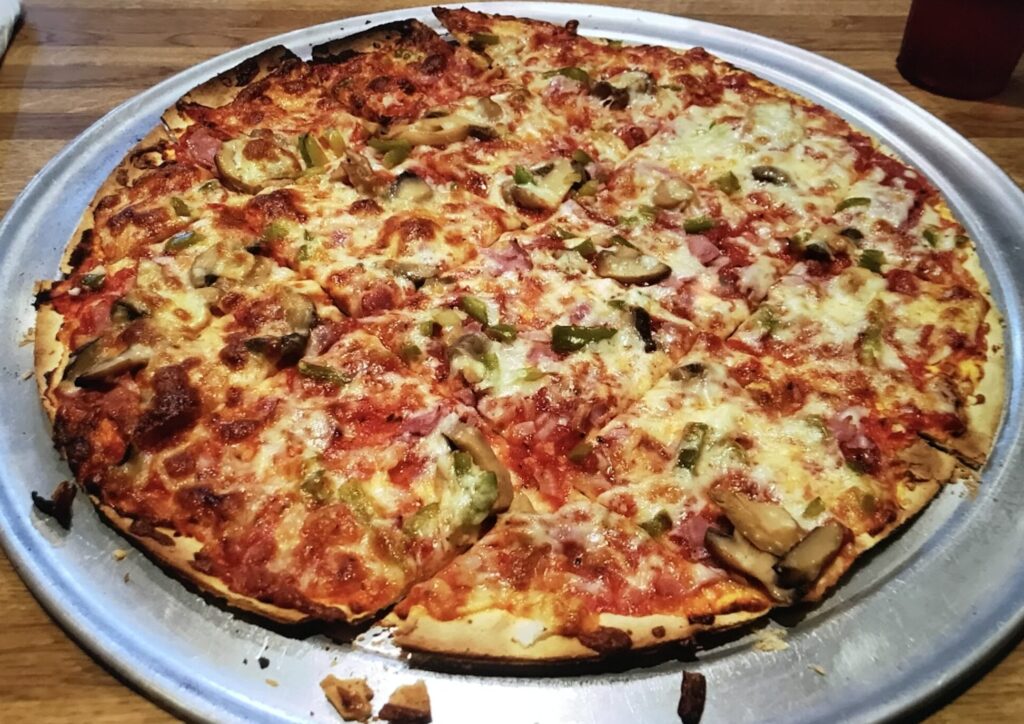 I haven't had a great pizza since Gasperoni's in Livingston closed, but I know where I'm going next time I want a pizza! Above that is seafood alfredo with garlic bread.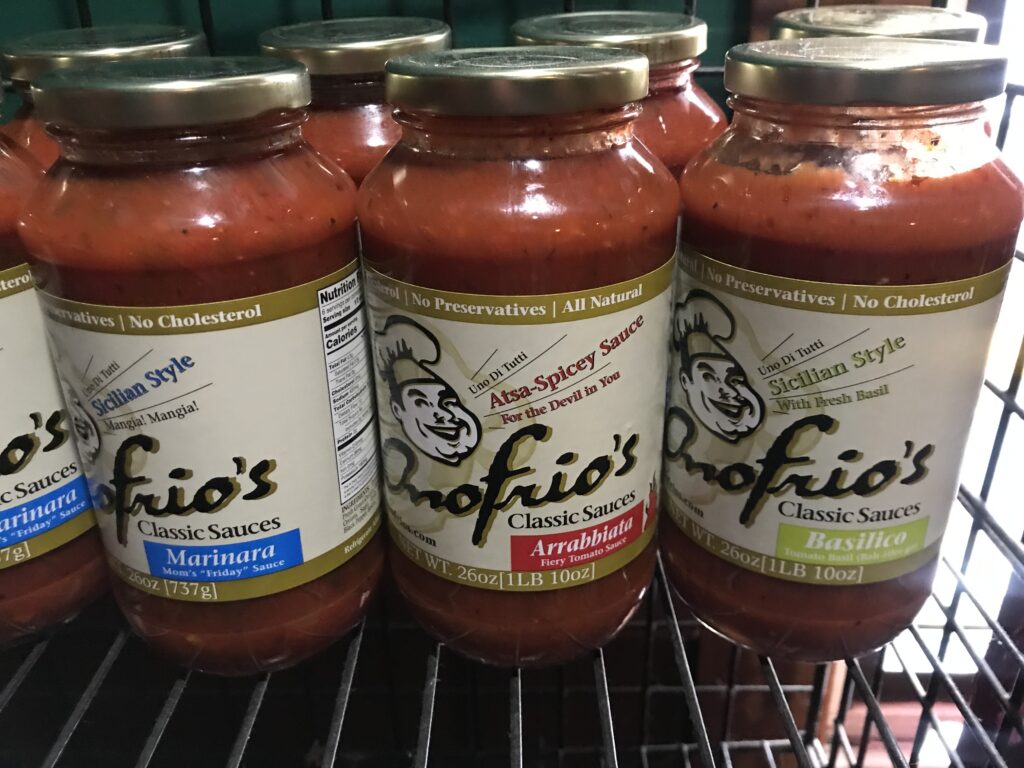 The sauces used in the dishes prepared at The Track Shack, and their secret recipe Italian dressing, are available to purchase at area grocers, and at the restaurant itself.  A list of area retailers that carry the products they are famous for is listed on their website.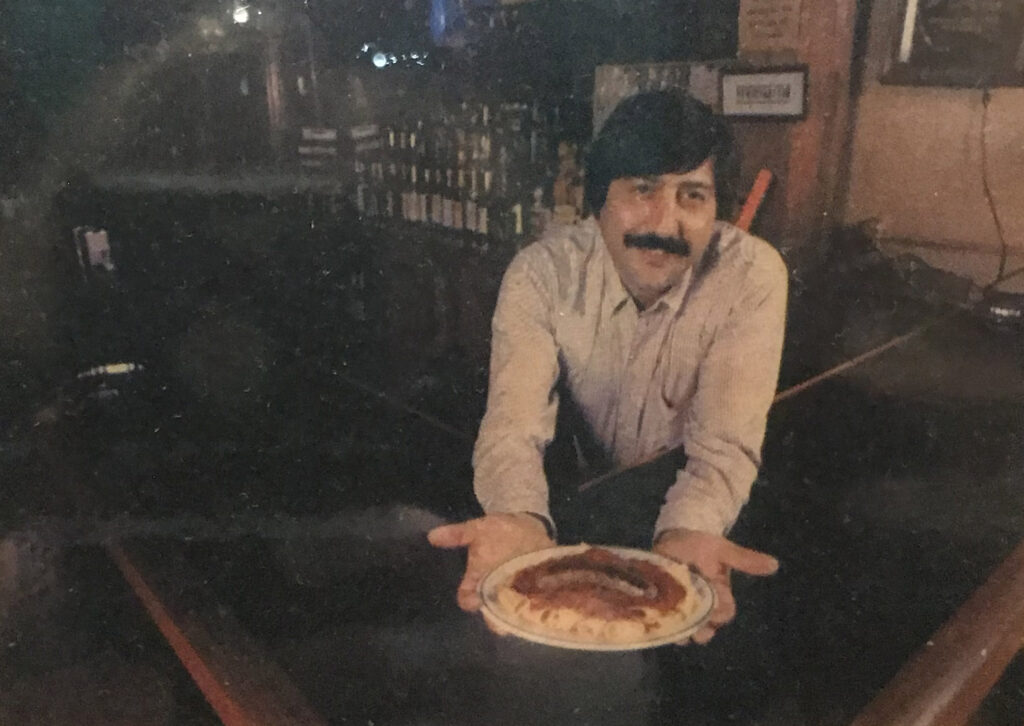 Jannazzo's family has been making their Italian Sausage for over 90 years! Here Joe is shown in 1983 with one of their popular sausage dinners.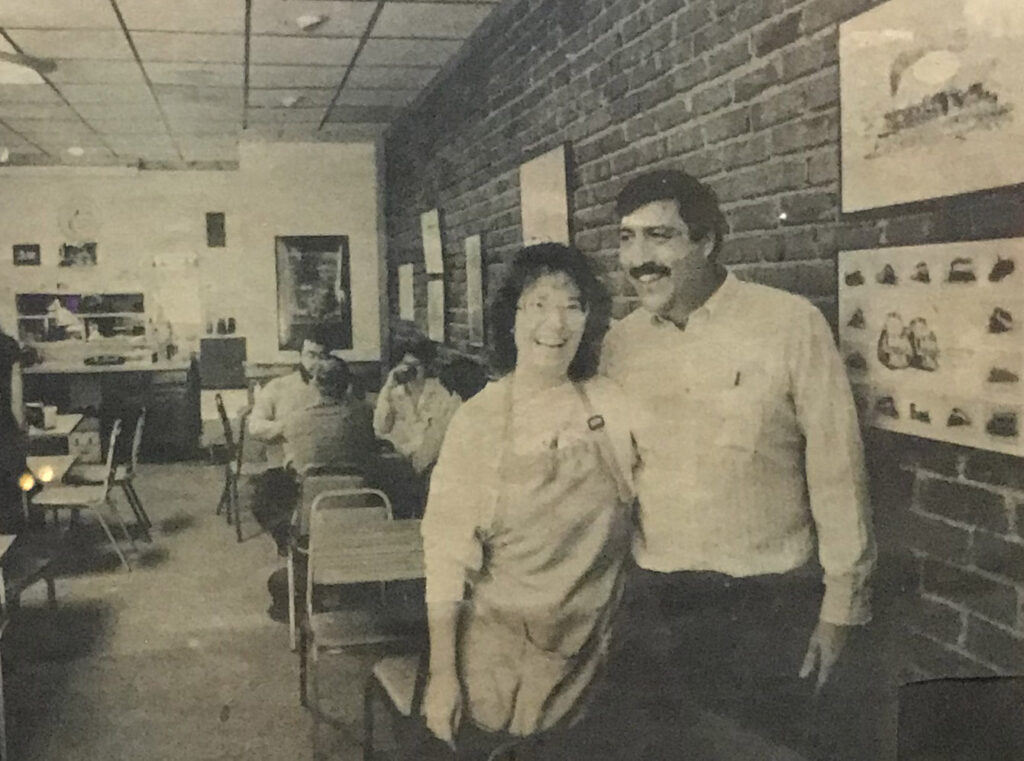 Joe and wife Linda, around 1989. Through once heavily involved in the business, both as a cook and waitress, Linda now operates behind the scenes with administrative duties.