Baseball, Softball, Soccer, Golf – Even Insurance….
All Are Covered by the Tallman Umbrella
BRING ON YOUR "A" GAME
Adam Tallman and his wife Trista were both born and raised in Gillespie.  So when the old Drew Ford Company, that had been in business for over 50 years, decided to close, they wondered what they could do to prevent the building from sitting vacant in their home town.
Adam played baseball, basketball and golf as a student at Gillespie High School, and continued his baseball career at SIUE for four years after that. Currently a volunteer assistant baseball coach at GHS, a huge Red Sox fan – and a fan of the game of baseball in general – the couple came up with a plan.
They purchased the Drew Ford building in October of 2018 and in just 65 days had remodeled it as an indoor training facility for baseball, softball, soccer, and other sport activities, for all ages.  They named it Dingers of Gillespie.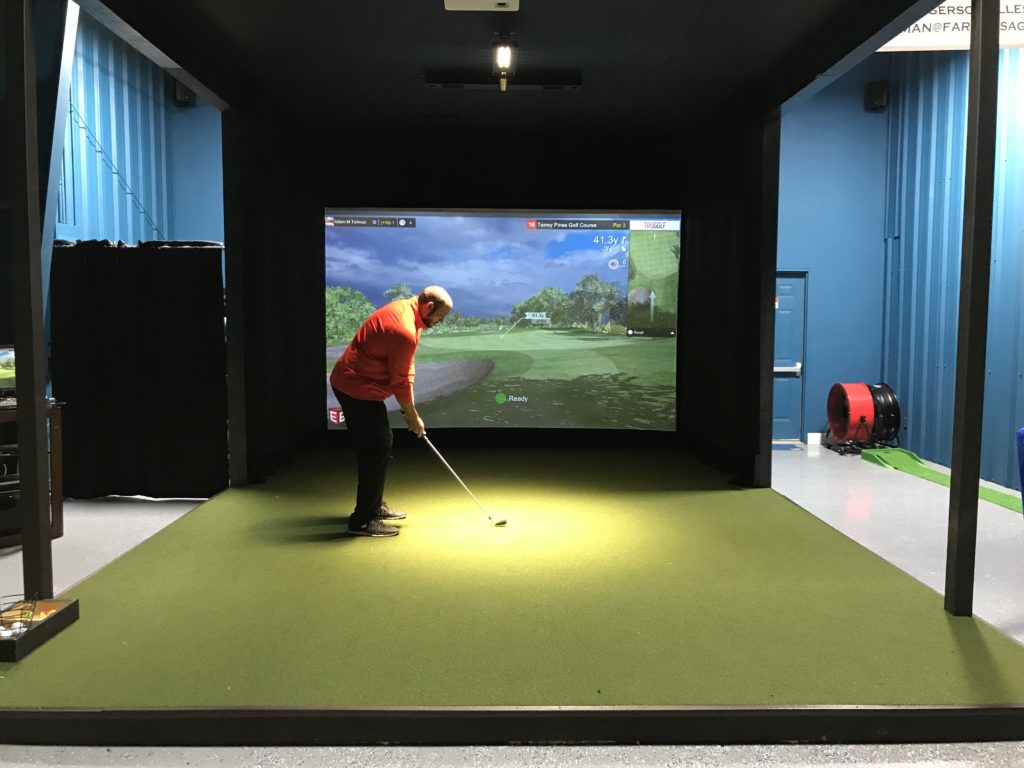 Adam Tallman demonstrates the golf simulator at On the Fringe.
"There was a lot of clean up and remodeling involved and we could not have done it without the help  of our family and friends," Tallman explained.
Although they had a lot of support, there were also many skeptics.  Comments ranged from "Kids just want to play video games these days," and "This won't work." So we thought, let's give kids one less excuse by giving them a place to practice all the time.
Others said, "Why are you doing this, are you crazy? Its going to be hard."
"Well life is hard," Tallman said. "My coach, the late, great, Coach Stewart  taught me that. He said, 'I am not teaching you about baseball, I am teaching you about life.' I learned so much from him, and another great man, my father. So we decided to put in the time and work to make it happen."
Dingers indoor sports facility is a shell cage design with three dividers, making it into four cages. Those dividers can slide back to the wall, opening up the entire facility for team practices. And because  scheduling, memberships, etc are all handled online, there is no need to travel to see what is available. Each cage has balls,  an "L" screen  and tee. A "hack attack" pitching machine is also available.
Dingers is used for training and practices by teams and individuals from around the region. Private lessons for hitting and pitching are also offered, by Tallman, and the Staunton High School baseball coach, Kyle McBrain.
"Not everyone will make the varsity squad, the "A" team, or a certain travel team.  Perfect! That is life. That is motivation," Tallman explained. "When I didn't make varsity squad, my dad, who has always been my biggest supporter, told me something that I will never forget." he said. "Work harder than anyone else on the team and if you get that shot – because you will, because I believe in you – don't give them a reason to take you out."
"I never did give them a reason to take me out," Adam said.
"Everyone will fail at sports at some point. Baseball is a game of failure. Life is a game of failure. I want to see how you deal with failure. Do you blame others? Or do you shake it off and work harder?"
"You will fail more than you will succeed. But you learn more from failure than you do from succeeding. And there is a lot to learn."
Tallman's goal at Dingers is for athletes to improve each and every time they visit. So that in turn, each and every time they step onto the field, the game is a little bit easier. His philosophy is to help the athletes work hard and prepare for every aspect of the game. To be a better player, and a better person. And here is a little hint from Santa…. gift certificates for practice time or private lessons make a great Christmas gift!
Dingers will host a camp in January featuring Red Sox player, Tanner Houck. This is sure to sell out quickly so keep up to date by liking and following their Facebook page.
For more information visit Dingers at 114 W. Spruce Street in Gillespie (call for appt or view availability online), call 217-839-7108 , visit DingersofGillespie.com of Facebook.com/Dingers of Gillespie.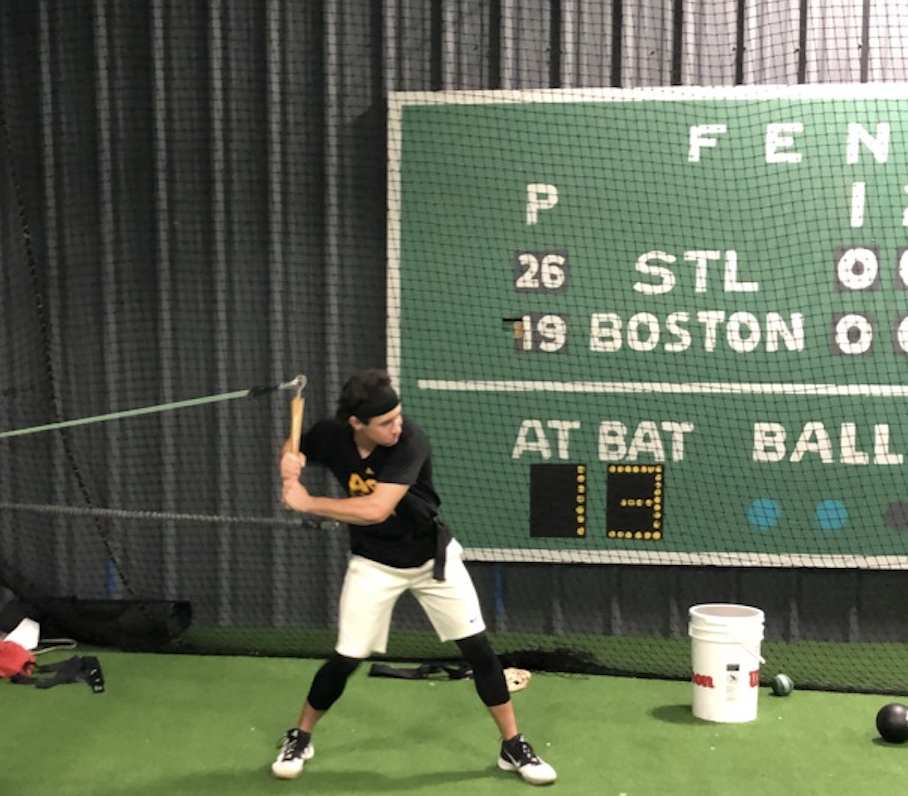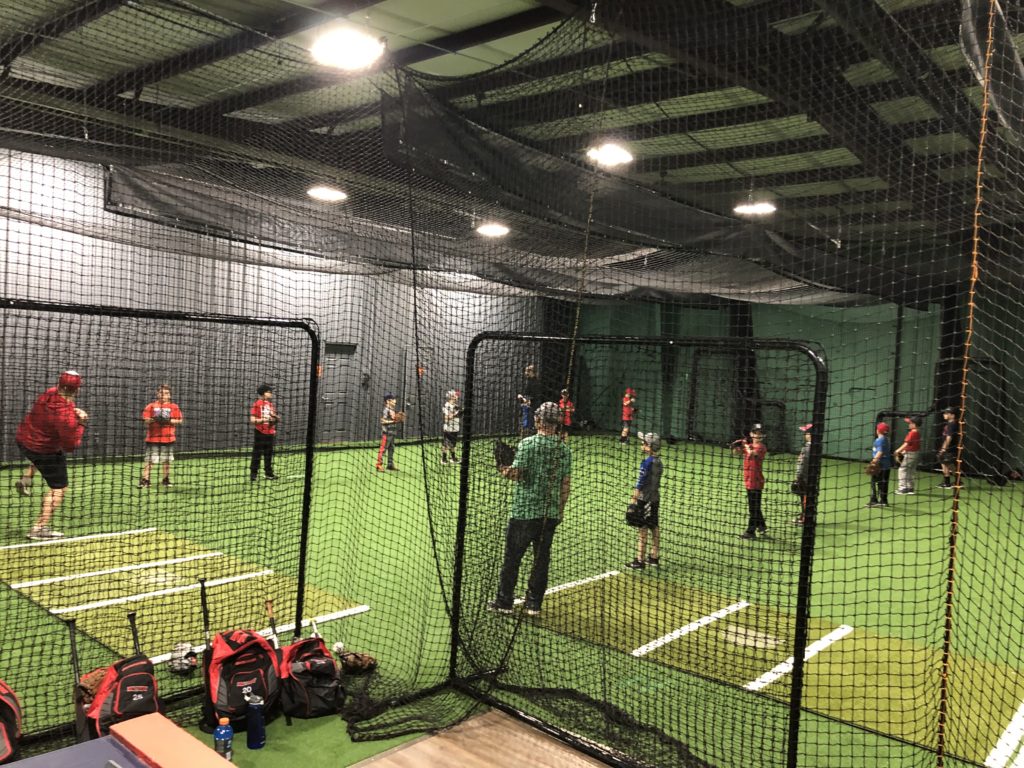 Dingers is a shell cage design with three dividers, making it into four cages. Those dividers can slide back to the wall opening the whole facility for team practices. The facility is available for individual and team practice or training. Private lessons in batting and pitching are also offered.
A Stroke of Luck
Several years ago Adam and Trista Tallman attended a friend's wedding in the Chicago area and had the opportunity to play on a golf simulator. They thought it was great fun, and may be well received in their neck of the woods, in Macoupin County. After researching the cost, they put that plan on hold.
However, with the opening of Dingers, there was room for such a simulator in the facility.
"My wife said, 'Do you want to try putting in a simulator?' and of course I said 'Heck, yeah!" Tallman explained, "So we took the plunge."
Now, with Dingers on one side of the Old Drew Ford building, on the other side  is On The Fringe, a premier indoor golf simulator driving range. And it is impressive! This virtual reality game gives players of all ages and abilities the chance to play the best courses: Torrey Pines, Pebble Beach, Stone Canyon…even the PGA National course!
And it doesn't matter what the weather is outside – rain or shine, wind, ice or snow – you can golf year 'round at On the Fringe.
It's just like a real game of golf, except you don't have to chase the ball. Bring your clubs, choose your course, even select the weather and then tee off! But with this simulator you will receive detailed information with every stroke including yardage, elevation and wind speed, spin rate, carry, launch angle, how you hit off the face and all the analytics you need to help improve your game.
You can also bring your own snacks and BYOB!
"This is a great family activity or date night event," Tallman said. "And just like Dingers, everything is scheduled and paid online for convenience. And it's all indoors, so the weather doesn't matter."
Pricing for On the Fringe starts at $33/hour.  The more hours you buy, the cheaper per hour the time is. And packages can be split among friends to make it cheaper for everyone. Gift certificates make great Christmas gifts too!
For more information call Adam Tallman at 217-556-5775, visit www.DingersofGillespie.com (On The Fringe information is available there also) or visit Facebook.com/On the Fringe in Gillespie.
WHAT MATTERS MOST
So why is Adam Tallman doing all this? Well he knows a thing or two, because he has seen a thing or two.
Seriously. He is a Farmers Insurance Agent, and has been for seven years. And he didn't step into an established agency
either. Tallman started his insurance business from scratch, and has built it from the ground up.
"My philosophy definitely goes back to that catch phrase," he said.  "I strive to give my clients the best product and service they need."
As a Farmers Agent, Tallman offers various products including home and auto insurance, life insurance and commercial insurance.
"The insurance company, and the sports facilities go hand-in-hand." Tallman said. "That's why my wife and I have put so much money and sweat equity into this
insurance business, Dingers and On the Fringe. To plan, provide for and protect what matters most."
"We are showing our kids Addisyn (9) and Jaxon (5) that if you put in the time, and work hard at something you believe in, you can do anything.
For more information on the services Tallman offers through Farmers Insurance, call him at 217-839-3400 or email [email protected]. Be sure to follow Dingers and On The Fringe on Facebook to keep updated on upcoming camps, leagues and prices – especially the camp in January with the Red Sox player. What a treat!