Chakota TRC Uses Connection Between People and Horses to Enhance Healing
By Tara L. Cale
BH was a troubled teen, at least in her own mind. Her parents realized there was a serious problem when they discovered she was self-mutilating. Cutting herself. On purpose.
It can be hard to understand why people do this, but it's a way some people try to cope with pain – of strong emotions, intense pressure, or upsetting relationship problems. People who cut may not know better ways to get relief from their emotional pain.
BH's parents had tried various ways to get her help, but nothing seemed to work. Then they took her to Chakota Therapeutic Riding Center (Chakota-TRC) in Germantown, IL.
When BH first arrived at Chakota, she was introduced to  Cherokee, the center's oldest therapy horse. But she was actually a bit mean with him. She kept pushing her fingers into his mouth as if she was trying to get him to bite her.
"I've never seen anything like it," Dave told me. "After a bit, he did close his teeth on her fingers, but he didn't bite her. He led her around the arena… round and round."
BH  bonded with the now 31-year-old gelding. She finished her therapy at Chakota, and is no longer cutting herself.
. . . . . . . . . . . . . . . . . . . . . . . . . . . . . . . . . . .
Big Ben is a 17-year-old Belgian draft horse, one of the strongest and most numerous of the draft horse breeds. Though their size can be intimidating – their average size is 5' 6" at their withers and average weight is 2,000 lbs – they are generally very mild-mannered.  Note the riding gear – it's not a saddle. Using a surcingle only, with a blanket, allows heat from the horse's body to transfer to the rider, which is often therapeutic in itself.  And look at that rider's fac … so totally calm and content receiving unconditional love and acceptance from this magnificent animal.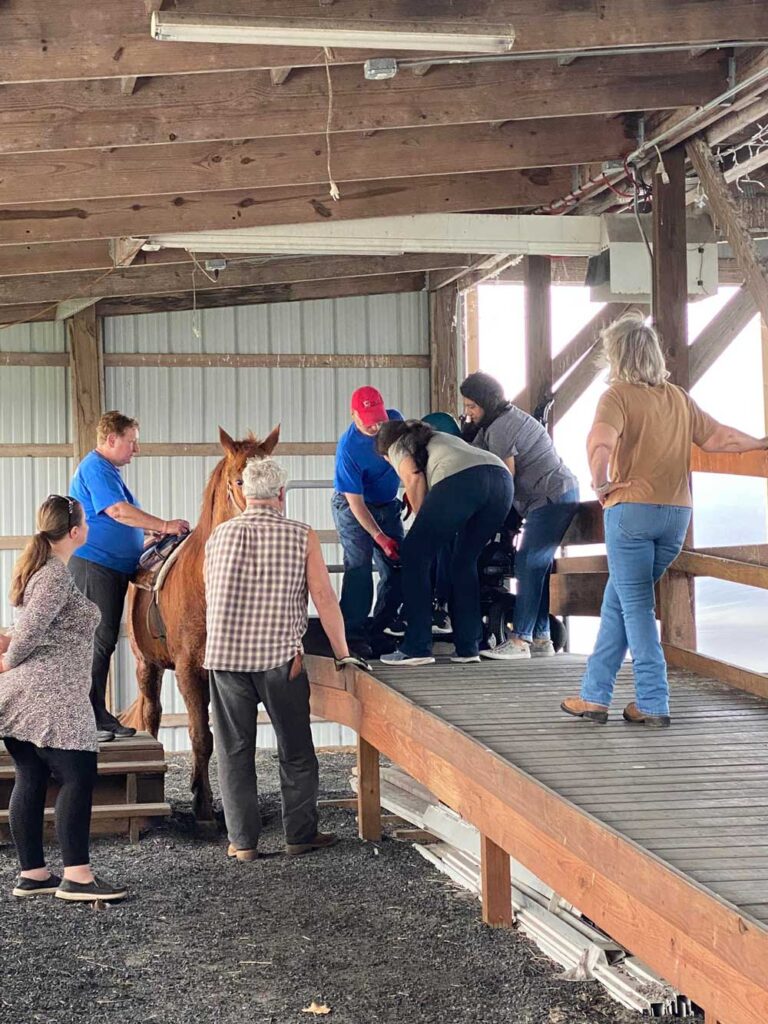 Chakota TRC is fully equipped with everything needed to help riders of all abilities be able to ride. Shown above is the wheelchair ramp and lift used for wheelchair-bound riders. As many volunteers that are needed – up to 6 per rider – are available for the therapy sessions.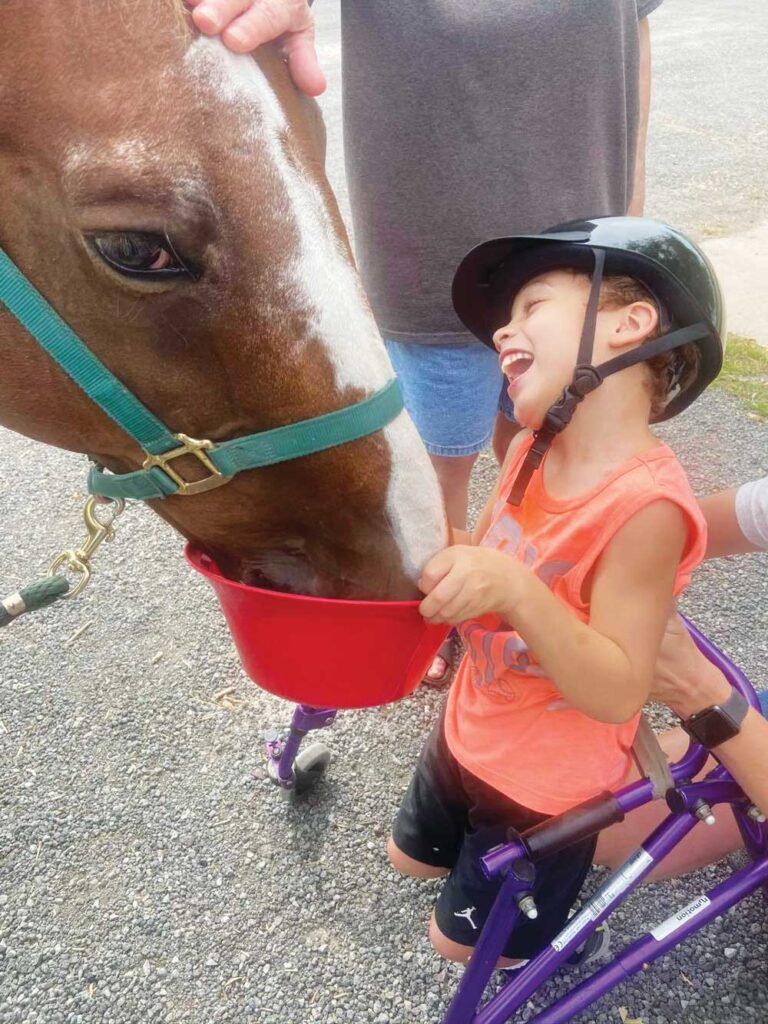 Interacting with the therapy horses at Chakota provides calm, and joy,  as shown on the face of this rider as he feeds his equine therapist, Rocky.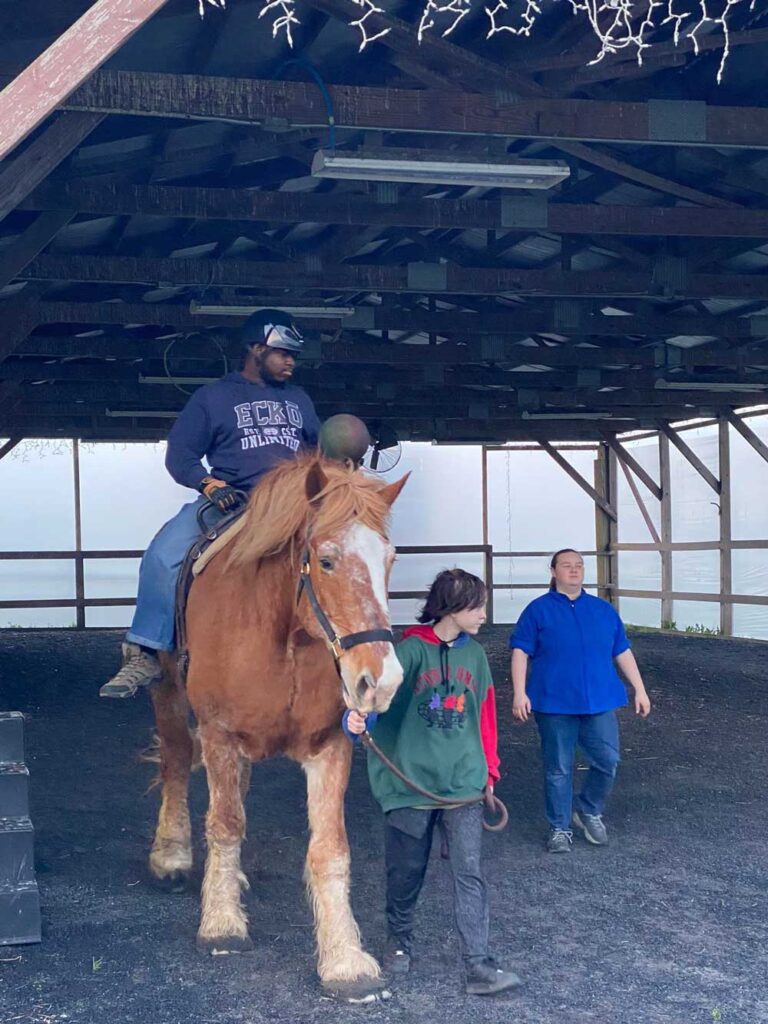 Since Chakota has a fully covered arena, sessions can be held even in inclement weather.
. . . . . . . . . . . . . . . . . . . . . . . . . . . . . . . . . . .
Chakota Therapeutic Riding Center is a community-based human service organization that provides Therapeutic Horseback Riding for children and adults with physical or mental disabilities and/or developmental or behavioral issues. It's wholesome, drug-free therapy.
The dream for Chakota Therapeutic Riding Center started in  2004 when Dave and Kay Langenhorst decided to host an open house at their farm to see if there would be any interest that would support such an undertaking. The response was overwhelming and though it took a few years of planning and training, Chakota-TRC was born.  Dave and Kay launched the pilot season with just four riders.
Therapeutic Horseback Riding has been proven through extensive studies in the medical field, to improve the quality of life, health, and well-being of people with disabilities. Through therapeutic equine activities, riders learn horsemanship skills, which stimulate physical, mental, and emotional growth. It is obvious that the uniqueness of the program lies on the back of the therapy horses. It is there that riders can find the hope of a better existence, a spirit of freedom from impairments, and a sense of "being able"… and unconditional acceptance.
. . . . . . . . . . . . . . . . . . . . . . . . . . . . . . . . . . .
Molly C. was 15 years old, and proficient in athletics and music. But on a fateful night, the sophomore at Edwardsville High School was electrocuted and suffered cardiac arrest after a car accident near her home in March 2006.
The crash itself was relatively minor, but there was a live wire on the top of the car. As Molly exited the vehicle, she touched the car and the ground at the same time, which allowed the voltage to go through her. Molly's heart stopped beating. She didn't have a pulse for over 12 minutes.
The crash happened to be in the backyard of a doctor, Keith Byler. Along with Stuart Marshall, who was another passenger in the car, and Brian Ludwig, who lived in the neighborhood, they managed to keep some oxygen flowing to Molly's brain until a rescue crew arrived.
Byler did 822 chest compressions and 151 rescue breaths (he counted them) and rescue crews did two defibrillations to shock her heart into beating again. When rescue teams did arrive, they restored her heartbeat, but no one knew what condition she would be in if she survived.
Molly incurred a severe brain injury as the result of a lack of oxygen to her brain while she had no pulse. Unable at first to talk, walk, eat or read, she spent 116 days at Children's Hospital in St. Louis on the neural rehab floor.
After that, she spent five-and-a-half years in the day treatment program at The Rehabilitation Institute of St. Louis.
Working with a variety of doctors and therapists, Molly has continued to improve. At SIUE, she attended cognitive therapy sessions two hours per week at the Speech and Hearing Clinic. Her parents also took her to Chakota Therapeutic Riding Center.
"The first day she came to us, Molly's fingers were tight, curled up, and basically unusable," Kay explained. "Molly instantly bonded with Patches, a Paint mare we had at the time. She groomed her, she rode her … they loved each other. The equine therapy (5 years worth) made a difference that her other therapy could not accomplish, and her doctors verified that."
. . . . . . . . . . . . . . . . . . . . . . . . . . . . . . . . . . .
A tragic accident at home that took the life of Melissa's 2-year-old daughter left her bitter, empty,  and very angry. She applied as a volunteer at Chakota-TRC, as she had horse training experience.
"I didn't really like her when she first came here," Kay said. "She was basically unapproachable to me. I told Dave I did not want her as a volunteer but Dave reminded me that Chakota is a place for healing."
Working with the horses, and the riders that come to benefit from the therapy, gave Melissa new purpose, and a reason to smile. Today she is the unofficial Assistant Equine Director at Chakota-TRC and Kay and Melissa are closer than most sisters.
. . . . . . . . . . . . . . . . . . . . . . . . . . . . . . . . . . .
Equine therapy is an experiential treatment method that uses the connection between people and horses to enhance physical or emotional healing. There are several different forms of equine-related therapy and treatment.
During each session, clients may ride or otherwise work with horses. They may feed them, muck a stall or groom them. Those that are able will learn how to put their own tack on a horse before riding.
Riding a horse can help those with neuromuscular disorders improve balance, coordination, and body control.
"Riding a horse helps build core strength, something lacking in many with physical challenges," Kay explained. "We have had riders that could not sit up on their own and needed a high back saddle, or someone riding behind them for support when they first started therapy, but after a year they were strong enough to ride on their own.
Therapeutic Riding has proven effective in helping children heal from trauma, as well as improving confidence and self-esteem. And though children make up a large portion of the riders at Chakota, the services are available for adults as well.
The interaction between horse and rider often unlocks blocked emotions, allowing them to be processed and healed. Dave mentioned that all of the therapy horses just automatically gravitate toward the riders. Equine therapist Nancy Jarrell stated, "I continue to marvel at how a horse can behave in a certain way that results in the presentation of a crucial issue for a rider. It is as though the horse already knows the history."
Some conditions are treated with equine therapy include:
Substance Use Disorders
Depression, Anxiety, PTSD, Stress
Trauma
Eating Disorders
Behavior Disorders
Traumatic Brain Injury
Dementia
Learning Challenges
ADD/ADHD
Autism, Asperger's
Down Syndrome
What are the benefits of equine therapy?
Increased trust
Reduced anxiety
Less feeling of depression and isolation
Increased self-esteem, self-acceptance, and social skills
Better impulse control
Increased problem-solving skills
Improved communication skills, including non-verbal.
A better understanding of healthy boundaries and the importance of assertiveness
Learn to get outside your own negative, self-absorbed thoughts and nurture another creature
Certain equine-assisted activities are effective for children with cerebral palsy, behavioral tics, motor control issues, and coordination problems, and for people of any age with reduced mobility.
Equine Therapy can also be beneficial for those with eating disorders like anorexia and bulimia. The therapy helps individuals to better manage their emotions and learn to express feelings more positively. Riding and caring for the horses improve self-esteem and anxiety, and improve negative body issues.
But perhaps the most important benefit of equine-assisted therapy comes from the unconditional acceptance offered by the horses they work with.
Chakota-TRC is the only facility within an 80-mile radius to offer Therapeutic Horseback Riding. As a 501(c)3 non-profit organization they depend on fundraisers, contributions, grants, and in-kind donations to operate.
Volunteers are an essential part of the program as they assist in the riding sessions, maintenance, and fundraising. The Chakota family has been through an enormous amount of training and workshops. They also participated in several national conferences for PATH (Professional Association of Therapeutic Horsemanship, International). PATH has been around since 1969 and has set the high standards that most Therapeutic Riding Centers try to operate their programs through. Chakota actively works to follow PATH guidelines.
All individuals affiliated with Chakota-TRC show consideration and honor for persons, animals, and property. They believe we all are equals. We are all riders. We are all teachers. They hold admiration and open-mindedness to the possibilities that someone or something can bring into another's lives – an acknowledgment that everything serves a purpose and is precious.
Safety is a top priority at Chakota-TRC. Rules and guidelines for safety are followed at all times, checks and balances are in place, and safety education is continuously provided and expected of all staff and volunteers.
. . . . . . . . . . . . . . . . . . . . . . . . . . . . . . . . . . .
Therapy sessions for riders are once a week, one hour per session, for the riding season, which is normally April through November, depending on the weather. One could expect to pay up to $350/hour/session for this type of therapy but because of Chakota's non-profit status and the way the organization is structured, sessions are only $35.  Still, there are families that cannot afford that, so Chakota offers Riderships.
"We don't turn anyone away," Dave explained.
Chakota-TRC continues to grow and improve. An upcoming project they are very excited about is the development of an interactive trail ride. Like any other non-profit, donations and volunteers are always needed. You don't have to like horses or even be around horses to help. They need all types of volunteers, from working fundraisers to grounds maintenance, and other non-animal-related duties. Their "Mane Event," their largest fund raiser each year is held in April. It includes a dinner, dance, and auction. All donations are greatly appreciated and are tax-deductible.
Chakota Therapeutic Riding Center is located at 6248 Wesclin Road in Germantown. For more information visit http://www.chakota-trc.org or find them on Facebook. Email [email protected]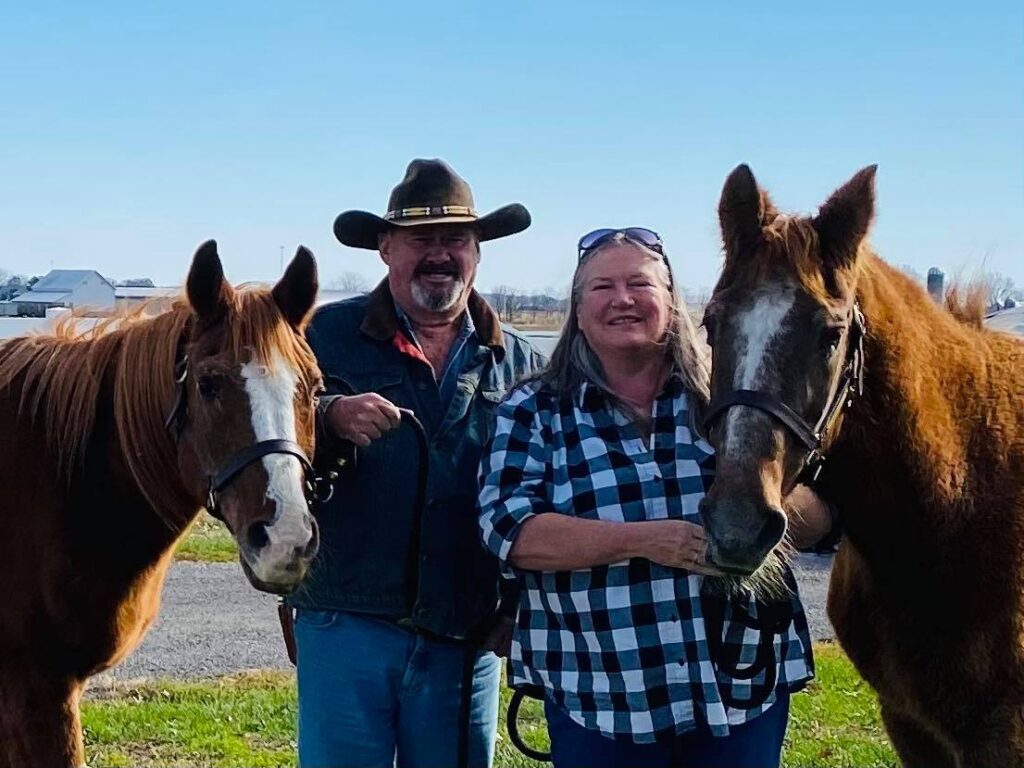 Dave and Kay Langenhorst operate Chakota TRC,  located in Germantown, IL  on 11.55 acres.  The grounds feature a large stocked pond and "calming" cabin where some clients visit for some quiet time or just to feed the fish.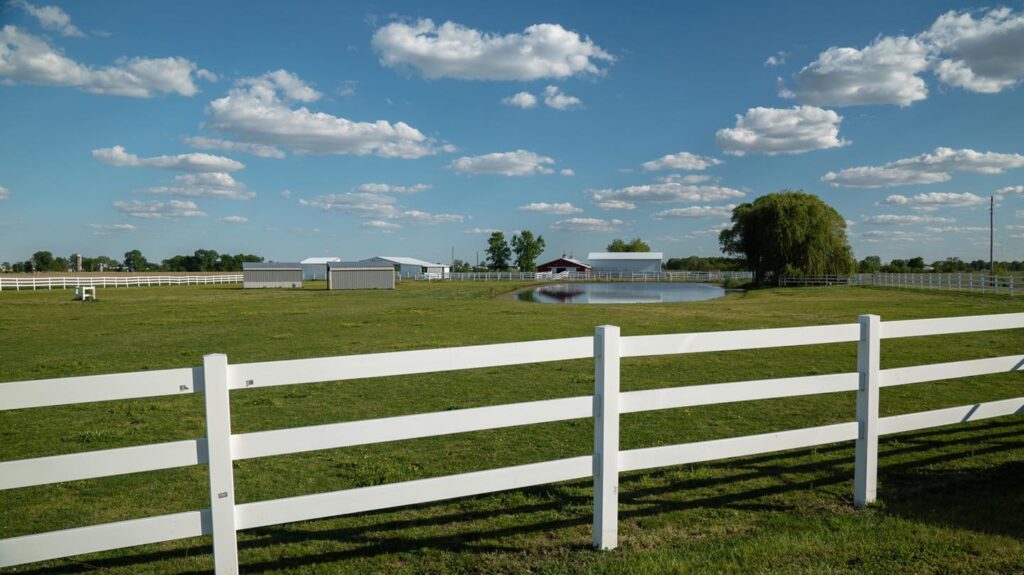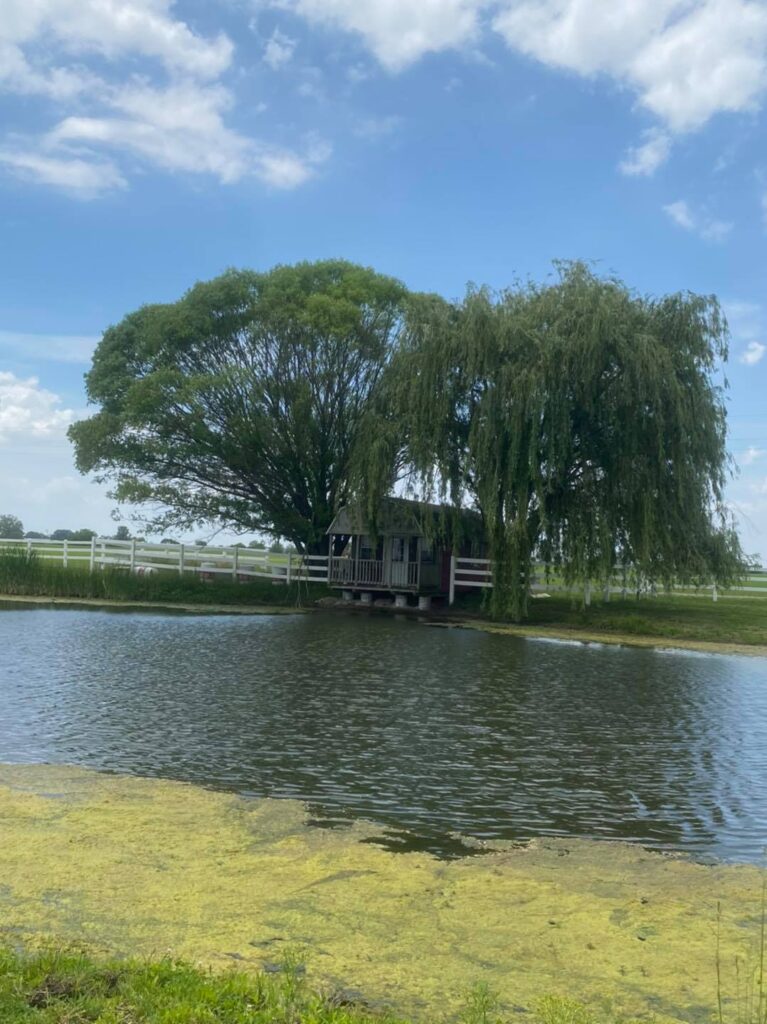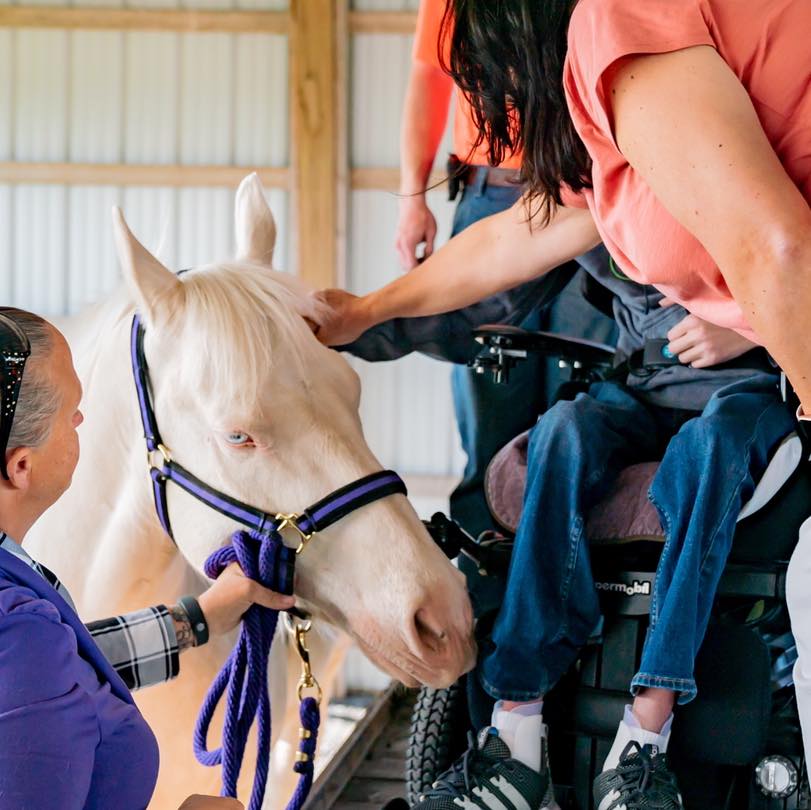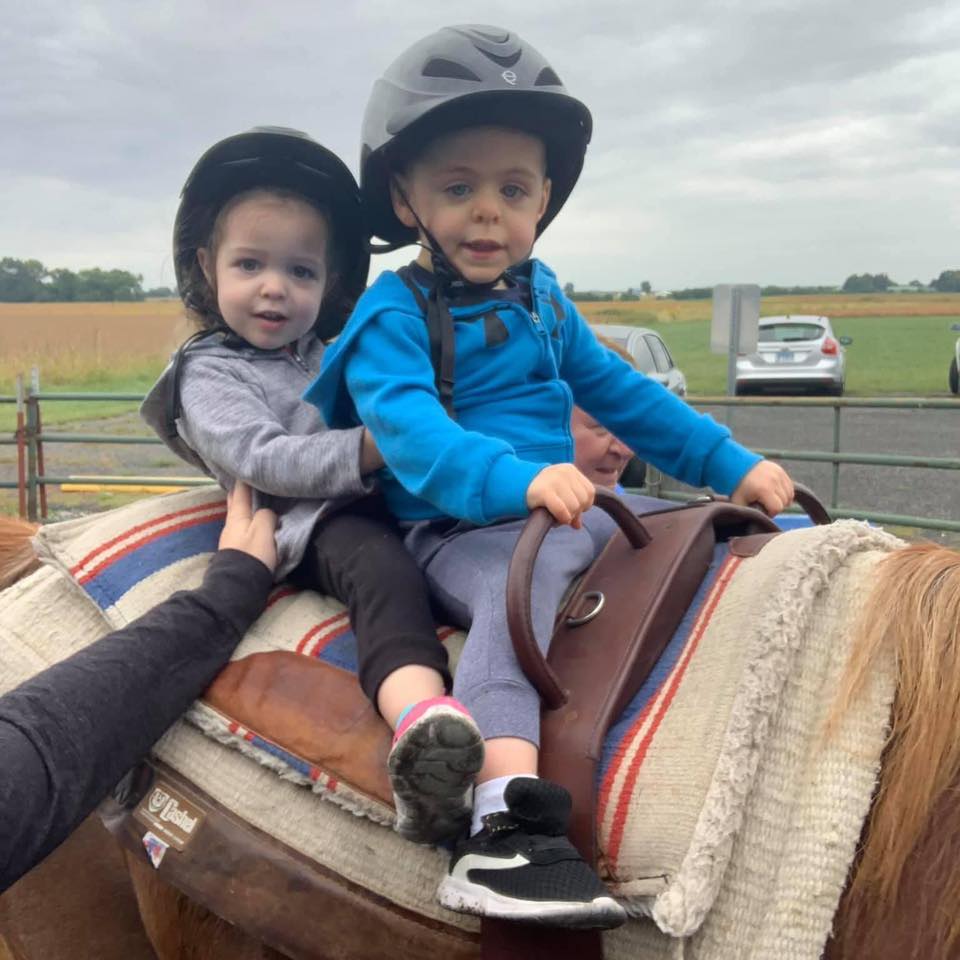 Smaller riders are normally paired with smaller horses.